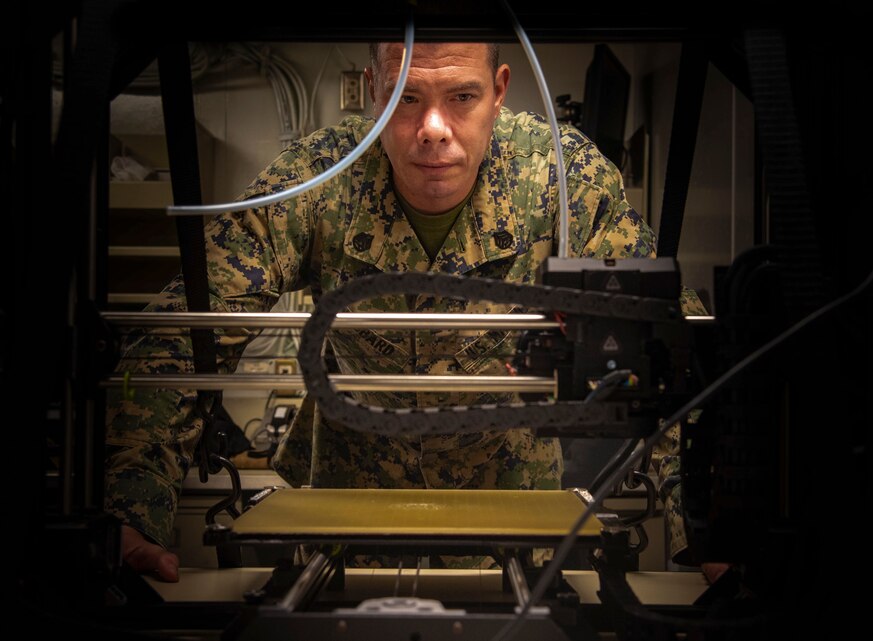 PHILIPPINE SEA —
Marines with Combat Logistics Battalion 31 are using 3D printing technology to save thousands of dollars and weeks of time for the 31st Marine Expeditionary Unit and America Amphibious Ready Group.
From small parts to more complex designs, the Marines of CLB-31 are assisting in daily functions and cutting back on cost for the Marine Corps. Utilizing developing 3D printing technology, the Marines are assisting with mission readiness not only by providing quality parts, but on-site adjustments and cost efficient materials as well.
"The benefits of using a 3D printer are endless," said Staff Sgt. Jack L. Hubbard III, a communications electronics maintenance chief with CLB-31. "We were asked by our Navy counterparts to print a knob used to charge forklift batteries. The cost of the entire unit is $45,000, but it only cost us three dollars to print the knob ourselves." After printing the knobs, the CLB was also able to add 3D printed handles for Sailors' additional protection when transporting the batteries.
Printing parts on ship cuts down not only on costs but also on time spent waiting for ordered parts, keeping the blue-green team in the fight.
After successfully printing the parts requested by Navy counterparts, the team was requested to assist Fox Company, Battalion Landing Team, 2nd Battalion, 4th Marines with replacing Combat Rubber Raid Craft handles.
"The CLB-31 additive manufacturing detachment has worked closely with Fox Co, BLT 2/4 staff and has successfully manufactured a working prototype of the replacement part needed." Maj. Richard S. Jahelka, BLT 2/4 executive officer
Sgt. Alonzo Longstreet, a radio technician with CLB-31, 31st MEU, took a Combat Rubber Raid Craft's handle and scanned it using a 3D scanner. After removing redundancies and piecing together the model using Cura software, Longstreet printed a functional part to replace the older handle.
Jahelka continued, "Fox Co reports that the prototype part was successfully installed and that it is functional. They are going to use the lessons learned in this successful prototype to manufacture two more units and are confident that the effort will ensure that all 20 CRRCs maintain fully operational status."
The BLT tested the handles during a boat raid exercise after they were printed. After a successful training exercise, the BLT reported the handles functioned properly and none of the printed handles had failed. Now that the handles have been tested, the design will be uploaded to a database used by the Marine Corps, allowing for Marines across the world to download and print Longstreet's model.
With thousands of dollars saved, and weeks of time reclaimed, the Marines of CLB-31 will continue to experiment with ways that 3D printing can be used to help the 31st MEU maintain readiness at sea and on land.
New Orleans, part of Expeditionary Strike Group 7, along with the 31st MEU, is operating in the U.S. 7th Fleet area of operations to enhance interoperability with allies and partners and serve as a ready response force to defend peace and stability in the Indo-Pacific region.