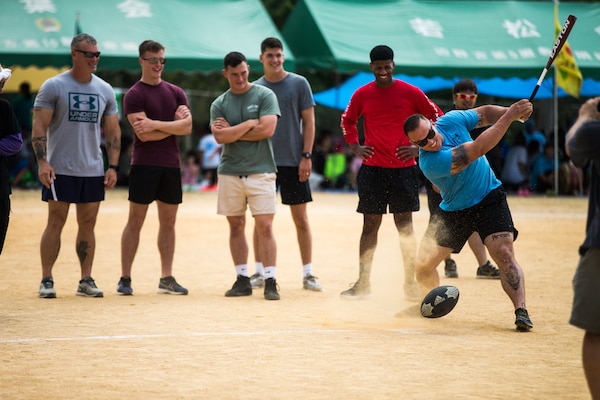 HENOKO, Japan —
U.S. Marines with 4th Marine Regiment, 3rd Marine Division, and Okinawa residents participated in the 46th Annual Henoko District Citizen's Track and Field Meet Sports Day in Henoko, Okinawa, Japan, Nov. 3, 2019.
Personnel from Camp Schwab have been included in the track and field meet since 1973 and carried on the tradition of good will and togetherness with the people of Henoko.
"It's important that we maintain the relationship between us and the community. It's nice to be invited out to the community like this. As Americans, this isn't our home and the fact that these people have allowed us into their home by participating in this event is pretty awesome." U.S. Marine Corps Master Sgt. Chris Ovanek, a communications chief with 4th Marine Regiment, 3rd Marine Division
The field meet consisted of multiple events, such as centipede races, children's tug of war, obstacle races, bicycle rim balancing races, and much more. Marines from Camp Schwab competed in selected slots and won first place in the rugby ball-handling relay race and the 200-meter men's relay race.
"I love competition and my guys love competition," said U.S. Marine Corps Staff Sgt. Garrett Burn, a platoon sergeant with 4th Marine Regiment, 3rd Marine Division. "It's not just that, though. It's interesting to see how different styles of track meets go and how they bring the community together to have a fun event."
191103-M-IN847-431
Photo by Cpl. Josue Marquez
After many years of participating in this event, Marines show continuous interest in the community and are excited to have opportunities like this to strengthen their relationship with their allies overseas by gaining a better understanding of their culture.
"We care and we want to be part of the community," said Burn, a native of Tacoma, Washington. "We want to show that we're not any different and that we're not just here for military purposes. We want to be part of the community."