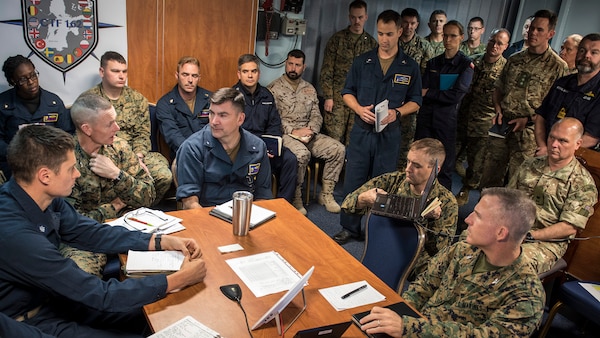 USS MOUNT WHITNEY —
U.S. Marines with 2nd Marine Expeditionary Brigade return to Europe for the third time in just over half a year to support another combined exercise with 17 NATO allies and European partners.
Approximately 100 Marines and Sailors from the MEB commanded by Maj. Gen. Stephen Neary along with 250 Marines and Sailors from 22nd Marine Expeditionary Unit are participating in Baltic Operations 19.
The exercise, commanded by Vice Adm. Andrew Lewis, Commander U.S. 2nd Fleet, on behalf of U.S. Naval Forces Europe, enhances interoperability between partnering nations and strengthens the already robust strategic relationships.
"No one nation can face today's challenges alone, we are much stronger together," said Lewis. "Our partner and NATO alliances must continue to strengthen our deterrence and defense efforts and adapt through improving readiness and responsiveness."
The MEB demonstrated its commitment to a forward presence in Europe through its support to a number of large exercises recently including Austere Challenge 19 and Trident Juncture 18. In BALTOPS, the MEB will exercise command and control over a multinational landing force consisting of British, Romanian, Spanish, Polish and U.S. Forces through a number of amphibious demonstrations and assaults throughout the Baltic Sea region.
"BALTOPS 19 is a great opportunity for 2nd MEB and Expeditionary Strike Group 2 to operate as an amphibious force in a competitive space, commanding and controlling multinational maritime and amphibious forces with the goal of improving our interoperability," said Neary. "This reassures our allies and partners and deters potential adversaries around the globe."
The exercise began June 9 and will continue through June 22.
More Media