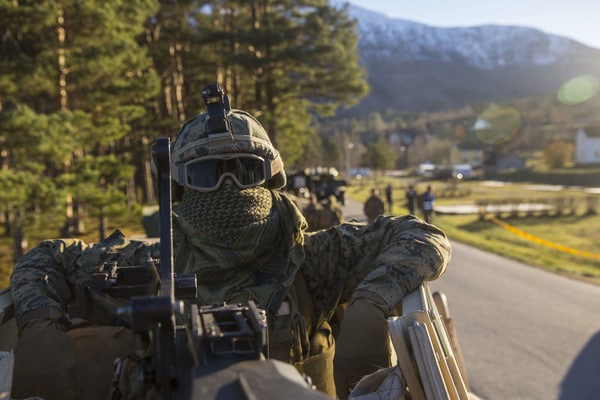 ALVUND BEACH, Norway —
The 24th Marine Expeditionary Unit conducted an amphibious landing in Alvund, Norway, Oct. 29, 2018, during Exercise Trident Juncture 18. The exercise allowed the MEU to rehearse their amphibious and expeditionary capabilities in a unique environment in support of partner nations.
Norway is a NATO Ally and hosted this year's exercise which provided challenging terrain and weather for the participating Marines. Training in challenging conditions helps acclimate the forces to the elements and enhances their combat readiness.
The amphibious landing consisted of a surface assault and an air assault to display the MEU's ability to rapidly project combat power ashore. Battalion Landing Team 2nd Battalion, 2nd Marine Division arrived ashore with roughly 700 Marines, 12 Amphibious Assault Vehicles, six Light Armored Vehicles, and 21 High Mobility Multipurpose Wheeled Vehicles, all designed to increase the lethality of the infantry Marines. Marines arrived at the beach landing site and transitioned to follow on operations at subsequent objectives around Alvund. All operations were conducted within the exercise scenario against mock enemy forces which required the Marines to make decisions in real time.
"We came to the North Atlantic looking for a challenge and Trident Juncture delivered; throughout the exercise the environment forced us to be flexible and adaptive," said Maj. Anthony Bariletti, the 24th MEU operations officer.
"It is the adaptability that makes Marine Expeditionary Units such a lethal crisis response force. As Marines, we gain our lethality from the ability to operate as part of a naval integrated team. The ability to conduct amphibious operations in the premier core competency of our service and this exercise provided an outstanding opportunity for the 24th MEU to hone its skills and prepare for combat as a forward deployed, sea-based Marine Air-Ground Task Force."
Throughout the training exercise, the MEU was able to provide strategic speed and agility while operating in international waters and retaining flexibility in support of NATO Allies and partners. Trident Juncture allowed the Marines to operate from the sea with their Navy counterparts and increase interoperability. The success of Trident Juncture will lead to more combat-ready forces capable of proficiently supporting combat operations and humanitarian activities across the globe.
"I'm extremely proud of how hard the Marines and Sailors have been working throughout the exercise," said Sgt. Maj. Christopher Garza, the 24th MEU sergeant major.
"They have endured the challenging cold weather conditions and long work days. It's great to come together and display our capabilities as a MEU and the Marines and Sailors are the ones who make it happen. All the training and preparation they put in has paid off and my hat's off to them on a job well done up to this point."