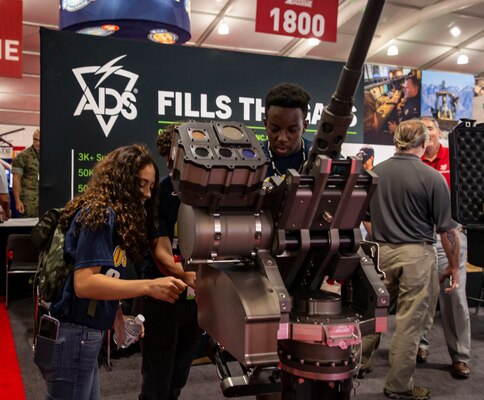 QUANTICO, VA —
The Modern Day Marine Military Expo, sponsored by the Marine Corps League and Marine Corps Association Foundation, displayed the newest technologies available for America's militaries on Marine Corps Base Quantico, Va., from Sept. 17-19, 2019.
More than 380 exhibitors presented their equipment, including companies like Canon U.S.A., Danner, Lockheed Martin, and many more.
"The purpose of this show is for the Marine Corps to communicate its needs to support its mission in the future operational environment. It's also an opportunity for the industry to demonstrate the science, technology, and equipment that it's been developing to support the needs of America's expeditionary force." Alex Heatherington, Modern Day Marine Show Director
Some of the equipment displayed included explosive ordnance disposal suits with voice command, cameras with a 4,000,000 ISO, which allow the user to capture images in the dark without the use of night vision, and a full-sized unmanned aerial vehicle.
Mike "Gunner" Brooks, a retired Marine with 30 years of service, said, "As a Marine, I always liked coming here to see what's new, what industry has been up to, and to identify products that might fit some of our capability gaps."
This year, Brooks attended the Modern Day Marine Military Expo as the Vice President of American Rheinmetall Munitions Inc., a company that makes .40mm training ammunition for the Marine Corps and other U.S. Military Branches.
190919-M-EC414-0002
Photo by Lance Cpl. Yuritzy Gomez
"Technology, in a lot of areas, makes quantum leaps every year," said Brooks. "You buy a cell phone this year, and there will already be three new versions of it the next year. A lot of military products are the same way."
"These types of shows give us an opportunity to give back to the Marine Corps and showcase the advancements we make."
There were also more than 50 foundations and nonprofit organizations present, like the Semper Fi Fund and the National Montford Point Marine Association to provide information on how they serve Marines and their families. All of the exhibitions were available to family members on Sept. 19.
Many high school students in the Junior Reserve Officer Training Corps with dreams of joining the military also perused the exhibits and got a glimpse of what their possible futures may entail.
"It's a great opportunity to see the gear that may be coming to the supply chain, flight line, motor pool, or armory near you," said Heatherington.
More Media