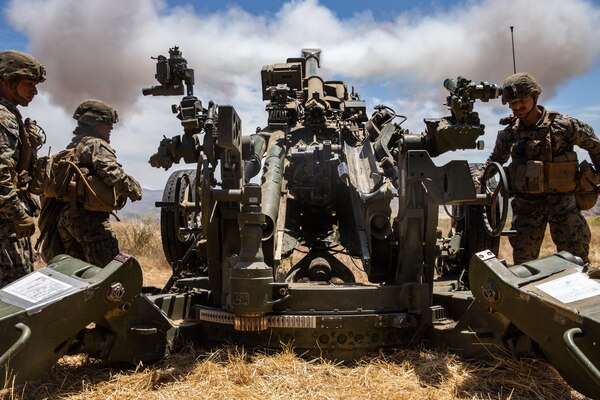 CAMP PENDLETON, CA —
U.S. Marines with 11th Marine Regiment, 1st Marine Division, are conducting Summer Fire Exercise, a regimental-level exercise, from July 22 to Aug. 1.
Summer FIREX is designed to bring the entire regiment together and maximize the training areas available on Marine Corps Base Camp Pendleton to enhance their ability to conduct real-world operations. In the field there are up to 1,600 Marines and sailors, 250 vehicles, 23 M777 howitzers and 16 M142 High Mobility Artillery Rocket Systems, according to U.S. Marine Col. Ricardo Miagany, the 11th Marine Regiment commanding officer.
"Camp Pendleton is a very good training area, it's not the largest in the Marine Corps, but it does give us a lot of options," said Miagany. "I think probably the biggest advantage is that there are so many other units that are stationed here on Camp Pendleton."
There are many advantages to do training at the regimental level, and live-fire training in general, including a wide variety of ranges, various training areas and multiple units. Not only do Marines get to complete training of this nature, but they get a chance to work together with other units from across the base to help accomplish their mission.
Any time you get to work with a new unit it is always going to be beneficial, just simply learning each other's tactics, techniques and procedures, and refining and honing on standard operating procedures, can be done with any unit you integrate with U.S. Marine Capt. Gregory Scott, the battery commander for Sierra Battery, 5th Battalion, 11th Marines
During the duration of Summer FIREX there was a variety of training events that occurred. Marines with Sierra Battery, 5th Bn., 11th Marines, conducted a high mobility raid infiltration, also known as a HI-RAIN. During the HI-RAIN the Marines conducted on-load/off-load drills by putting an M142 High Mobility Artillery Rocket System in a KC-130J Hercules.
After the drills, Sierra Battery fired M-28A2 Reduced Range Practice Rounds. These rounds, which are only used in training, have a blunt nose which decreases the distance they go to about eight to 15 kilometers. That gives the Marines the capability to do live-fire ranges, without impacting any areas outside Camp Pendleton, according to Staff Sgt. Levi Eisenhour, HIMARS operator, Sierra Battery, 5th Bn., 11th Marines.
190723-M-GM961-1055
Photo by Lance Cpl. Alison Dostie
Marines with Fox Battery, 2nd Battalion, 11th Marine Regiment, 1st Marine Division, conducted battery training and readiness manual evaluations with the battalion. The Marines used M777 Howitzers and 155mm rounds to train and contribute to Summer FIREX.
"The battery itself has our gun line, fire direction center, communication sections, (motor transportation) sections and supply, all contributing to getting 155mm artillery rounds out on target, so we can continue to train to be all-weather support for 1st Marine Division," said U.S. Marine Capt. Patrick Owens, battery commander for Fox Battery, 2nd Bn., 11th Marines.
Marines with 11th Marine Regiment use the Summer FIREX and other regimental training as training to prepare themselves to deploy as a regiment, versus deploying as a battalion or even as a battery. The Marines get a chance to see how other units work and have the opportunity to work together. Camp Pendleton offers Marines the training areas and ranges to execute events like Summer FIREX.
"Marines don't want it easy, they want it hard." said Miagany. "They want to be challenged and this is when we do that. We take them to the field and we challenge them, and I think on the back end of this they'll feel like they accomplished something and they're a better warfighter for having participated in Summer FIREX."
More Media