Two U.S. military dogs are currently featured in this year's final five of the American Humane Hero Dog Awards competition, providing recognition for therapy dogs and military working dogs throughout the U.S. military.
Therapy Dog Maverick
Maverick is a six-year-old European Blue Great Dane United Service Organizations therapy dog. According to the Hero Dog Awards website, Maverick's "unconditional love uplifts the spirits of the military community stationed at the Fort Leonard Wood post in Missouri, where he supports service members on suicide watch, escorts children to military funerals for their parents, and helps men and women cope with trauma, injuries, and stress."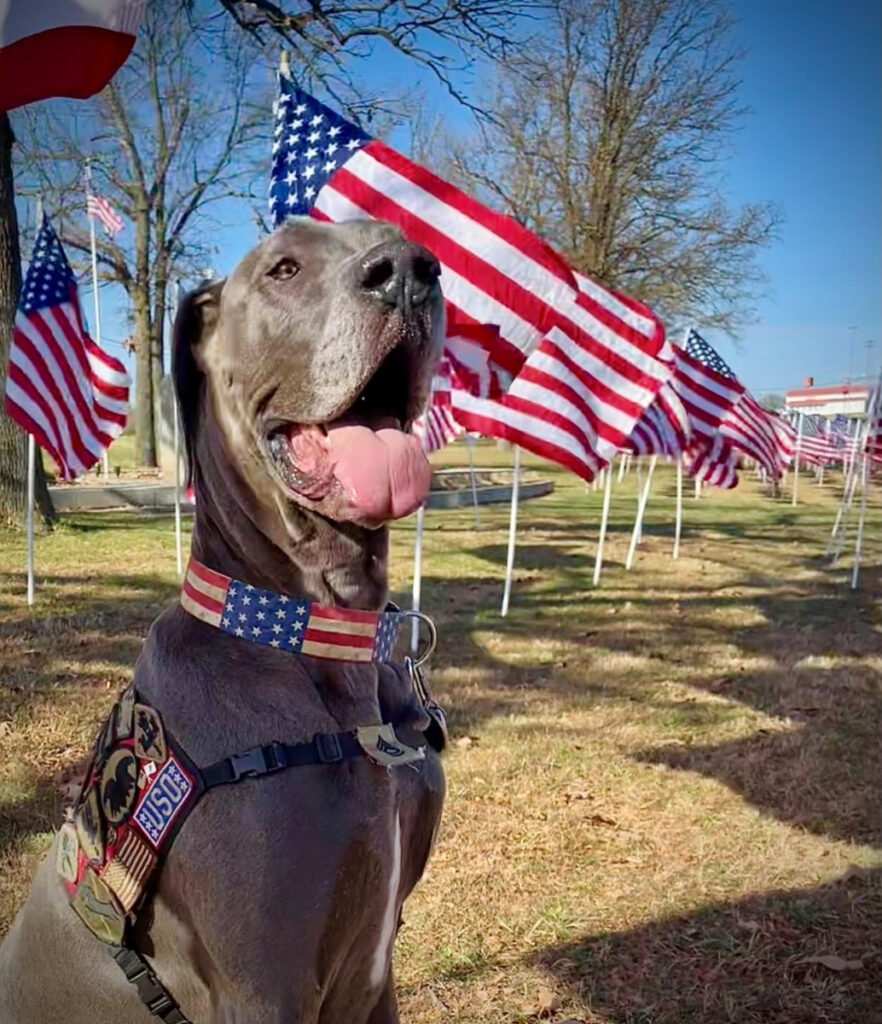 Maverick's handler, 43-year-old Kelly Brownfield, serves as the center manager of the Food Leonard Wood United Service Organizations (USO) Center. Brownfield told American Military News that she helped launch the USO program in Missouri many years ago with her original therapy dog named Bandit.
Brownfield said that as Bandit was close to retiring, she made the decision to train Maverick as a military therapy dog. "I've been so proud that now the USO has the USO K-9 program that has launched worldwide based on our original concept, so this has just been amazing," she said.
Brownfield explained that therapy dogs connect with service members and their families by helping provide them with comfort on both good days and bad days. She highlighted the ability Maverick has to put smiles on the faces of America's military members and their families in the face of the most difficult situations.
Asked about what it means to be in the top five finalists for American Humane's Hero Dog Awards, Brownfield said, "I couldn't ask for anything more. For me, this is an incredible moment, but also an incredible moment to share his stories with others in hopes that maybe others might want to do the same thing, even volunteer with the USO with their canines."
Brownfield said the easiest way for people to get involved in the USO canine program themselves is to visit the organization's website online, which has all of the USO's information pertaining to the canine program.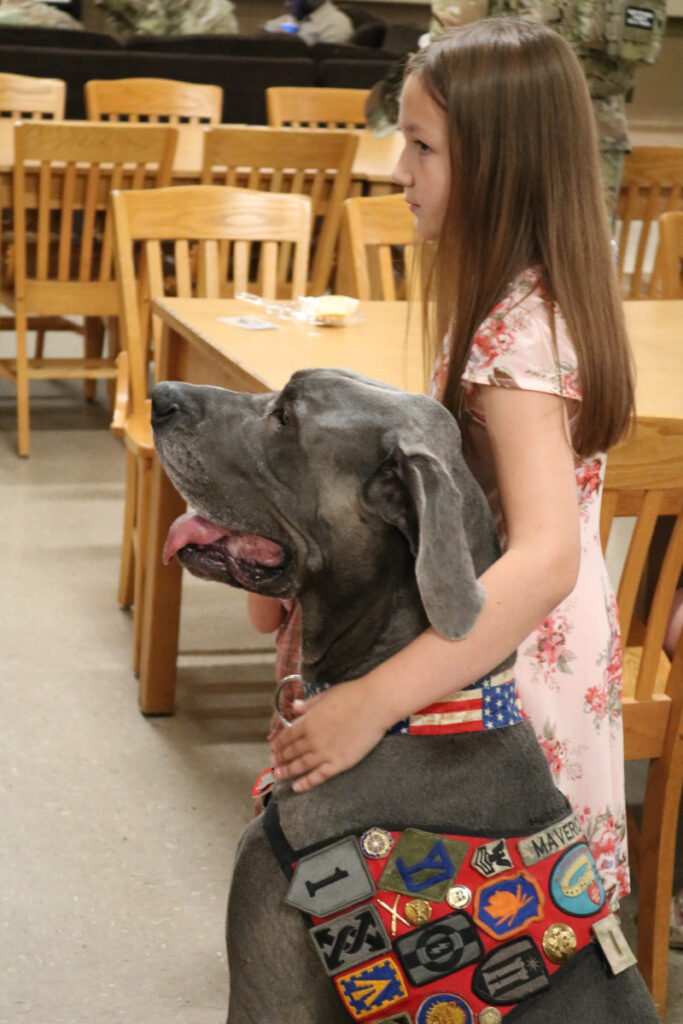 According to Brownfield, the most rewarding part of working with Maverick is "seeing the smile" he is able to put on the faces of military members and their families. "Even to see just that little glimmer of hope with a little smile even during the hardest times, that, to me, makes it all worth it, just seeing the smiles," she said.
While Brownfield said the experience working with military therapy dogs has been very rewarding, she acknowledged the challenges that she faces as part of her job. From her perspective, one of the hardest parts of working with a military therapy dog is having to be a part of some of the sad and painful experiences that military families go through.
READ MORE: Canine Connection: The tale of a soldier and his dog
"It can be very challenging at times because we're dealing with a lot of unique situations," she said. "Having to take that in, having to be part of someone's story that our military and their family members go through so much, it can be very hard."
When asked what it would mean to win the whole Hero Dog Awards competition, Brownfield said it would "really mean a lot," especially given the years of work that have been put into the USO program.
"For us to win the overall, that's hard to even put into words because you would probably find me a crying mess if that happened," she said. "That would help spread the word on an even larger platform and just hopefully encourage others to do the same and encourage others to find ways to work with their animals because animals are incredible creatures that can do incredible things when people use them."
Coast Guard K-9 Buda
Buda is a four-year-old German shorthaired pointer military working dog stationed at the Maritime Security Response Team West in San Diego, California, with his handler, Chase Leamer.
Leamer, age 29, is a U.S. Coast Guard explosives detection canine handler and Maritime Enforcement Specialist, petty officer first class.
Leamer told American Military News that he was first stationed with Buda about two years ago. Since that time, Leamer and Buda have completed 185 operational deployments, including eight Coast Guard offloads with $195 million in contraband, 75 vessel sweeps, six high school bomb threat responses, multiple protection deployments for dignitaries, and protection deployments at various events, such as parades, music festivals, and marathons.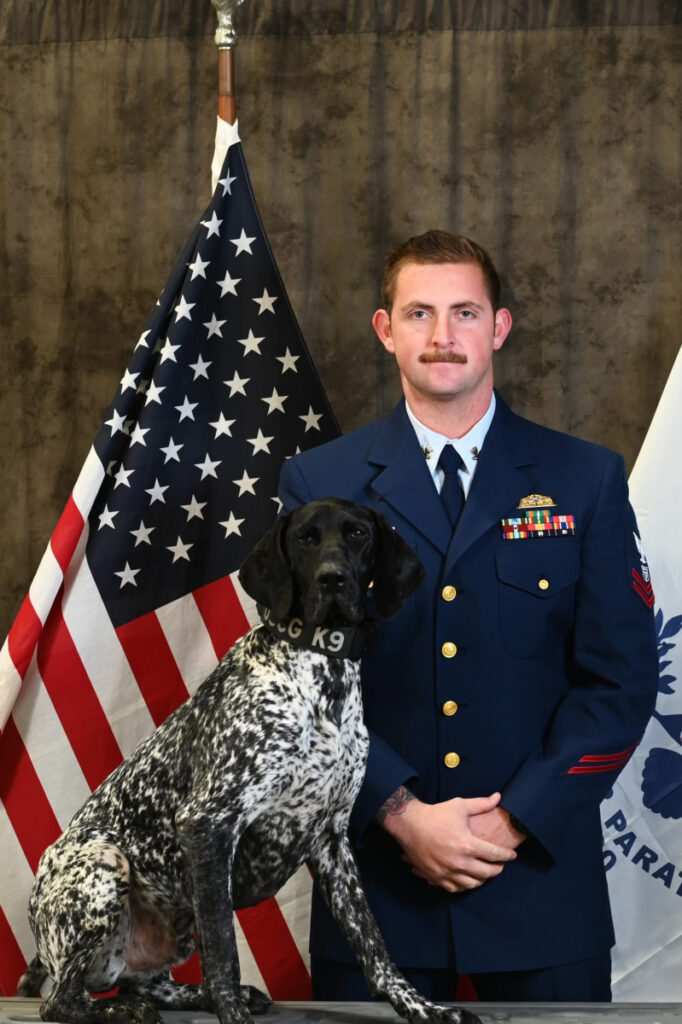 Leamer noted that some of Buda's highlights have included providing security for the Super Bowl, the World Athletic Championship in Oregon, San Francisco Fleet Week, and New Year's Eve events in Las Vegas.
"We are extremely honored to represent the Coast Guard and American Humane," Leamer said. "The Coast Guard is such a small branch, and it just means the world that we get to represent the military category. With only 18 dogs, Buda and I are very honored."
Leamer expressed his gratitude for the opportunity to give Buda recognition for his accomplishments during his time in the Coast Guard. Leamer explained that military working dogs do not usually receive much recognition for their service until after they retire. "I saw this opportunity as one that I could promote the Coast Guard and Buda and just overall give a good appearance of everything we do," he said.
While Leamer admitted it would be "great" to win the whole Hero Dog Awards competition, he said he is "extremely happy" just having Buda make it into the final five as the military finalist. "That was really my only goal was to be the military finalist," he said.
Describing Buda's lifestyle as a Coast Guard dog, Leamer said things are "a little different" than the lifestyle of other military working dogs since the Coast Guard does not have a structured kennel at a base where the dogs stay. Instead, Leamer and the other Coast Guard dog handlers are each required to take their dogs home each day.
"It's literally 24/7, 365," Leamer said. "Buda is with me every single day, at home and at work, and our days usually consist of long hours."
When not assigned to an operation, Leamer said Buda is engaged in training at least five days a week, working on things like odor detection training and training with the Maritime Security Response Team West.
In addition to the busy military schedule, Buda participates in many community engagements with Leamer, especially educational events.
"I'll bring Buda whenever I can have time in my schedule when the events come up, and I'll let the kids kind of hang with Buda and play with him and kind of just connect with them," Leamer said.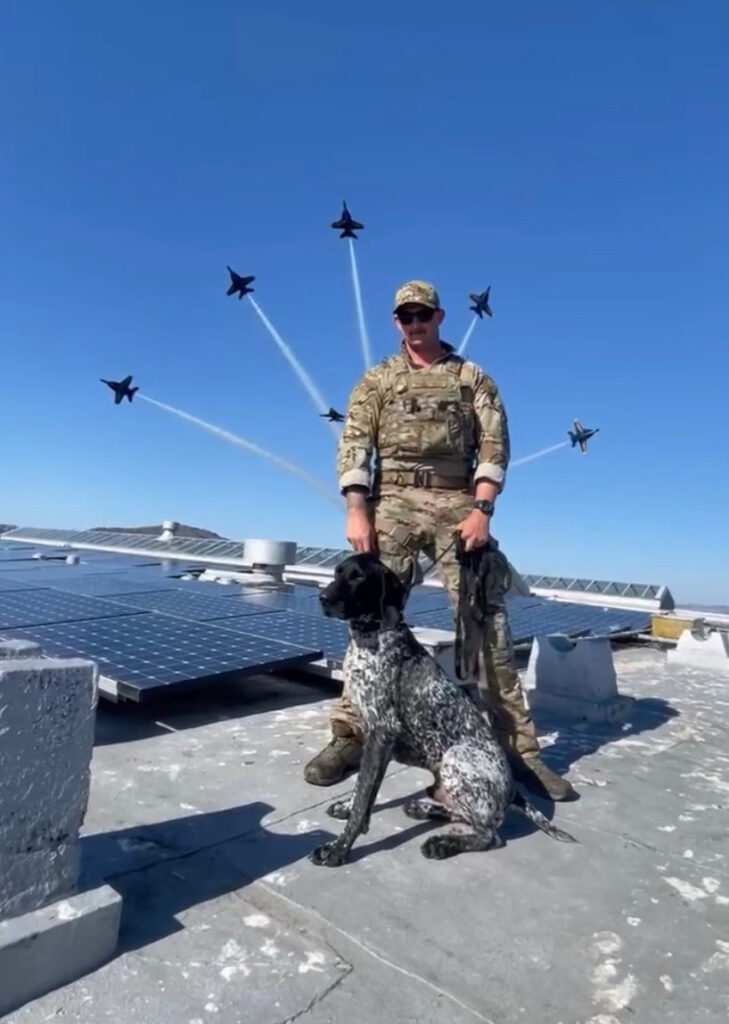 Leamer told American Military News the most rewarding part of his job with Buda is carrying out a "real purpose" each day. The Coast Guard dog handler said he feels a "deep connection" with both his job and his country as he works with Buda to make people safe at various events.
"It's good knowing that I could have prevented something very bad from happening at an event where there's thousands and thousands of individuals," he said.
On the other hand, Leamer said the most difficult part of his journey with Buda is the high level of responsibility he faces every single day of the year. As an "asset" of the Coast Guard, Leamer's personal life is often affected by the daily responsibility of training and caring for Buda.
"It's very strict at home," he said. "It's 24/7. I've never really off work when I have them, so there are cases where you know my personal life is affected because I'm not able to do everything that I'd like to do."
While Leamer said the life of a Coast Guard handler and Coast Guard dog can be challenging at times, he explained that the high level of responsibility he is entrusted with as Buda's handler is "becoming normal."