The Philadelphia Police officer who fatally shot Eddie Irizarry last month at near point-blank range as he sat in his car in Kensington has been charged with murder, prosecutors announced Friday.
Mark Dial, 27, surrendered to police Friday morning, alongside his attorneys and leaders from the Fraternal Order of Police Lodge #5. Dial said nothing, staring ahead as he walked through the station doors.
District Attorney Larry Krasner said his office has charged Dial with first-degree murder, voluntary manslaughter, aggravated assault, and related offenses.
"We have been trying to be fair, fair to everyone," Krasner said during a news conference. "We have been trying to make it very clear that justice is even-handed. It is even-handed if you are powerful or not powerful, rich or not rich, famous or not famous."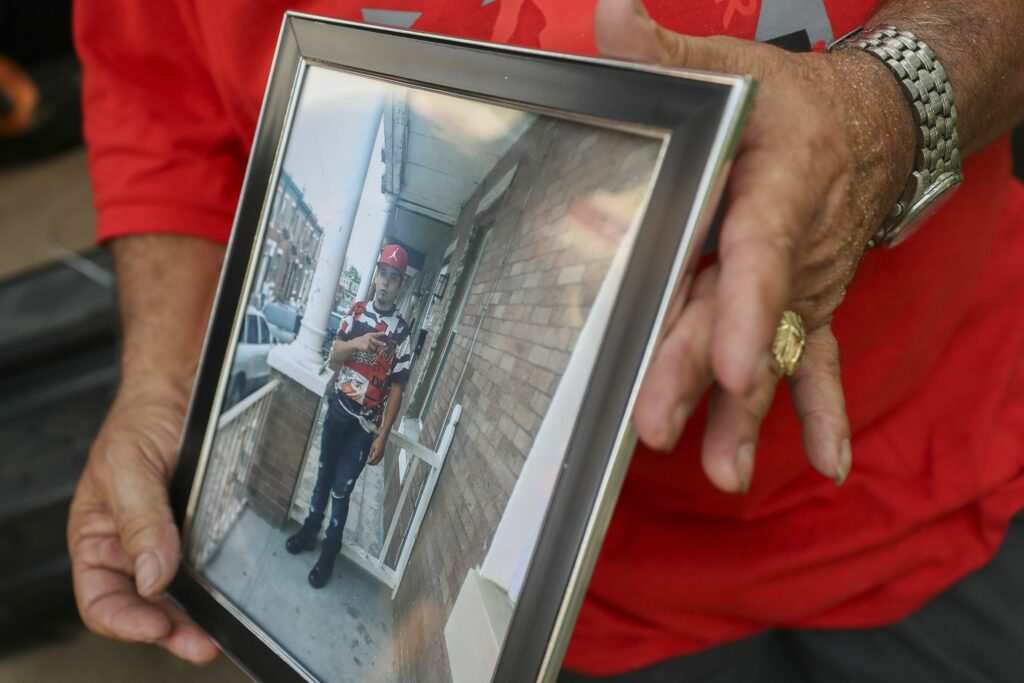 Krasner declined to answer specific questions about the circumstances of the Aug. 14 shooting, saying the body-worn camera footage "speaks for itself," and that his office "intends to try this case in the court of law, not in the media."
Dial's attorneys, outside the South Philadelphia police station where Dial turned himself in, called the charges "appalling," and said Dial thought Irizarry had a gun when he opened fire.
"This decision today puts police officers in peril at a time when they're dealing with perhaps the most violent time in our city's history. We intend to right this wrong and bring this young man home," said attorney Brian McMonagle.
Dial, a five-year veteran of the force, was arraigned Friday afternoon. Typically, defendants charged with first-degree murder are held in jail without bail. But in an extremely unusual move, bail magistrate Marilyn DeLeon and Municipal Court Judge Christian Dicicco agreed to set Dial's bail at $500,000.
Almost immediately, the police union posted the necessary $50,000 — 10% of the total bail — to have him released.
The charges mark the latest development in the controversial case, which has sparked protests and led some to question the Police Department's handling of the incident because officials initially provided an inaccurate account of what happened. The day of the crime, police said Irizarry had lunged at Dial while holding a knife, leading the officer to fire his gun. But video later showed that Irizarry, 27, had been sitting in his car with a knife in his hand when Dial opened fire just seconds after arriving on the scene.
Before announcing the charges, Krasner played clips of the officers' body camera footage, which Irizarry's family requested be released to the public unredacted and in its entirety. Krasner cautioned the public about watching the footage, describing it as "extremely violent" and traumatizing.
"This is, after all," he said, "a video of the dying moments of a young man."
What does the body-worn camera footage show?
Dial and his partner, officers with the 24th Police District, encountered Irizarry just before 12:30 p.m. on Aug. 14, near B and Westmoreland Streets in North Philadelphia. They said they saw him "driving erratically," and followed him south for a few blocks, until Irizarry turned the wrong way onto the 100 block of East Willard Street. They pulled up next to him.
There is no audio accompanying the moments before officers got out of their patrol car to approach Irizarry — the body-worn camera technology does not record sound until officers press a button to record, Krasner said.
Here's what the videos appeared to show:
Before the police car had even stopped moving, Dial was opening the door. He hopped out and immediately drew his gun.
"Show me your hands!" Dial's partner yelled.
Irizarry was seated in the driver's seat, the windows rolled up. He was holding a small knife in his hand as officers approached the car.
It's difficult to discern from the video what exactly Dial's partner yelled next, as the audio to his body-worn camera footage was not turned on, and attorneys for Dial and Irizarry's family held vastly different interpretations of the footage — a detail likely to be a crucial theme in a potential trial.
Prosecutors and Irizarry family's lawyer said the partner yelled "knife," while Dial's defense attorneys say he yelled "gun!"
Dial then ran around to the driver's side of the car and held his gun up to the window.
"I will f—— shoot you!" Dial yelled.
He then opened fire at near point-blank range through the door window and windshield. He ran backward as he fired, striking Irizarry six times.
"Shots fired, shots fired," Dial said into his police radio.
Dial ran around his cruiser, then to the passenger door of Irizarry's car. He attempted to open the door but it was locked.
"Get your hands off that right now!" he yelled at Irizarry.
Dial's partner tried to calm him down.
"Mark, hold on. Mark, stop," he said.
Dial stepped back.
The partner then moved the cruiser up a few feet to make space near Irizarry's Toyota.
"Get us cars, please," he pleaded over the radio.
Dial went back around to the driver's side, where Irizarry leaned back in his seat. He was bleeding heavily.
"Keep those hands up right where I can see them," Dial said, opening the car door.
But Irizarry only moaned, his arms limp and eyes rolling back.
Dial's partner opened the passenger side door. He leaned inside the car, appearing to be looking for the knife.
"Where's the … I just seen it," he said.
Dial put on a pair of blue gloves, then pulled Irizarry out by his arms. He was no longer moving as he lay on the cement.
The officers, carrying him by his arms and one of his legs, placed Irizarry in the cruiser. Dial rushed him to Temple University Hospital, where he was pronounced dead a short time later.
Dial's partner stayed with the car as additional police arrived. A group of neighbors had gathered in the street, watching, recording, and questioning the officers' actions.
"Why did y'all kill him?" a neighbor asked.
Outside of a South Philadelphia police station Friday morning, Dial's lawyers for the first time shared his version of events: That as the pair approached the car, Dial heard someone yell that Irizarry had a gun. Fearing for his life, they said, he opened fire.
"He then saw an individual pointing what he thought was a gun right in his face. Fearing that he was going to be the next police officer killed in the streets of Philadelphia, he fired," his attorney McMonagle said.
Shaka Johnson, a lawyer for Irizarry's family, said Irizarry had no time to follow the officer's orders to drop the knife in his hand.
Irizarry's relatives and supporters had been publicly calling for Dial to face charges for weeks.
Friday morning, the family said they were relieved to see Dial face charges.
His father and namesake, Eddie Irizarry, said the video dispelled any notions that his son had done anything wrong and showed how quickly Dial fatally shot him.
His aunt, Zoraida Garcia, agreed. "I know that's not bring(ing) my nephew back but at least he's paying for a crime that he committed," she said.
Local FOP President John McNesby said Dial "has the full support" of the union.
"We ask the public to reserve judgment until all the evidence is presented during trial," he said. "Like any other individual facing allegations, Officer Dial is presumed innocent and looks forward to helping his attorneys prepare a vigorous defense against these serious criminal charges."
Dial was suspended from the Police Department with intent to dismiss last month. Police Commissioner Danielle Outlaw said she was moving to fire him for insubordination after he refused to speak with internal investigators about the shooting.
In a statement, Outlaw did not specifically address the footage or the murder charges, saying only that the department's internal affairs investigation remains ongoing and that the department "remains committed to ensuring the safety and well-being of the communities we serve."
Outlaw, who announced this week that she plans to resign at the end of this month to take a new job, had previously declined to say whether she thought Dial committed a crime.
Fortunato Perri Jr., one of Mark Dial's attorneys, said during a bail hearing Friday afternoon that when police submitted an initial affidavit of probable cause for Dial's arrest, they recommended that he be charged with voluntary manslaughter — not first-degree murder.
Defendants facing first-degree murder charges in Pennsylvania have for years been held without bail under the traditional interpretation of the state Constitution. Jules Epstein, a Temple University law professor, said exceptions to that are "unusual to the point of being extremely rare."
But, he said, a 2021 case out of the state Supreme Court did establish limited circumstances under which murder defendants could argue for bail, and the judge in this case evidently agreed that Dial's case permitted his release.
In a statement, Mayor Jim Kenney said his "heart is with the loved ones of Eddie Irizarry."
"I recognize that no action that we take as a City can bring him back, but I am confident that the District Attorney's Office is working toward justice for Mr. Irizarry and his family," Kenney said.
The case marks the fourth time that Krasner has charged a police officer in connection with an on-duty shooting since he took office in 2018. One officer was convicted, one case was dismissed, and one remains pending in court. Before Krasner was sworn in, prosecutors had not charged a city police officer over an on-duty shooting in nearly two decades.
Dial is scheduled to appear in a preliminary hearing later this month.
___
© 2023 The Philadelphia Inquirer, LLC
Distributed by Tribune Content Agency, LLC.