Drive north out of Philadelphia into Elkins Park and you'll arrive at the cemetery entrance in less than 10 minutes. A couple turns off Broad Street and there it is, faintly visible from the road:
A large stone cross honoring Nazi collaborators.
The monument, in a Montgomery County community known for its synagogues, is dedicated to the 14th Waffen Grenadier Division of the Schutzstaffel — the Nazi military branch often referred to simply as "the SS."
The slab was erected by veterans groups about 30 years ago at St. Mary's Ukrainian Catholic Cemetery to celebrate the 50th anniversary of the creation of the unit, which drew volunteers and conscripts from Nazi-occupied Ukraine to fight for Germany during World War II.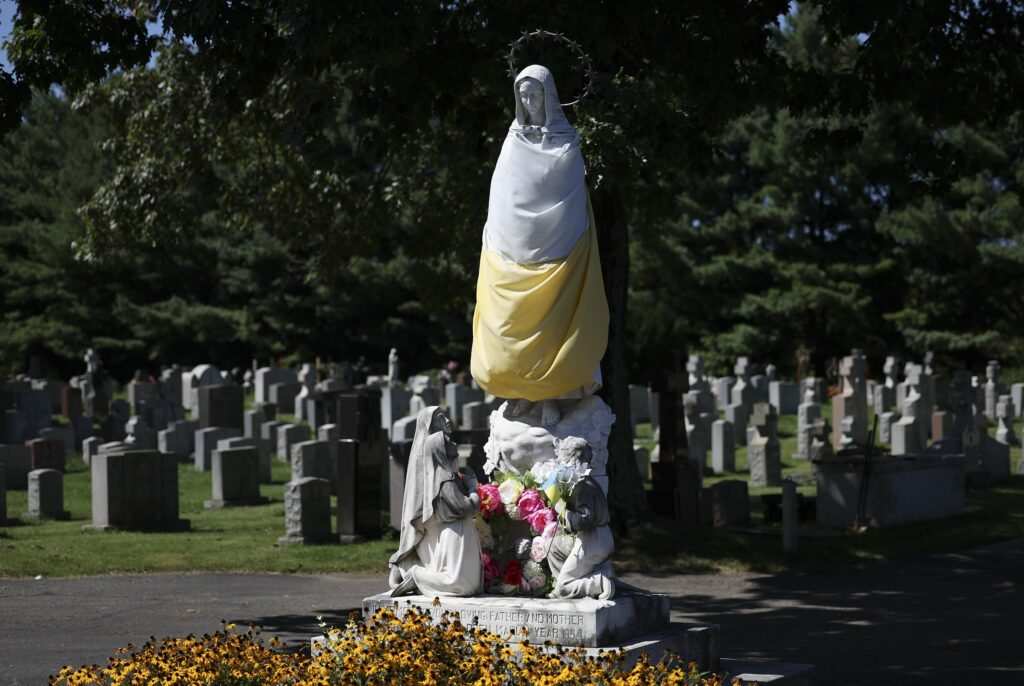 But, unlike hundreds of Confederate statues around the United States — or the Christopher Columbus statue in South Philly — this monument and its Cyrillic dedication have largely escaped wider public scrutiny.
That appears to be changing quickly.
In May, a leader of a Ukrainian nationalist group visited Elkins Park and posed in front of the monument for a photo, which was tweeted by Moss Robeson, who writes about Ukraine's far-right.
On Monday, the Forward, a Jewish newspaper, ran an article about the monument and added it to its growing list of Nazi collaborator monuments around the world.
Jewish organizations around Philadelphia say they learned of the Elkins Park monument only recently and have been seeking answers, with little success.
"We don't feel good that there is a memorial to any SS unit in our area," Jason Holtzman, an official with the Jewish Federation of Greater Philadelphia, said Friday.
Holtzman said the federation reached out to a man believed to be the cemetery's superintendent about two weeks ago. He said the man claimed not to be familiar with the monument, but would get back to them. They haven't heard from him since.
Andrew Goretsky, regional director of the Anti-Defamation League, said Friday that his group was "very recently made aware" of the situation.
"ADL Philadelphia rejects any memorialization of Nazi or Nazi-adjacent groups," Goretsky said in a statement, adding: "We have no objection to the national symbol of Ukraine appearing on any monument; however, we do object to monuments dedicated to Waffen SS soldiers."
The Ukrainian SS division, nicknamed the "1st Galician" or "SS Galizien," was composed partly of volunteers from a region historically known as Galicia that stretched across modern-day Poland and western Ukraine.
By 1941, much of this region had fallen under Nazi occupation, after Hitler invaded the Soviet Union. The SS division was organized by a Nazi governor in 1943, to provide additional recruits to repel Soviet counter attacks amid growing German manpower shortages.
Although some Ukrainian recruits joined under duress, the long history of territorial disputes in the ethnically mixed region made Galicia a focal point for early nationalist movements among Ukrainians. Some were eager to fight against encroaching Russian Communists or Polish partisan groups, viewing Nazi collaboration as a means towards formally establishing an independent Ukrainian state.
The division surrendered to the Allies in 1945. Facing the possibility of deportation to the Soviet Union, about 8,000 former soldiers from the division were allowed to emigrate and others followed later, settling in such places as Toronto, Chicago and Philadelphia, which had become a center for Ukrainian Catholicism and a home for political exiles.
Today, some Ukrainian civic groups and veterans organizations still argue that many of the 1st Galician soldiers could be considered "freedom fighters" who stood up to Russia, rather than collaborators with the Nazis.
"They were greatly opposed to Russians and Communists — they thought they could get their independence restored by being on the German side," said Edward Zetick, the local post commander of the Ukrainian American Veterans.
In December 2011, Cardinal Lubomyr Huzar, a former head of the Ukrainian Catholic Church, asserted that the unit "went through the war in German uniforms, but did not fight for Germany, but for their own rights. … These were people who utilized the situation to fight for their independence."
Similar memorials have also generated outcry in Canada. Jared McBride, a UCLA historian of Eastern Europe, said that within the Ukrainian diaspora, many believe that the soldiers allied with the Nazis with noble intentions.
But it is a view that he said scholars widely view as historical revisionism.
"The Nazi regime was a genocidal regime," McBride said. "This idea of parsing these things out — that 'We were the good SS division,' or 'The good police unit,' or 'The good mobile death battalion' — is not the strongest of arguments."
John-Paul Himka, a retired history professor at the University of Alberta in Edmonton, and an expert on Ukrainian history, said SS Galizien had "very little to do with the Holocaust" since it was not formed until 1943 and first saw combat the following year. But, Himka said, the unit was also tied to other war crimes during World War II.
"Galizien fought with the Germans against the Soviets; it helped suppress the Slovak uprising; it was involved in atrocities against Poles and Slovaks; it welcomed into its ranks many perpetrators of the ethnic cleansing against the Polish population and of the Holocaust; it propagated antisemitism and seems to have been involved in a roundup of Jews in Brody in 1944," Himka said by email. "I cannot accept the notion that they were 'freedom fighters.'"
St. Mary's Ukrainian Catholic Cemetery, where the monument is located, is owned by the Cathedral of the Immaculate Conception, located on Franklin Street just outside Northern Liberties. That is the main church of the Ukrainian Catholic Archeparchy of Philadelphia.
Mariana Karapinka, a spokesperson for the archeparchy, said that officials there do not know who erected the SS monument in the 1990s, and that cemetery monuments "are not subject to the approval of the archeparchy."
In response to Inquirer questions about the monument, Karapinka sent a document for "historical context," but said it is not an official statement from the archeparchy.
"The actions of the division and its legacy continue to be debated by historians," the document reads. "In the same way, the morality of fighting in a unit organized by the criminal Nazi state even if intended by those who joined to fend off the criminal Stalinist state continues to be a topic for reflection. Those who erected the monument saw those who joined the unit as fighting in the interest of Ukraine."
In April 2021, hundreds of Ukrainians marched in Kyiv celebrating 1st Galician soldiers. President Vlodymyr Zelenskyy, who is Jewish, has condemned such marches and "attempts to revise truth about World War II."
During that march, men held signs with the 1st Galicia insignia, a lion and crowns inside a larger shield. That same insignia, which is considered a hate symbol by the Anti-Defamation League, is also prominently featured on the Elkins Park cemetery monument and dozens of gravestones behind it.
Since Russia's invasion of Ukraine in February 2022, discussing Ukrainian collaboration with Nazis during World War II has become something of a third rail, because Russian President Vladimir Putin has used "denazification" of Ukraine to justify the current war.
"It's purely war propaganda; it has no substance at all," said Christopher Simpson, a historian and author of Blowback: America's Recruitment of Nazis and Its Destructive Impact on Our Domestic and Foreign Policy.
But, Simpson said, debunking Russian propaganda doesn't erase the fact that some Ukrainians fought for Nazi Germany during World War II. He said they should not be treated as heroes today.
"War, and particularly genocidal war, leaves terrifying debris in its wake, and this is an example of it," he said of the monument outside Philly. "I don't see any good reason to have this kind of memorial."
Lev Golinkin, the reporter at the Forward who has been documenting Nazi monuments, said he has found 42 of them in 16 U.S. states, most of them dedicated to individuals. The Elkins Park monument and one in Detroit are the only two he knows of on U.S. soil that honor an entire SS unit.
"These people got away with it," Golinkin said. "They committed war crimes and they got to live the American dream and die surrounded by their families. Do we need to celebrate them as well?"
___
© 2023 The Philadelphia Inquirer, LLC
Distributed by Tribune Content Agency, LLC.