The flight deck of the USS George Washington is already streaked with tire marks from aircraft landings just three months after the warship was welcomed back into the Navy fleet.
But as the carrier and its crew transition from a brutal six-year maintenance cycle, there is still much to be done to prepare for its next mission.
The Washington recently provided fleet support to new E-2 Hawkeye pilots working on carrier qualifications. The ship got underway for about two weeks, and reporters were invited aboard.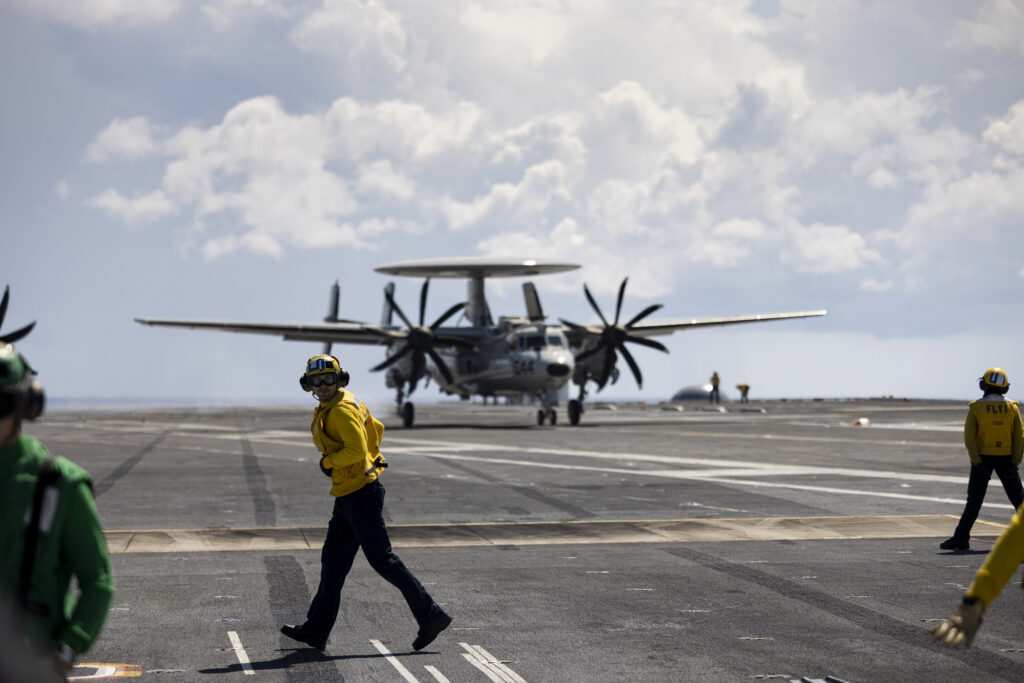 This marks the ship's fourth venture out since leaving Newport News Shipbuilding for Naval Station Norfolk in May. The aircraft carrier had been a fixture at the shipyard since 2017 for its midlife refueling and complex overhaul. The process, which typically takes four years, was exacerbated by delays related to the pandemic.
When Capt. William Mathis reported to the carrier in March 2022, it was nearing the end of its heavy maintenance phase.
"It did not look like a ship when I arrived. The shell was a ship, but you walked inside and many spaces were not completed. There was a lot of bare metal everywhere, a lot of components still untested," said Mathis, executive officer of the Washington.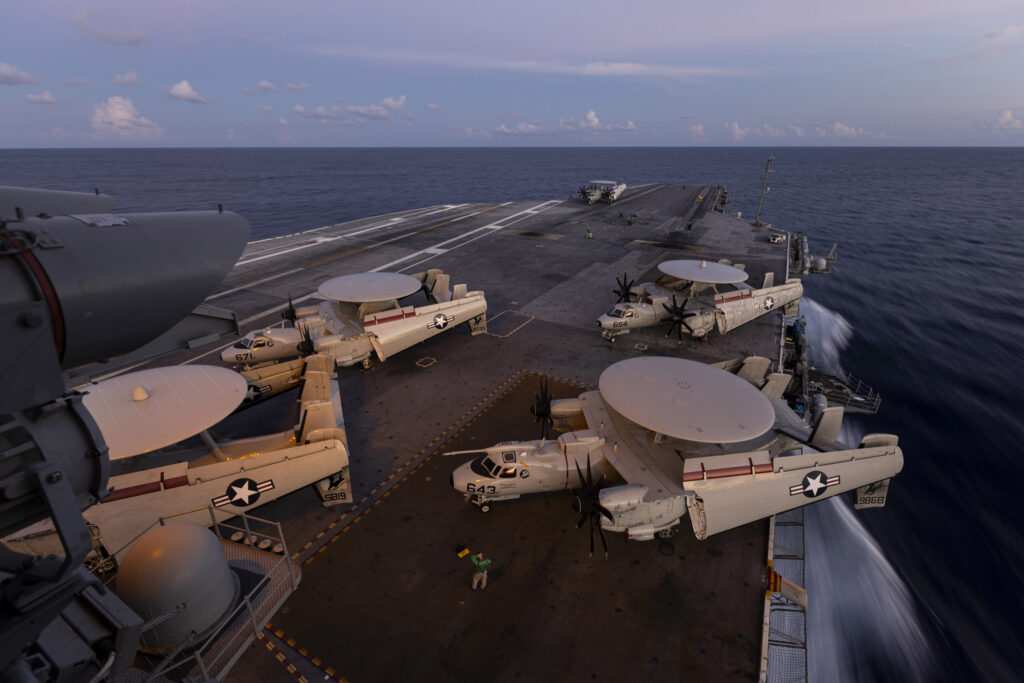 Now, the ship, which still smells of fresh paint, is mostly complete, he said. The ship's two nuclear reactors were refueled and its propulsion plant repaired, propellers refurbished and aircraft launch and recovery equipment modernized.
The Washington is in the basic phase of training, which is meant to teach the crew how to operate as a team as well as ensure the ship is ready in all mission areas.
"We still are building up the ship and building up the crew in many areas, as the crew is still very green," Mathis said. "We have got a long way to go but we have come a long way."
Buzzing with activity
Last Thursday and Friday, the ship navigated around Hurricane Lee brewing in the Atlantic Ocean. The Washington, off the coast of Florida, was buzzing with the activity of a crew of 2,800. As the warship swayed with the swell, members scurried through the corridors to their workstations or stopped by one of the galleys to grab a meal between shifts.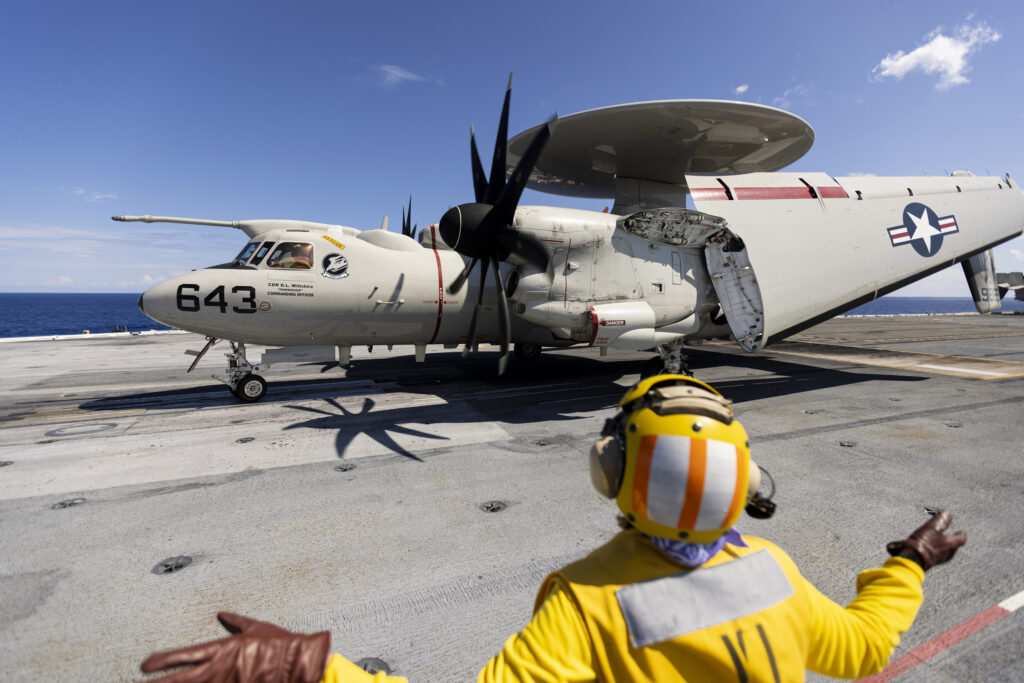 "I didn't know you could feel the waves on a carrier," one sailor said in passing.
"I didn't either, but this is my first carrier," said another.
During this training cycle, many crew members are learning their seagoing responsibilities for the very first time. According to Washington leadership, about 85% are junior sailors who had never been to sea before being assigned to the warship.
"The crew are starting to learn their jobs at sea as well, which is exciting. But we have to be patient because we know that a lot of the crew are not proficient in doing the basic things that they are supposed to do," said Command Master Chief Randy Swanson, who reported to the Washington in December 2022.
Many are still figuring out how to manage life at sea, including deployment basics like who is going to water their plants or how their bills will get paid on time, Swanson said.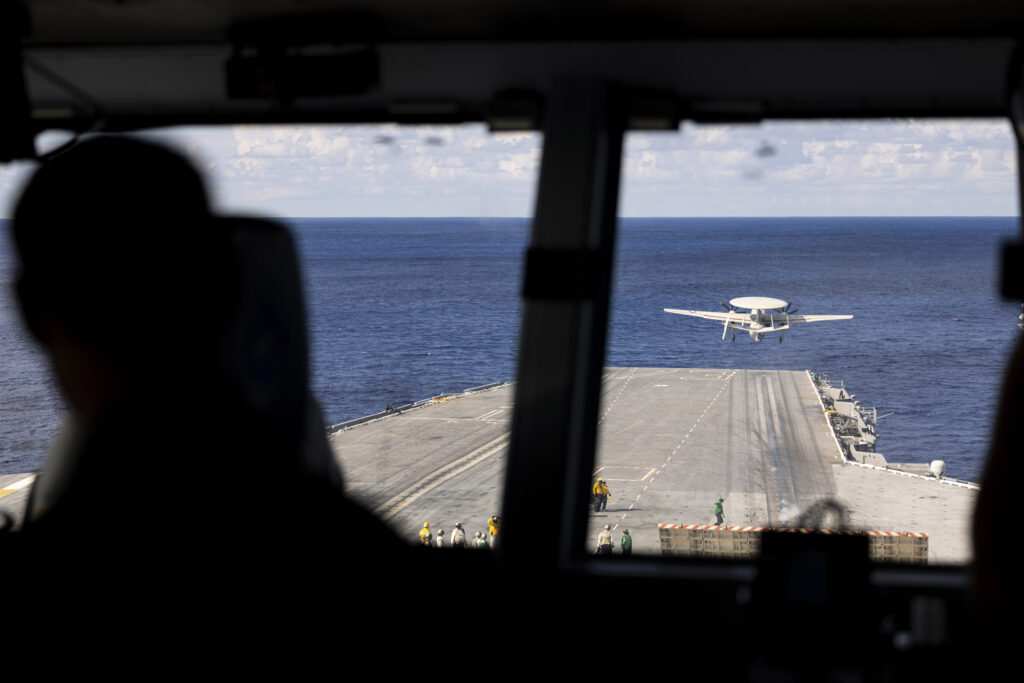 The Washington and roughly half its current crew will shift homeports in 2024, moving from Naval Station Norfolk to Yokosuka, Japan, where it will be the forward-deployed carrier. Before then, the ship must fully integrate its airwing and certify for deployment. The training will be spread across the next 12 months.
"It seems like we are getting better and better at what we do," Swanson said. "But we can't get comfortable. We always have to keep our head on a swivel and get through each underway period as a team."
Preparing for homeport shift
The ship is scheduled for a stop in San Diego in April before heading to Japan, where the Navy expects it to be operating by the fall of 2024.
Much of the crew does not yet know if they will join the warship in Japan. But sailors interviewed by The Virginian-Pilot said they are excited to take the Washington to sea, even if only for a brief time.
Jayden Thompson, an aviation boatswain's mate, has been in the Navy for five years. She has been assigned to the Washington for four years and nine months.
"I hated the shipyard, and I was determined to get out (of the Navy) after this first contract," Thompson said.
The 23-year-old is responsible for the operation and maintenance of the flight deck's arresting gear, which snags the tail hooks of landing aircraft. Being on an inoperable ship for the bulk of her contract meant Thompson was unable to do the job she signed up to do.
"I can only do my job when we are out to sea," Thompson said. "And my job is specifically for carriers, so I cannot go to any other platform."
But Thompson has since changed her mind. While stuck in the shipyard, she was temporarily assigned to the USS George H.W. Bush and deployed with the carrier from August last year to April.
"I started to learn my rate and fell in love with my job," Thompson said. "And I came back here and was able to take this boat out to sea. Every day, I just fall more and more in love with what I do."
Hope returns to young sailors
The extended midlife maintenance overhaul during the pandemic was challenging. As a vital function, Mathis said it had to get done.
"But the sense of purpose for many sailors was difficult to find," he said.
During its time in the shipyard, there were nine suicides among the Washington crew, including three in one week in April 2022. An initial investigation found "life stressors" contributed to the life-ending decisions of the three sailors, but concluded the deaths were otherwise not connected.
A second investigation was launched with the purpose of evaluating the challenges unique to a shipyard environment. According to the findings, which were released in May, there was "a failure in maintaining a suitable Navy standard," after sailors reported constant noise and cold temperatures aboard a shell of a ship that was periodically without hot water and power.
When the Washington finally departed Newport News Shipbuilding and was delivered to the Navy, sailors manning the rails wept.
"It was just this sense of accomplishment, what they had done, what they had been through — what we had all been through," Mathis said.
Capt. Brent Gaut, who assumed command of the USS George Washington in June 2021, said after the ship left Newport News Shipbuilding, a sailor approached him.
"And they said, 'I just can't believe that we got out. I really didn't think it was going to happen.' And that was one of those moments as a commanding officer and as a human being — a person, a father, a husband — that was just so emotional for me," Gaut said. "You could see a little glimmer of the hope in their eyes that for a long time, we hadn't seen."
____
Resources for service members and veterans struggling with mental health, including 24-hour crisis hotlines, include:
•The Military Crisis Line: call 1-800-273-8255, Ext. 1; or text "273Talk" to 839863
•Military OneSource: 1-800-342-9647
•National Suicide Prevention Lifeline: 988 — call or text
___
© 2023 The Virginian-Pilot
Distributed by Tribune Content Agency, LLC.