Inmates at the City Justice Center in downtown St. Louis took a guard hostage for several hours Tuesday morning.
Detectives said the 70-year-old male corrections officer had no weapon when he was taken hostage at the jail. It wasn't immediately clear if he was injured, police said.
Medics were seen bringing a man out of a stretcher about 8:30 a.m. Tuesday, more than two hours into the ordeal. The man, who was wearing a guard's uniform, was conscious and looked haggard as they carted him away.
An hour later, the city's Department of Public Safety confirmed to reporters that the jail officer had been "freed and secured." The city released no other information and scheduled a media briefing for 2 p.m. Tuesday.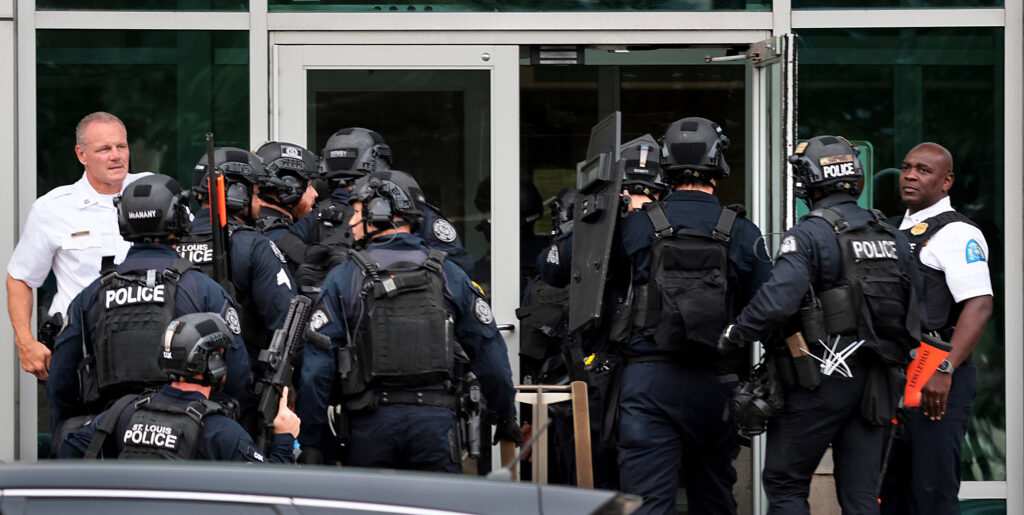 Inmates have complained about lack of hot meals, but authorities haven't disclosed what demands, if any, the inmates made as they held the guard hostage or how many inmates were involved.
On Tuesday morning, the jail held 676 inmates, according to the city's website.
Police reported the incident shortly after 6 a.m. Tuesday. Police said there was no riot and the hostage ordeal was confined to the fourth floor.
The City Justice Center is at 200 South Tucker Boulevard. The jail has seen several disturbances in recent years, and prison advocates said they were due to poor living conditions at the jail.
In February 2021, for example, about 115 inmates commandeered the fourth floor, set fires, broke windows and hurled furniture and flaming debris onto the street below. They also beat up a guard.
Unlike some of those previous disturbances, there were no exterior signs Tuesday of the ordeal inside the jail. A few officers and workers milled about on the sidewalk in front.
Jennifer Clemons-Abdullah, the commissioner of corrections for St. Louis, did not respond to a request for comment.
___
© 2023 STLtoday.com
Distributed by Tribune Content Agency, LLC