With last year's massive success of "Top Gun: Maverick" and the latest "Mission: Impossible" film now in theaters, Tom Cruise is firmly back in Hollywood's driver's seat, and Rick Dossin couldn't be happier.
"Good for him," says the 55-year-old Eastpointer. "And good for me!"
It's obvious why it's good for Cruise. But Dossin is excited because he happens to look just like the megastar, a resemblance the Detroit-area native has parlayed into a semi-professional side gig as a Cruise lookalike.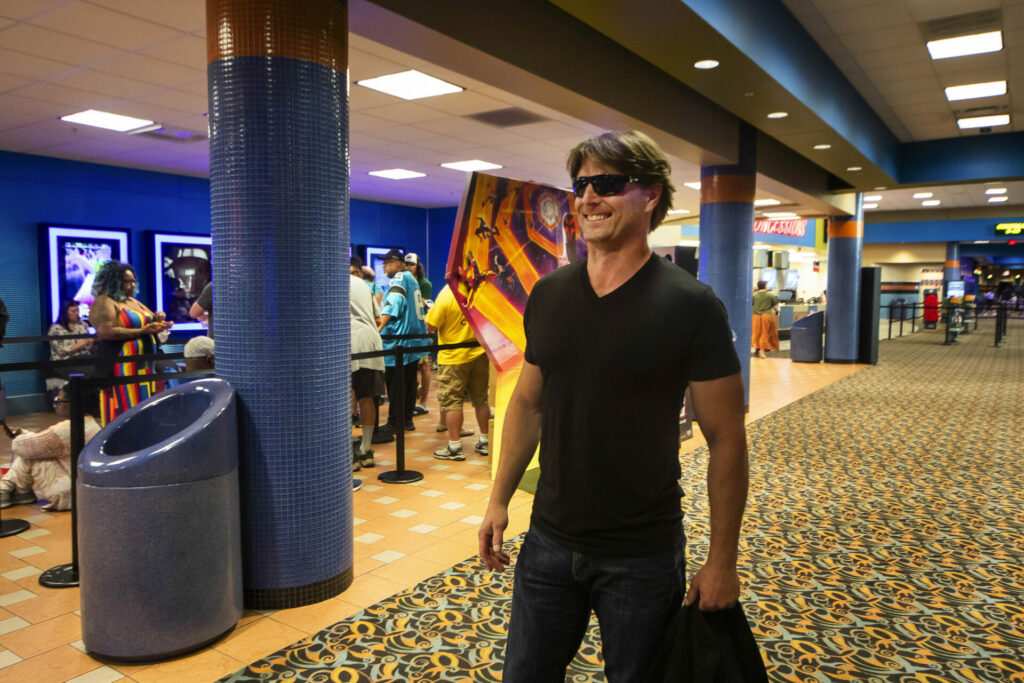 His travels as Maverick have taken him across the country, where he occasionally appears at '80s parties, corporate events and even the odd high school reunion. Locally you might catch him at a summer fair or a festival, where his tassel of brown hair and those familiar black shades have caused many a double take, and he's happy to smile for the camera, take a picture and even throw out a Cruise catchphrase ("Talk to me, Goose") or two.
It wasn't always Tom Cruise for whom Dossin was mistaken.
"I used to get a lot of Christopher Reeve or, 'Hey, Superman!'" says Dossin. "I still get it once in a while, but it was never photos or anything like that."
Now he leans into it, often sporting a clean black V-neck T-shirt and sportcoat, his black wraparound shades (usually a $10 pair from a gas station) always within reach. His haircut isn't as untamed as Cruise's current locks, but is a little more controlled.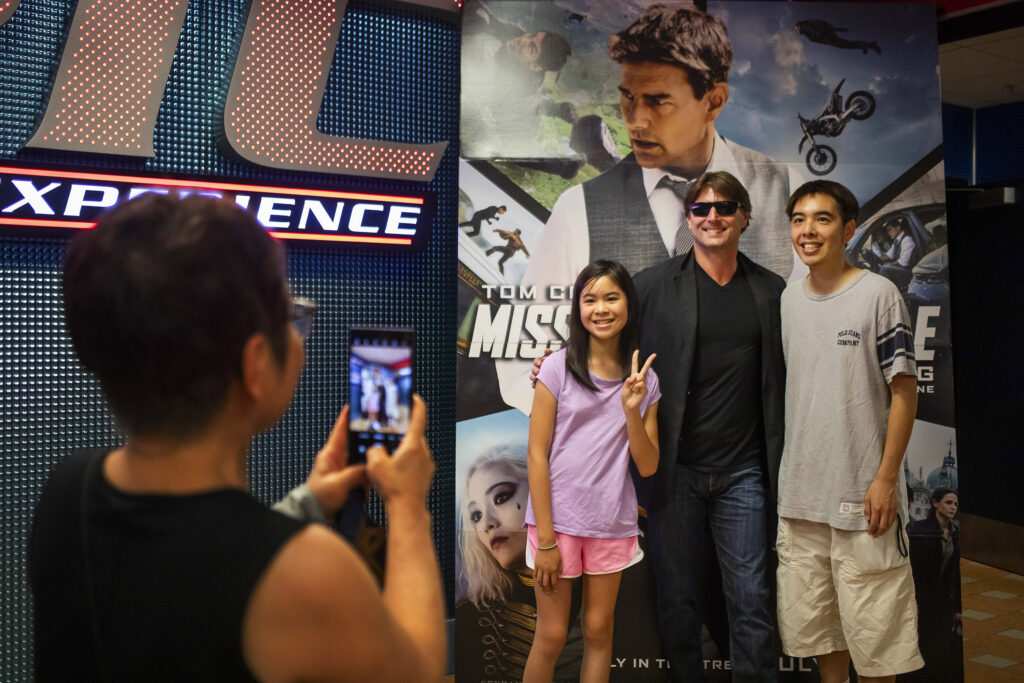 At 5-foot-11-inches, he's about 4 inches taller than Cruise, but who's counting? Either way, he looks the part — and he's having fun with it.
By day and by night
By day, you might catch Cruise, er, Dossin working his day job as a truck driver, transporting janitorial supplies to various buildings in downtown Detroit and the greater Detroit area. At night, he loves going to concerts, especially '80s-era artists, where his signature look sometimes grants him special and even backstage access.
He's met Sammy Hagar and the dudes from Night Ranger, and Terri Nunn, whose biggest hit with Berlin is the "Top Gun" love theme "Take My Breath Away," once greeted him with a full open-arms hug. He's pals with some of the guys in local '80s tribute bands — lookalikes of a feather flock together — and he made sure not to miss Bret Michaels' recent Parti Gras concert at Pine Knob, where he scored a picture with the Poison frontman.
"He's a super straight shooter, and he's really easy to get along with," says Craig Janos of Warren, a friend and a local Jack Nicholson impersonator who has known Dossin for several years. For awhile, they tried putting together a dual act based on "A Few Good Men," but it never took off the way they wanted it to.
But they have managed to cause a stir together, like the time they paired up at a Detroit Pistons-Los Angeles Lakers game in December 2015 — it was Kobe Bryant's final visit to the Palace of Auburn Hills — and they were mobbed by so many fans looking for selfies that they needed help from security to exit the arena.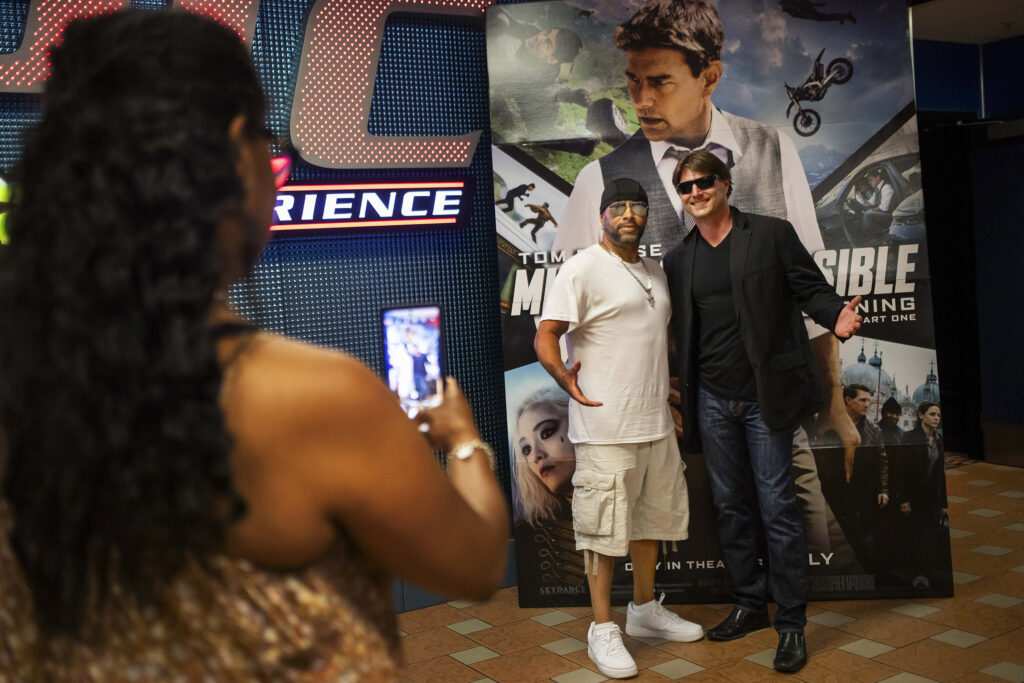 That time got a little scary, Janos says, but for the most part people are kind and respectful.
"It doesn't take long for someone to come up to him and ask for a picture," he says.
A few years ago, Dossin was a part of Michigan State Madness, the annual kickoff to the Spartans' basketball season, where he was driven onto the court in a black SUV and appeared alongside Tom Izzo and the rest of the MSU men's basketball team. He never broke character, and he kept it Cruise the entire time.
Last year, following "Maverick's" incredible box office success, Dossin appeared in an in-theater advertisement for Emagine Theaters, alongside Emagine's Paul Glantz and Fox 2 anchor and WNIC-FM (100.3) morning man Jay Towers.
"If you live here, everybody has seen that guy, everybody knows that guy in some way," says Towers, who has been running into Dossin at events and Halloween parties for years. "Rick shows up and he looks like Tom Cruise. 'It's the Tom Cruise guy!' But what's funnier is he's doing Tom Cruise from 1986, not Tom Cruise today. He's become a really funny conversation piece."
Dossin knows that and he uses it to his advantage, Towers says. "He's in on the joke, he gets it," he says.
A decade of being Maverick
Dossin grew up in Eastpointe, the second youngest of six, and graduated from South Lake High School in St. Clair Shores. He's never smoked or drank — sitting down at a bar for an interview following a screening of the latest "Mission: Impossible" movie, he orders a cranberry juice — and he's never been married.
"I never woke up going, 'I gotta get married and have kids!'" he says. "And I'm kind of glad I didn't."
Having no ties at home makes it easier for him to pick up and go to Texas or Colorado or California, wherever he might get booked for an appearance, he says. Those appearances of course slowed down during the COVID-19 pandemic, but things are back up and running now, he says.
Dossin dabbled in modeling and acting in his early years; he once appeared in a Lover's Lane ad, not as Tom Cruise, and he played a cop in Billy Crystal's baseball movie "61*," which was filmed locally in summer 2000.
Dossin began taking the Tom Cruise business seriously after he appeared on "The Wendy Williams Show" in 2012, during a segment about celebrity lookalikes. After that he went from smiling and nodding when people pointed out his uncanny Cruiseness to making appearances and turning his looks into a business.
In that business, "Top Gun" is his bread and butter, and he's got a flight suit, aviator shades and the Navy whites to complete the look. In his travels he's met several other Tom Cruise lookalikes, and he even crashed with another Cruise during a trip to California a few years ago.
He struggled early on to figure out what to charge; he didn't want to ask too much and price himself out of a job, he says. He now charges $150 an hour for appearances, and he'll even throw in a "show me the money!" for good measure.
While the real Tom Cruise has had his public ups and downs, Dossin — who admits he's "not a huge movie guy" — has always been a fan, dating back to Cruise's "Risky Business" days.
"Like when he jumped up on the couch? I don't really see what was so bad about that," says Dossin of Cruise's infamous 2005 "Oprah" appearance where he declared his love for Katie Holmes by leaping onto the talk show host's furniture. "You see other people doing way worse things."
Dossin has never had the opportunity to meet Cruise, but he holds out hope that one day he'll get the chance.
"Oh, that would be the tops," he says, flashing that winning Tom Cruise smile.
___
(c) 2023 The Detroit News
Distributed by Tribune Content Agency, LLC.