The Baltimore Police captain introduced herself in city Circuit Court on Friday as the widow of James Blue III, and recounted in chilling detail the day her husband was shot dead, hoping the judge would impose the maximum sentence for the young shooter.
In the afternoon of Jan. 25, 2022, Lekeshia Blue recalled getting a phone call from her oldest son, and that he was hysterical. The son had been on the phone with his father, who was waiting for a refrigerator delivery at his investment property in North Baltimore. The son listened on the phone as he heard his father and someone else arguing. Then gunfire.
Lekeshia Blue rushed to the shooting scene in the 1400 block of Walker Avenue, and then to Johns Hopkins Hospital. In a hospital room, she fielded urgent calls from her three children: Her oldest, away at college, was desperate for information. Her younger son wanted to know why his dad wasn't at his basketball game. Her daughter, the youngest, asked why her father hadn't picked her up from school. Then, a doctor entered the hospital room.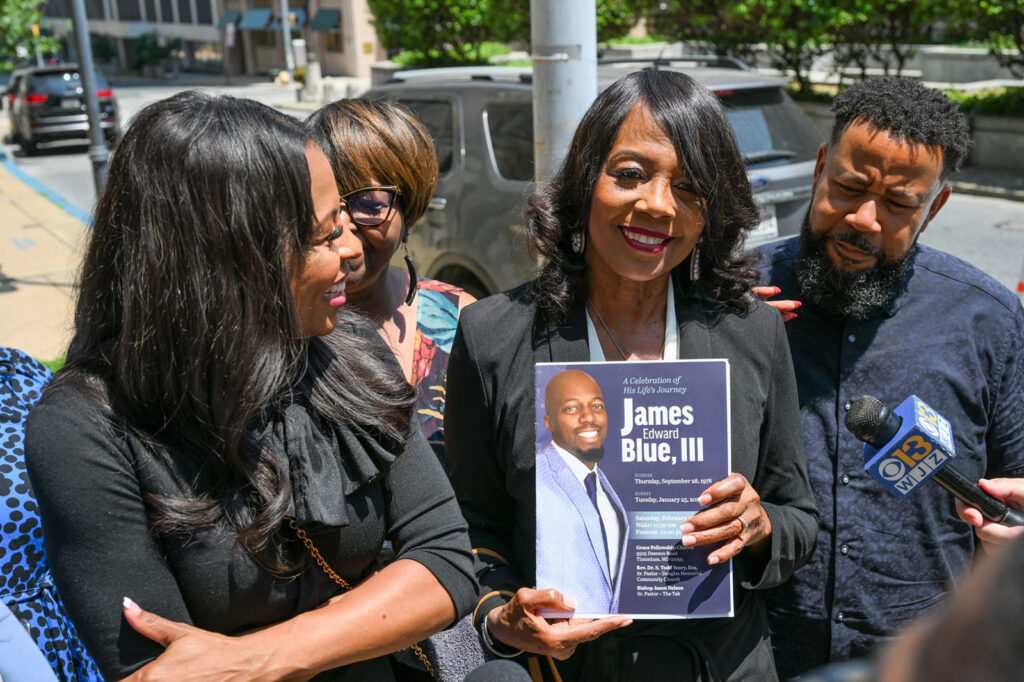 "My heart stopped," Lekeshia Blue told Circuit Judge Jennifer Schiffer. "I had to go home and tell my kids their father was dead."
She went on to tell of the enduring trauma for her children and family. She recalled her children saying they'd been approached at school because classmates learned of their father's killing on the news. She highlighted evidence showing that the gunman, after shooting her husband several times, stood over him and fired several more rounds from close range. She asked Schiffer to impose the maximum penalty.
"I pray that you have no mercy," Lekeshia Blue said.
Schiffer sentenced 19-year-old Sahiou Kargbo to 65 years in prison, ordering that he serve the punishment for each charge he was convicted of one after the next. The judge also mandated that the punishment begin after he finishes serving 10 years in prison for an unrelated armed robbery in Baltimore County and a nonfatal shooting in the city, both of which happened in the weeks leading up to Blue's killing.
After two hours of deliberation in February, a jury found Kargbo guilty of second-degree murder. The jury acquitted him of premeditated killing; it convicted on several firearms offenses.
Though Schiffer handed down the maximum penalty, which went above the sentencing guidelines for Kargbo, she described it as a difficult decision, citing the defendant's age and challenges. Kargbo was barely 18 years old when he shot Blue.
A neuropsychologist hired for his trial defense diagnosed him with a mild intellectual disability, noting that he read and did math at an elementary level and that his "executive function," which is "very important in how we navigate the world and respond to things," including perceived threats, was in the 0.02 percentile. His attorney said the tests showed he was easily susceptible to other people's influences and poor decision making.
At trial, Kargbo's attorney did not dispute that his client fatally shot Blue, but argued self defense. The teen also testified he felt endangered as a verbal altercation with Blue escalated.
Kargbo immigrated from The Gambia before he turned 1, lost his father and role model at 13, experienced the deaths of several young friends to violence and, his attorney said Friday, witnessed a murder at 15 — the approximate age he began carrying a gun. When they arrested Kargbo for unrelated charges and searched his house, police found the gun he used to kill Blue, another handgun and a 60-round drum magazine.
On Dec. 1, 2021, Kargbo shot up an ex-girlfriend's house, according to court records. In early and mid-January 2022, he was involved in the shooting of a teen at a hotel in Baltimore and robbed at gunpoint a Wendy's in Baltimore County where he used to work. Then, at school on Jan. 25 of that year, a woman he considered his aunt called to say she was concerned about a car that was parked in front of her house on Walker Avenue, which had been shot up in the preceding weeks.
Kargbo testified he drove a stolen car from Mergenthaler Vocational-Technical High School to the woman's house, talked to the woman and, while still wearing his Mervo uniform, approached the car and spoke to the man inside through a cracked window.
It was Blue.
Kargbo testified at trial that Blue, who was also armed with a handgun, for which he had a permit to carry, reached for his sidearm. He said he pulled out his own gun and began firing, claiming he only pulled the trigger twice.
Of the 14 rounds Kargbo fired, 10 hit Blue, wounding his head, neck and spine. A landscaper who witnessed the shooting said he saw the gunman shoot Blue several times from close range, after he had collapsed out of the car.
During his testimony, Kargbo recounted ditching the stolen car that he had paid someone to borrow, getting a ride home to pray and reporting for his overnight shift boxing orders at Amazon. He was arrested the day after the fatal shooting on an outstanding warrant and charged with murder three days later, according to court records.
In court Friday, Kargbo said he had struggled to comprehend the gravity of his actions in the shooting's aftermath, until someone asked him if he had considered the effect of his crime. He said he had to look up the word "effect. As he studied the definition, he began to understand the ripple of trauma he caused.
"This man was innocent," Kargbo said. "I'll take this to the grave and face God for the ramifications of this mistake."
He said he felt "extreme remorse" and apologized to Blue's family. He asked them for forgiveness, turned to his mother in the audience behind him and said "I'm sorry mom."
Saying she was "mindful" of Kargbo's age, Schiffer agreed with his attorney's request to recommend he serve his sentence at the Patuxent Youth Program in Jessup. However, she said she was concerned about his escalating violence.
"James Blue did not deserve to have his life snuffed out at age 43," said Schiffer, expressing sympathy for "the enormity of this family's loss and, frankly, society's loss."
Kargbo's attorney, public defender Todd Oppenheim, said after court that Kargbo would appeal based on several legal determinations made during trial. He said he believes the sentence was not fair.
In a statement, State's Attorney Ivan Bates offered condolences to Blue's loved ones.
"I hope that the justice delivered today offers some measure of closure for them and the community," Bates said.
Testimony Friday by Blue's family portrayed him as a kind, caring and hardworking man. As a father and uncle, he was known never to miss one of his children's or nephews' sports games. Other relatives said he served more as a father figure than a cousin or an in-law. One recalled Blue, an Amtrak conductor, giving a homeless man the shoes off his feet at a train station.
"He was a tall, dark, handsome man with a smile that would light up this room," his mother, Shelley Forbes-Eford, said in court. "We loved him. He loved us. And he loved life."
Like everyone else who spoke for Blue, Forbes-Eford asked Schiffer to give Kargbo the maximum penalty. She and others described enduring pain and noted the permanence of Kargbo's actions.
"I gave life to James and Kargbo had no right to take it away," Forbes-Eford said.
Blue's sister, Shelonda Stokes, who is the president of the Downtown Baltimore Partnership, said part of her died with her brother that day.
"I didn't get to say goodbye. I didn't get to say 'I love you.' He was gone," Stokes said.
Lekeshia Blue was the last to address the court. She began by reading letters from her three children.
The youngest wrote that her father always played games with her and that she feels lonely without him. The middle child said he feels a void every time he gazes into the bleachers at one of his games. The oldest said each milestone marks another painful moment, and no punishment for the shooter could bring his father back.
Lekeshia Blue said her children ask her why they go to therapy, because they say it doesn't help. She said they have nightmares.
"We will be dealing with this trauma forever," she said. "It's not going anywhere."
___
© 2023 Baltimore Sun
Distributed by Tribune Content Agency, LLC.