At a horse farm on the north side of Newfound Lake Saturday, on a three-mile course through the woods, 140 soldiers and would-be soldiers braved mosquitoes, mud and rain to learn what it's like to be a U.S. Army Green Beret.
The Green Beret with a Mission Challenge, an endurance, skill and obstacle course, simulates combat training and raises money to support Camp Resilence, a Gilford-based program that provides therapeutic outdoor experiences to military veterans, first responders and their families. Saturday marked the third annual event.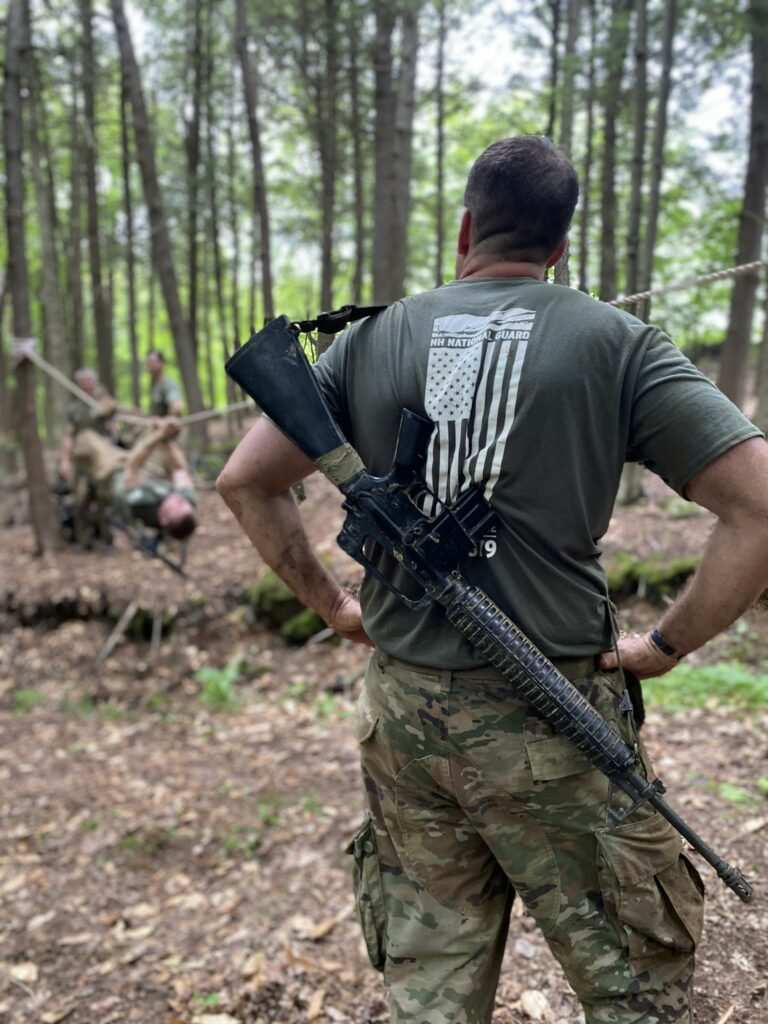 "It's kind of cool. It gives you an Army experience. If it were real it would be scary. Since it's fake, it's kind of fun," said 11-year-old Connor Culacz, a member of Boy Scout Troop 50 from Bridgewater. His troop's job was to ambush enemy soldiers by springing out of the brush and drenching them with super-soaker toy assault rifles.
"It's kind of putting you in the shoes of an Army person who went to war, and be stressed in a situation where you don't know what to do," Culacz said.
Fifteen teams of participants, ranging in age from 10 to 70, trekked through a battery of physical and mental tests. They forded an imaginary river by shimmying across a rope strung between trees and crossed a swamp on a winding log trail. They carried 'injured soldiers' on stretchers — volunteers from their teams, and lugged water and ammo to the next clearing in the bush.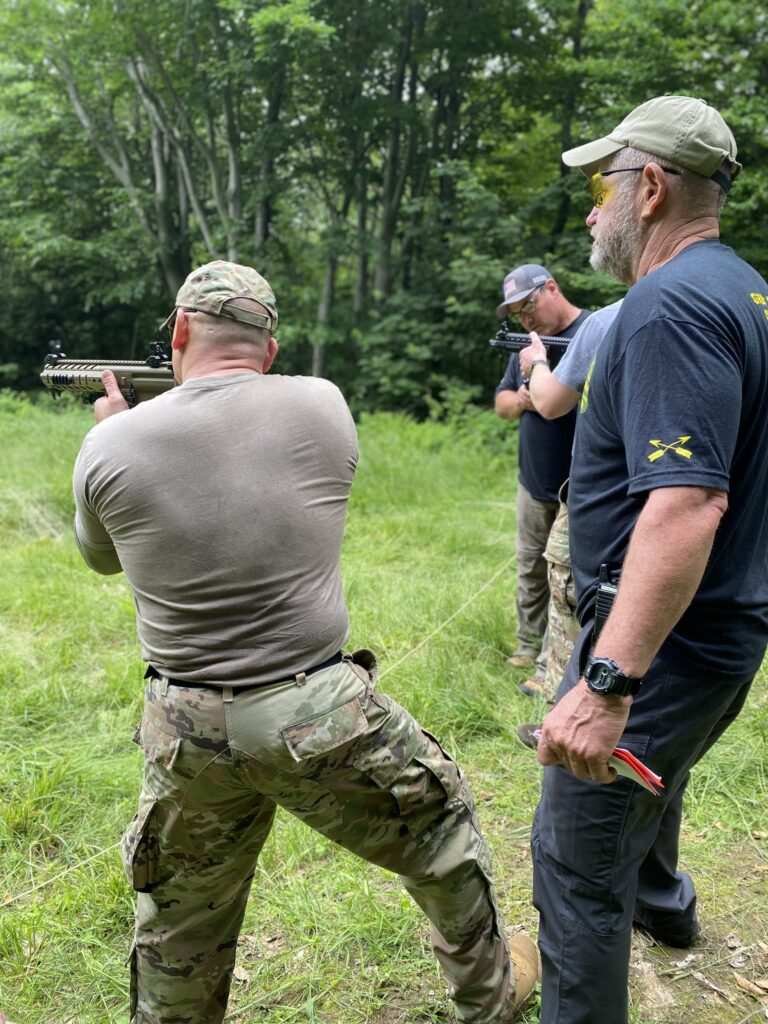 They shot paper targets with air rifles and air pistols. They wore backpacks weighing 10 to 40 pounds and held "rubber duckies" — imitation machine guns — as they progressed along rutted trails, listening for every rustling leaf and the faintest click or snap of enemy movement.
Jake Bumbaca of Litchfield, a staff sergeant in the New Hampshire Air National Guard, crawled on his belly through a 30-foot sluice of soupy mud.
"Cold mud! Nothing like it," said Bumbaca. "That was refreshing compared to bringing jugs (5 pounds of water) up the hill."
Then he knelt behind sandbags and hurled a volley of mock grenades at a makeshift enemy bunker.
"This is obviously something we don't do every day. We're all mechanics," said Tech Sgt. Connor Curio of Farmington. "Any time we get to do Army-style training, we like to show off, participate and have a good time."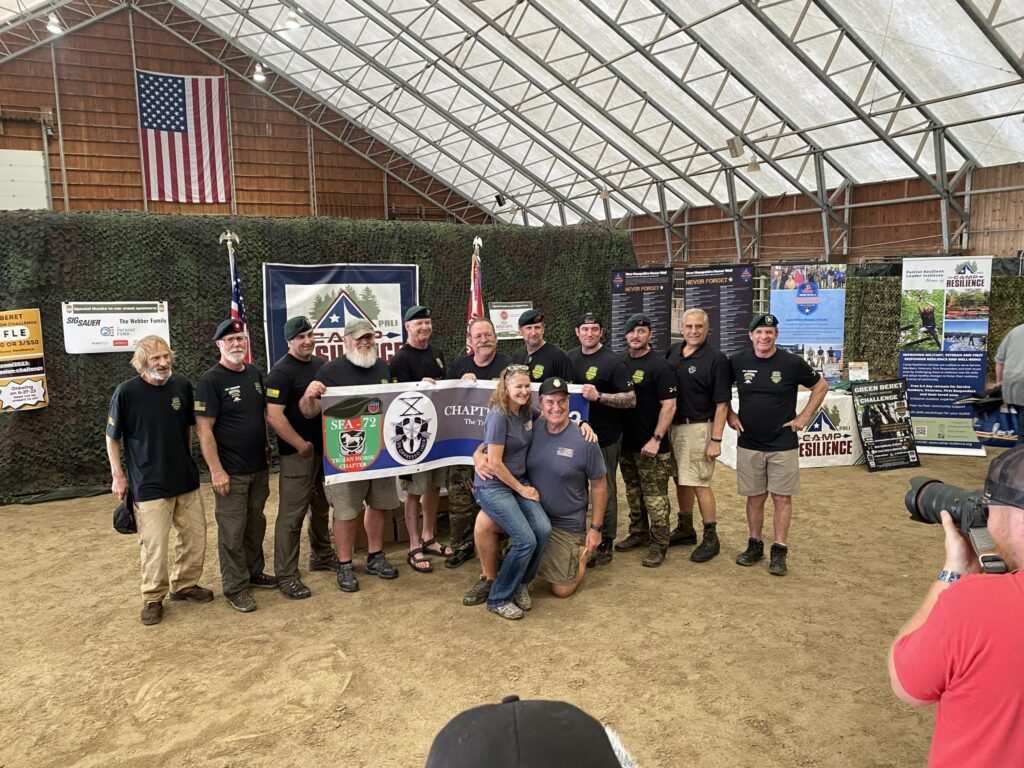 "They're not required to crawl through the mud. But we highly encourage it," said grenade station manager Chris Bank. "Some will yell, 'Frag out!' — warning others to exit harm's way. "But most of the drama involves crawling through the mud."
Saturday was a lesson in skills, surprise, survival and team-building when stakes are high. And it was a chance for service members, first responders and veterans to decompress and bond.
Each team had a "walker" — a retired Green Beret who was there to answer questions, who served as chief of the imaginary guerrilla unit they had come to assist, as they worked with resistance forces behind enemy lines in a fictional nation coined the "People's Republic of Pineland." The situations they encountered resembled Special Forces missions in Vietnam, Iraq and Afghanistan, according to retired military officers on hand.
"You had a chance to today to work with some of the most elite forces in the world," retired Lt. Col. Kurt Webber, board president and co-founder of Camp Resilience, told the group when they broke for lunch. Webber, who lives in Gilford, graduated from West Point and served as a U.S. Army Ranger and in the Special Forces, commonly known as the Green Berets. "It's a chance to see what life as a Green Beret is like. They all have a blast. It's challenging and hard. But it's fun."
Jim Crispen of Woodstock, who served in the Army at Fort Devens, Mass., helped out at target shooting station. "It's got so many different phases to it that it challenges just about everybody," he said.
"This is all fun and games, but in the real world it's sketchy and scary, so don't take it lightly," National Guardsman and former U.S. Army Ranger Gred d'Arbonne of Brookline told his military unit for the day: the 11 members of Boy Scout Troop 50.
"It has a great purpose," said Gen. David Mikolaities of the New Hampshire National Guard. "It's good military team building for us, and it's an opportunity to honor our veterans. It's paying back to those who have gone before."
Julie Taub, co-founder and executive director of Swim with a Mission, the parent organization of veterans fundraisers including this one, said she hopes to raise $2 million through various events in New Hampshire this summer — including $50,000 for Camp Resilience through Saturday's Green Beret with a Mission.
___
(c) 2023 The New Hampshire Union Leader
Distributed by Tribune Content Agency, LLC.