Becky Morrison is now part of the "9G Club."
Morrison, a 30-year Poquoson High School teacher, was selected by Joint Base Langley-Eustis and the U.S. Air Force Thunderbirds as the 2023 "Hometown Hero." She spent Friday flying in the back seat of an F-16 as the aerial performers practiced for this weekend's Air Power Over Hampton Roads air show.
Morrison, an 11th grade history teacher, beat out roughly 50 other nominees. Her work to connect the community with veterans set her apart.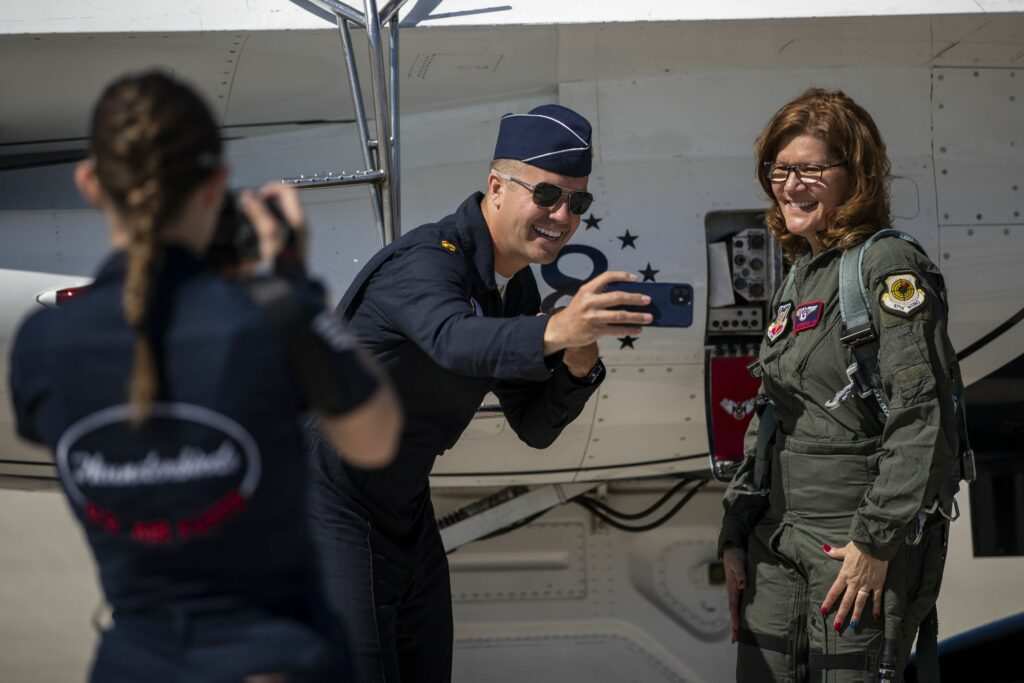 "I have always had a heart for the military, especially in our community of Poquoson. … I really want the veterans and the military to know how much we appreciate them," Morrison said.
Morrison created the "Poquoson Veterans Project" at the start of the 2017-18 school year. The project paired Morrison's Advanced Placement history students with a local veteran. The students interview the veterans, creating a history of the individual's service, and the pair go on group field trips to war memorials.
Since its inception, the project has expanded to include AP students in other classes as well as more veterans across more eras of military service. To date, Morrison estimated the project has included hundreds of veteran participants. She will speak at a conference in Washington this summer in hopes other teachers will implement the project in their school districts.
"The goal is to connect students with the veterans and also to make sure veterans know we appreciate you, that we have not forgotten about you. And we appreciate the sacrifice that you've made for our country. And to pass that on to the new generation of students," Morrison said.
In past years, Morrison also launched "Cookies Because We Care," which donated an estimated 200,000 cookies this past Christmas to the Langley Officer Spouses Club for service members who can't be home for the holidays.
"Even though I didn't serve, it is so important to honor those who did," Morrison said.
Before the flight, Major Jeffrey Downie spent an hour going over everything Morrison could experience.
"This is our chance to give back to you for all that you have done for veterans," Downie said to Morrison.
With Downie at the controls, Morrison experienced 9.3G's — which is the equivalent to around 2,000 pounds of pressure on the body — and traveled 764 mph, just shy of supersonic.
"This was one of the absolute best experiences of my life," Morrison said.
Waiting on the ground when Morrison returned was a dozen family and friends, including the man who nominated her.
"Becky is a true hometown hero," said retired Navy Capt. James Smith.
Smith served as active duty Navy for four years from 1966-70, deploying to Vietnam. The Poquoson resident also worked as a York County judge.
Smith said Morrison eventually persuaded him to participate in the Poquoson Veterans Project. It was through the project that Smith saw the Vietnam Wall in Washington and found the names of two fellow crew members killed in action.
"We found the two names — they are right next to each other because they were killed at the same time. She walked over put her hand on my shoulder. She knew it would be hard for me," Smith said.
The Poquoson Veterans Project also helped Smith see a change in the community, "a total 180″ from the welcome home he got when returning from Vietnam.
"It was bad — bar fights and people spitting in your face. … When we came back from Vietnam, we just wanted to disappear," Smith said.
Smith participated in a coin toss during a Poquoson High School football game.
"Coming off the field, to hear everyone clapping and cheering for us veterans …" Smith began, a smile stretched across his face. "Becky made that possible. She is just a jewel."
The Langley air show is returning this weekend for the first time in four years. The U.S. Air Force Thunderbirds will headline the show. Langley's F-22 Raptor and F-35 demonstration teams are also slated to perform.
___
© 2023 Daily Press
Distributed by Tribune Content Agency, LLC.