A Canadian Pacific freight train carrying hazardous materials derailed in Maine over the weekend, sparking a blaze that eventually grew into a small forest fire, officials said. Three railroad employees were transported to the hospital for non-life-threatening injuries.
Rockwood Fire & Rescue urged the public to stay clear of the "train derailment with fire north of rockwood." Authorities later shared an aerial photo of the incident on Facebook.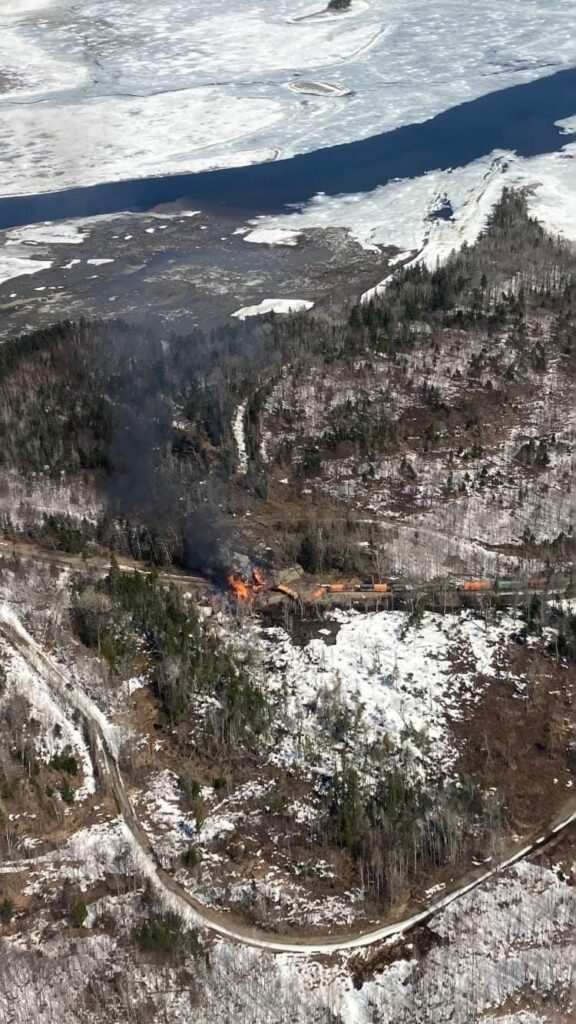 According to a statement from the Maine Department of Agriculture, Conservation and Forestry, the derailment occurred around 8:30 a.m. local time in Somerset County. Local authorities, the Maine Forest Service and the Maine Department of Environmental Protection all responded to the incident.
"A total of three locomotive engines and six rail cars carrying lumber and electrical wiring derailed into a wooded area, where they caught fire and started a small forest fire. The fires are contained and are being monitored," the department said.
READ MORE: 70-car train derails, spills hazardous materials in North Dakota
"Additional rail cars transporting hazardous materials did not derail. The assessment of officials on the scene is that these hazardous materials are not at risk of leaking and are not at risk of catching fire," the department continued, adding that there was "no threat to public health or safety, though officials continue to ask that the public avoid the area."
Officials said the derailment "may have been caused by a build-up of melting ice and debris that washed out part of the railroad track."
Located roughly 45 miles from the Canadian border, Rockwood, Maine, is situated on the western side of Moosehead Lake.