Sen. John Fetterman made his highly anticipated return to the Senate on Monday, following a six-week hospital stay for depression, which put mental health challenges under a spotlight that had already been trained on him and his health for months.
Fetterman, D-Pa., climbed out of a black SUV and waved to a crowd of gathered reporters and then put his hands to his heart. Dressed down in his signature navy shorts, sneakers and a Carhartt hoodie, he smiled and said, "It's great to be back."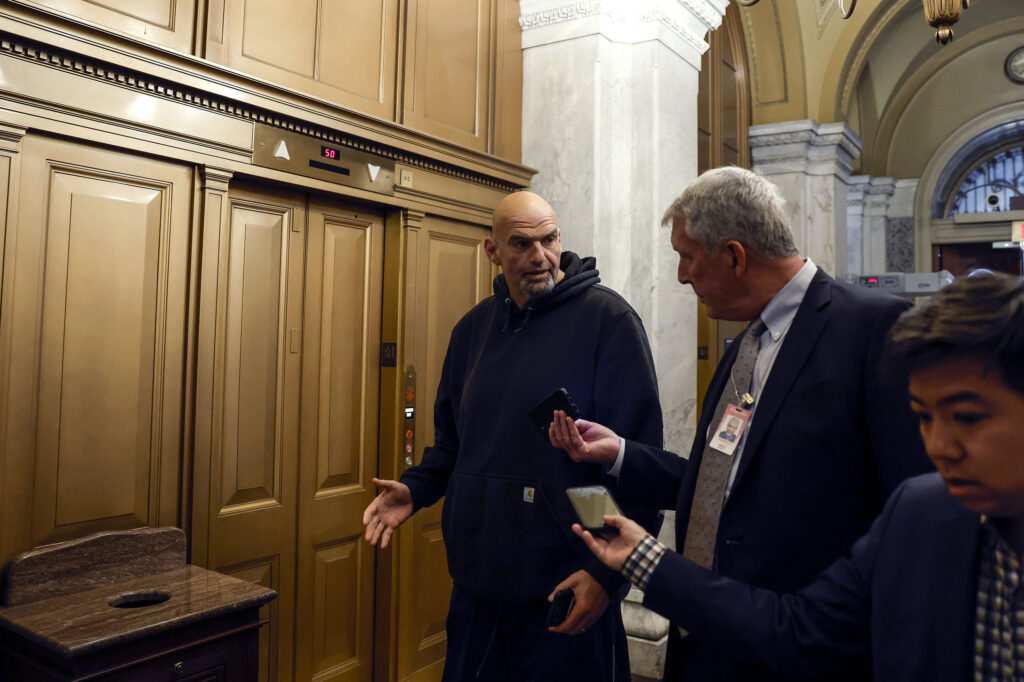 Pennsylvania's freshman senator returns to the Senate after the governing body had a two-week recess. He's expected to join a roll call vote to advance a nominee for deputy under secretary of defense, Radha Iyengar Plumb, to a confirmation vote. He'll co-chair a panel hearing on Wednesday about SNAP benefits and later join all senators for a classified briefing about the leaked U.S. documents about the war in Ukraine.
The week is a somewhat routine return to business for the Senate, but Fetterman will likely be met with outsize attention, given his past year — suffering a stroke, winning a politically coveted open seat, and then sharing his struggles with depression and seeking treatment at Walter Reed National Military Medical Center.
Fetterman hasn't voted in the chamber, where Democrats have a razor-thin majority, since Feb. 15.
Senate Minority Leader Mitch McConnell, R-Ky., also returned Monday after a medical absence following a fall and concussion.
Fetterman checked himself into Walter Reed National Military Medical Center on Feb. 15 to receive treatment for clinical depression. He was released from the hospital March 31 and returned home to Braddock, Pennsylvania, where he spent time with his family and enjoyed Easter.
The senator's staff released a letter from doctors at Walter Reed that described his depression as in remission.
___
© 2023 The Philadelphia Inquirer, LLC
Distributed by Tribune Content Agency, LLC.