On Thursday morning, about 100 people walked the two blocks from St. Gall Catholic Church in Gage Park, paying their respects at the block where Chicago police Officer Andres Vasquez-Lasso was shot and killed Wednesday. Later in the day, lawmakers in Springfield paused for a moment of silence.
Across Chicago and the rest of the state, people mourned the fallen officer, the first Chicago Police Department member shot and killed in the line of duty since Ella French was killed during a traffic stop in August 2021.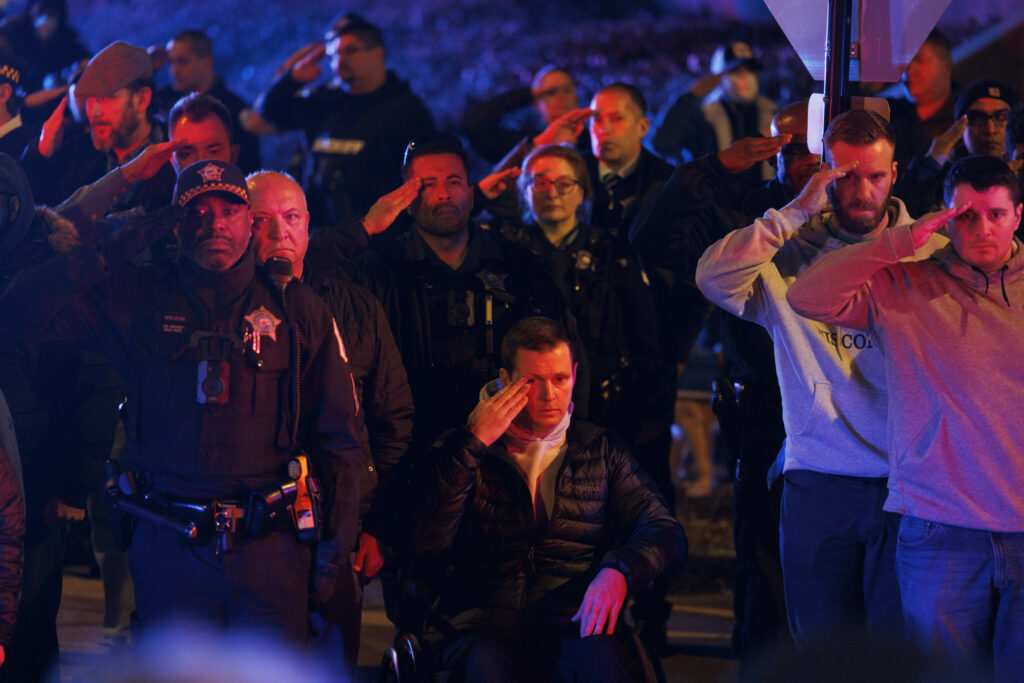 "It's not enough to simply mourn after a tragedy strikes," said state Rep. Aaron Ortiz, a Chicago Democrat whose district covers the Gage Park neighborhood. "We must work together to find solutions that promote peace and safety for all."
Late Thursday, authorities charged Steven Montano, 18, of South Lawndale, with first-degree murder, weapons charges and interfering with a domestic violence report. Montano, who was injured in an exchange of gunfire with Vasquez-Lasso, was expected to appear in bond court Friday, according to Chicago police.
Officers were responding to a domestic-related call of a man with a gun in the 5200 block of South Spaulding Avenue around 4:45 p.m. Wednesday, authorities said. Officers including Vasquez-Lasso encountered someone who was chasing a woman down the street with a gun, Chicago police Superintendent David Brown said late Wednesday.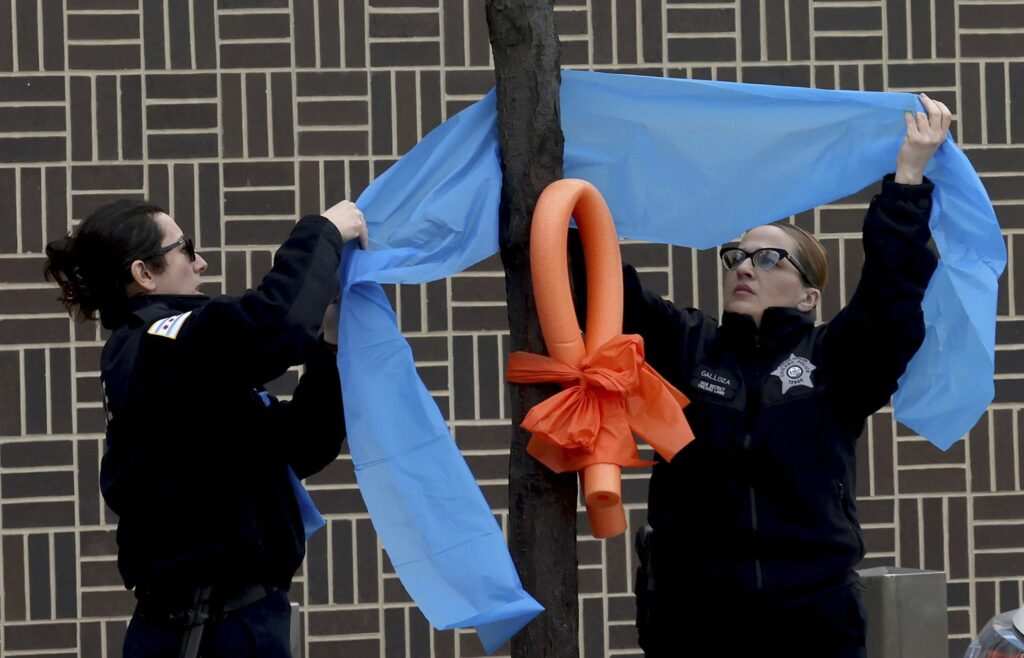 The killing happened hours after Brown announced he was resigning from the department and one day after Mayor Lori Lightfoot failed to garner enough votes to make the runoff election for her job. Both final mayoral candidates touched on the death of Vasquez-Lasso on the first full day of campaigning ahead of the April 4 matchup, with Paul Vallas, who ran on a tough-on-crime platform, criticizing Cook County State's Attorney Kim Foxx for dismissing misdemeanor charges against the suspect, Montano, in November.
A Foxx spokesperson released a statement that said Montano did not have a criminal record, nor did prosecutors have evidence to support a gun charge.
Vasquez-Lasso, 32, lived in the Marquette Park neighborhood, according to the Cook County medical examiner's office. Brown told reporters Wednesday outside Mount Sinai Hospital that the officer was shot "multiple times."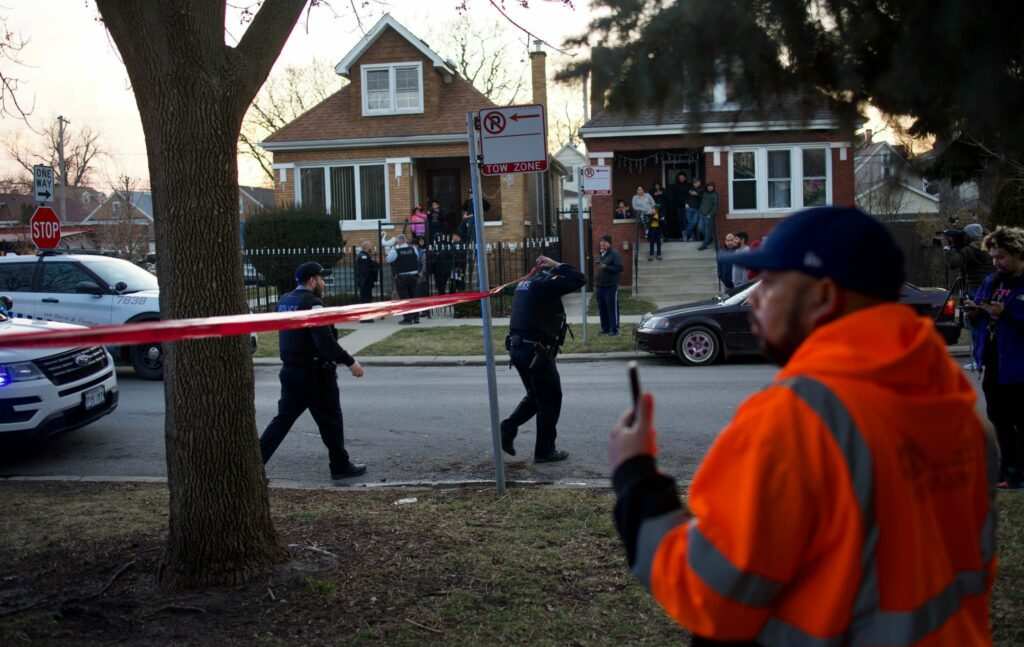 "He died while protecting Chicago and its people. We will never forget his selflessness and dedication as we continue to wrap our arms around his family and loved ones. Together, we mourn the loss of our hero," the Police Department said in a statement.
The Rev. Matt Foley, the pastor of St. Gall Church,led the procession to the scene Thursday morning, carrying the Blessed Sacrament while a crowd of mourners followed him to pay respects and "sanctify" the ground where Vasquez-Lasso was fatally shot.
Foley, who served as an Army chaplain in Afghanistan for four deployments spanning over five years beginning in 2009, said he's accustomed to violence, though still not comfortable with it. He knows how to operate in it, he said. Whenever an act of violence occurs in the neighborhood, he said, he tries to visit the location with churchgoers.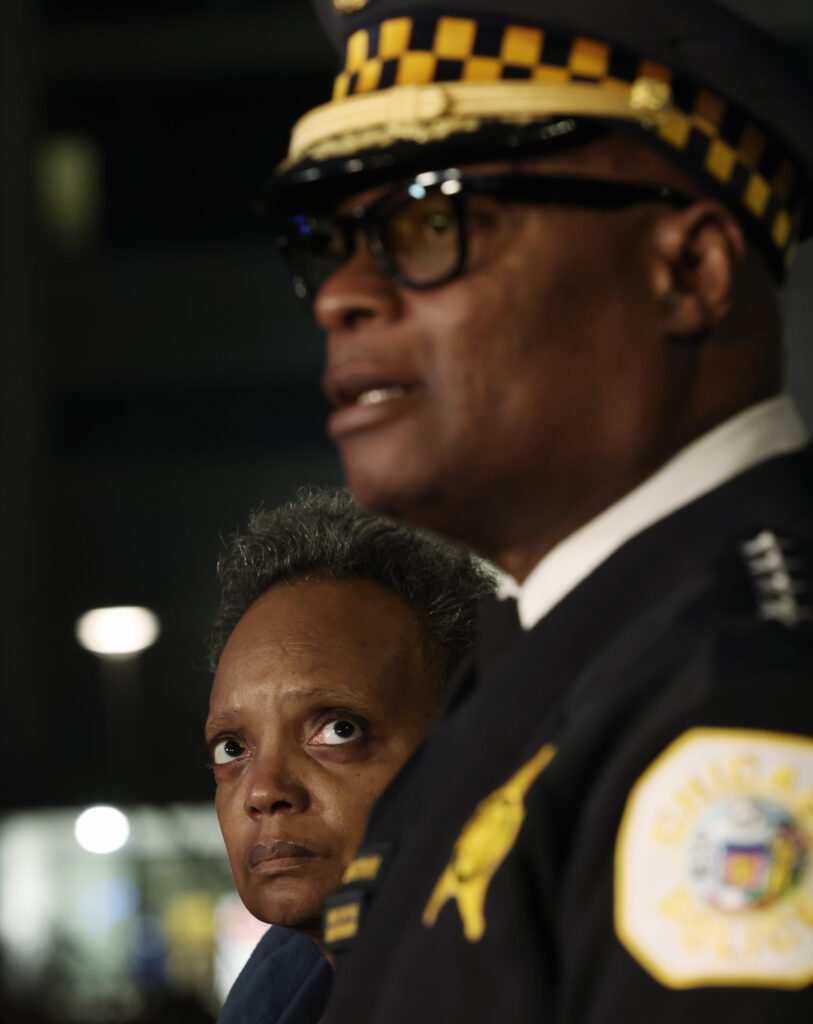 "I personally went over last night to the 8th District," he told the Chicago Tribune. "I know the commander there, and I know some of the officers, so I went over and offered my services and paid (my) respects."
Vasquez-Lasso was in one of two pairs of responding officers who "engaged" with Montano, who allegedly ran away from the officers. That's when police began pursuing him, and shots were exchanged "at close range" between the suspect and Vasquez-Lasso, Brown said.
In an unrelated case last year, Montano was charged July 30 with a misdemeanor count of resisting a peace officer for allegedly running from an officer who stopped a car he was in, according to court documents.
Chicago police officers were investigating after a man was shot in the leg on July 28, 2022, on West 23rd Place in the Little Village neighborhood. The victim and witnesses described the car used in the shooting and its license plate, which police learned was stolen a couple of days earlier, according to a police report included in the police case file.
Officers located the car later that evening and tried to make a stop, the report said, but the driver fled. Police eventually curbed the car, and the suspect and two others ran away, the report alleged. All three were taken into custody and officers recovered two guns in the vicinity, the report said.
Thursday's statement from Foxx's office said prosecutors offered community service as an alternative to traditional prosecution due to the facts of the case.
"The defendant, who had no prior record, was given an I-bond after being charged on July 29, 2022, with resisting arrest, a misdemeanor, after running from a vehicle that had been stopped by police," according to the statement issued by her office. "The defendant, who was a passenger in the vehicle, was not charged with a felony because the evidence does not support a charge of gun possession for this offender. The driver of the vehicle has been charged with felony counts of illegal gun possession, and the case is still pending."
Vallas told reporters Thursday that Foxx's office is "not getting serious with the gun crimes."
"We've got to be more aggressive about working with the U.S. attorney's office to bypass the state's attorney's office when the state's attorney — whoever the state's attorney is — is refusing to charge," Vallas said.
He also repeated his campaign promises to use the "bully pulpit" of City Hall for directing Chicago police to press charges, which the department has the authority to do but is often thwarted when prosecutors drop those charges in bond court.
Brandon Johnson, Vallas' opponent in the April runoff, said the officer's death was a "painful reminder of how much work we have to do in the city of Chicago to end violence."
"My prayers and my thoughts are with the family and all families involved," Johnson said. "This is yet another example of why we need to make sure that we are dealing with the immediate challenge of violence in the city of Chicago, which my plan speaks to that, while also getting at the root causes. We can do both."
___
© 2023 Chicago Tribune
Distributed by Tribune Content Agency, LLC.