A man charged with the hate-motivated shootings of two Jewish men in Los Angeles was on the FBI's radar before the attacks, Los Angeles Police Chief Michel Moore said.
In the year before the shootings, Jaime Tran had been charged with carrying a loaded firearm and was investigated after threatening and racist messages were sent to former dental school classmates, according to court records and interviews.
How Tran slipped through the FBI's threat-tracking system despite suggestions that he posed a considerable, and perhaps deadly, danger remains under investigation by the FBI, said Moore and other officials.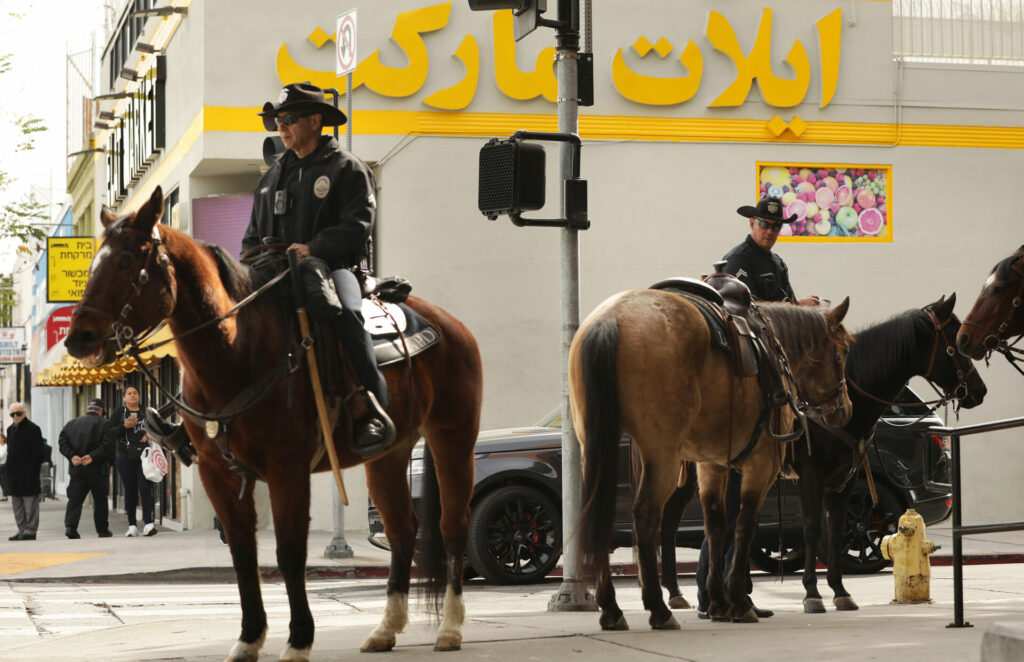 In a departure from local law enforcement leaders' usual reluctance to publicly question the actions of federal agencies, Moore made his remarks at a Los Angeles Police Commission meeting on Tuesday.
"He was on the radar, if you will, of our FBI partners in what we call a 'Guardian lead' because of hate-fueled remarks or emails that he was sending to former classmates of a dental school which he was attending," Moore said.
Moore said that Tran, 28, had been the "subject of mental health evaluations and was and has been suffering from mental illness through the years."
The chief said that Tran shot the two Jewish men, who survived, with a handgun and also had a rifle on him when arrested in Cathedral City on Feb. 16.
"How he came into the possession of that rifle as well as the handgun, given his mental health condition, is the subject of our continued investigation," Moore said.
Investigators believe the weapons were acquired outside of California, the chief said. Tran told investigators that he got the guns in Arizona.
"Was everything done?" Moore said. "The FBI is continuing to evaluate and go back over their efforts these last few years in regards to interplay with him and ensuring everything was done that could be done."
The FBI's Guardian Threat Tracking System documents potential terrorist threats and suspicious incidents, assigns them for follow-up investigation and issues alerts about potential threats or suspicious activity.
According to two law enforcement sources who were not authorized to speak on the record, at least two Guardian reports about Tran were generated before the shootings.
According to one of the sources, the Guardian reports can be of limited use, since the actions they document often do not rise to criminal acts.
"While this is an ongoing investigation and prosecution, the Chief is correct that Guardian leads were generated, shared with the appropriate partners and investigated. The leads did not result in federal charges," Laura Eimiller, a spokesperson for the FBI's Los Angeles office, said in a statement. "The information generated did assist law enforcement in apprehending Mr. Tran within hours of the attacks and, potentially, stopping further acts of violence."
Brian Levin, director of Center for the Study for Hate and Extremism at Cal State San Bernardino, said there seems to have been a structural failure in Tran's case.
"The Guardian system had no sentry in the box. This assailant was well on the radar screen of authorities, and nothing was done," Levin said. "How was it possible that Tran was able to gain access to firearms, given his pending criminal trial on a gun possession and the antisemitic threats?"
Tran told investigators after his arrest that he had searched on Yelp for a kosher market to target Jewish people in the first shooting near Shenandoah and Cashio streets in the Pico-Robertson neighborhood. The victim, in his 40s, was shot in the back while walking to his vehicle on Feb. 15.
The next morning, about a block away, Tran allegedly shot a man in the arm as the man was walking home.
Both victims wore black jackets and head coverings indicating their Jewish faith.
Within hours of obtaining images of Tran's Honda Civic, LAPD major crimes investigators identified him and discovered his history of antisemitic threats.
Federal prosecutors charged Tran with two counts of hate crimes for allegedly targeting and shooting the two Jewish men. He faces a maximum sentence of life without parole.
Federal and local authorities first became aware of Tran's hate-filled diatribes last year.
According to the federal complaint charging Tran with the shootings, Tran was expelled in 2018 from a dental school. Law enforcement sources identified the school as UCLA.
In late 2022, a former dental school classmate received repeated calls and texts from Tran.
Identified as M.N.H. in the complaint, the man, who is Jewish, told investigators that Tran sent him "numerous threatening and antisemitic voicemails and text messages."
One of the messages said, "I want you dead, Jew," according to the complaint.
In November, Tran emailed dozens of former classmates at the same dental school.
In one email, Tran wrote: "That Persian/Iranian Jew of the Class of 2020 made up a fake, bs disease (COVID)."
Beverly Hills Police Chief Mark Stainbrook told The Times that Tran made some of the threats to an individual in Connecticut and that Southern California law enforcement officials reached out to agencies there.
The person in Connecticut and another person who received threatening messages from Tran did not wish to pursue criminal charges, according to two law enforcement sources who were not authorized to discuss the investigations.
But the two cases brought Tran to the FBI's attention, the sources said.
In both cases, while the language and threats were blatantly racist, they did not rise to a crime because there was no violence involved, according to one of the sources.
It is unclear why the threats did not result in more action from the FBI given Tran's documented history of mental illness and the firearm charge against him.
On July 3, someone spotted an armed man sitting on a bench near the engineering building on the Cal State Long Beach campus, according to the Los Angeles County district attorney's office.
According to prosecutors, Tran told officers that he was carrying the loaded weapon for protection. He was charged with felony possession of a loaded firearm on a school campus.
Tran was due to appear at a pretrial hearing in late February. Records show he was released without posting any bond.
In charging Tran with the gun crime, L.A. County Dist. Atty. George Gascón said his office had not been aware of Tran's prior hate-related actions, and that Tran did not have a criminal history.
Gascón said no one informed the prosecutor in the gun case about Tran's threats to former classmates and that prosecutors never received a request to charge Tran with the threats — all of which could have led to some intervention, including rescinding Tran's bail or obtaining a plea deal that included mental health services.
"The dots were never connected for us," he said. "This is the first time I am hearing this was on the FBI's radar."
___
© 2023 Los Angeles Times
Distributed by Tribune Content Agency, LLC.