A member of the Florida National Guard is fighting for his life after a car hit him and drove off in Miramar early Sunday morning, the second hit-and-run crash on the same stretch of road in the past three months.
Jahmaar Williams, 31, had gone out to the 954 Ultra Lounge with his brother, Chris, when they decided to head home shortly before 2 a.m. Sunday. As they crossed the 6500 block of Pembroke Road towards the parking lot, a white BMW struck Williams and continued on.
The car was "close enough to hit both of us," Chris Williams said at a media briefing Wednesday, "but somehow I was unscathed, untouched, and survived."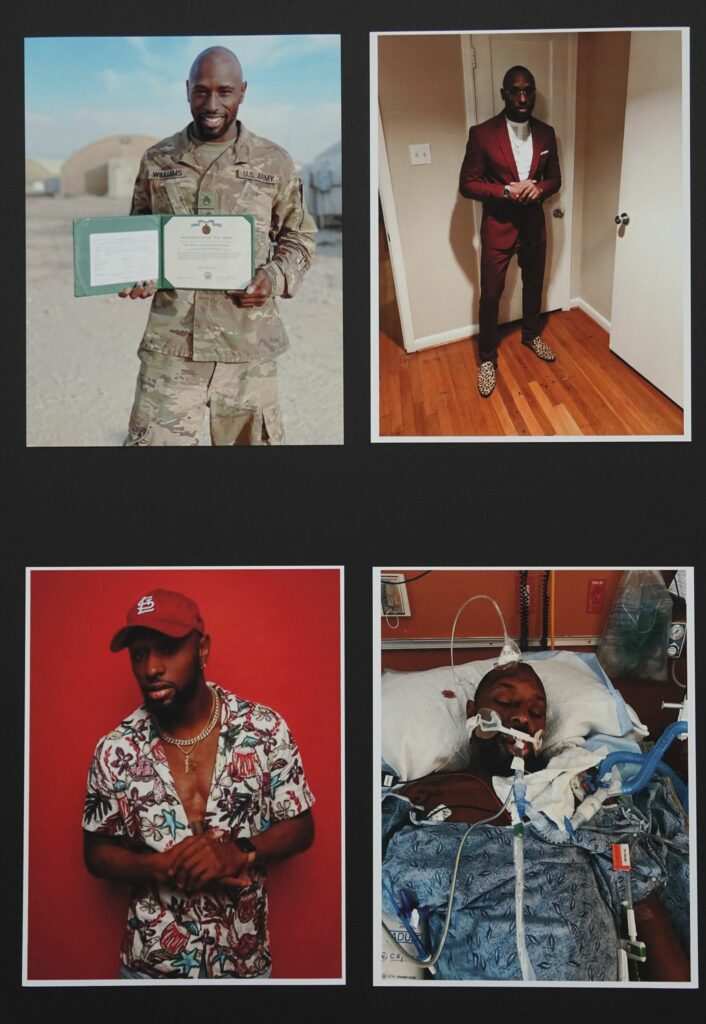 As Williams lay unconscious in the street, his brother covered his body with his own until the ambulance came, his mother, Eleska Moore, said, "to protect him."
Williams was a "miracle son," born prematurely at 28 weeks in Germany, his father, John Williams, said.
He has served in the National Guard for the last 12 years and went to Kuwait, Moore said. He has a 4-year-old son.
His parents described him as the "life of the party" and a loyal person with a big heart and a voice so deep it was sometimes hard to understand what he was saying.
Chris Williams joined the military with his brother, who he said is both a best friend and a mentor.
"He brought me out of so many difficult, dark spots, dark places," Chris Williams said. But the two also had a typical brotherly relationship; he recalled how Jahmaar Williams would always make fun of his hair.
Four crashes, three of them fatal, have occurred along the same stretch of road in the past six months, according to Tania Rues, a spokesperson for the Miramar Police Department. Two of them were hit-and-runs. The road is located near several nightlife spots.
In November, Silvio Jose Ortega Martinez was crossing the same stretch of road, also about 2 a.m. on a Sunday, when a driver hit and killed him, then drove off.
The area of the road where Martinez and Williams were struck has no crosswalk, said Jose Rosales, a traffic homicide investigator for the Miramar Police Department, but pedestrians are legally allowed to cross there, even though cars have the right of way. The road is illuminated, like all state roads, by "standard light poles."
Rosales also investigated the crash that killed Martinez.
"Vehicles travel at excessive speed on that roadway," he said when asked why the area seems to be a hot spot for accidents. "Sometimes speeds of 100 plus."
But Rosales also said doesn't believe speed was a factor in this week's hit-and-run crash.
Williams hasn't woken up since the crash. He is currently in critical condition with a "diffused axonal injury," his father said. Recently, doctors placed a metal probe in his brain to relieve pressure.
"Not being able to hear his voice, not being able to touch my baby, and he doesn't respond, it's extremely extremely hard," Moore said.
Williams' parents begged anyone who knows something to come forward. They said they harbored no resentment towards the driver who hit their son. Moore said she forgave them.
"I'm not seeking retribution," John Williams said. " … that's not my job. That's between that person and their God and whoever they serve. But we want to know what happened to my son."
Police are seeking a white BMW, built between 2013 to 2016, that is missing its front BMW emblem. Anyone with information is encouraged to call Broward Crime Stoppers at (954) 493-8477.
___
© 2023 South Florida Sun-Sentinel
Distributed by Tribune Content Agency, LLC.