Alex Murdaugh, the fourth-generation heir to a powerful South Carolina legal, law enforcement and political family, was found guilty Thursday of murdering his wife and son in a case that brought the glare of national and international media attention to a long-secluded but corrupt corner of the state's Lowcountry region.
A jury of seven men and five women took less than three hours before unanimously finding Murdaugh, 54, guilty of two murders: the execution-style slaying of his son Paul, 22, with a shotgun inside the feed room at the family dog kennel, followed by the gunning down of his wife, Maggie, 52, with a high-powered rifle on June 7, 2021, at the family 1,770-acre rural Colleton County estate, called Moselle.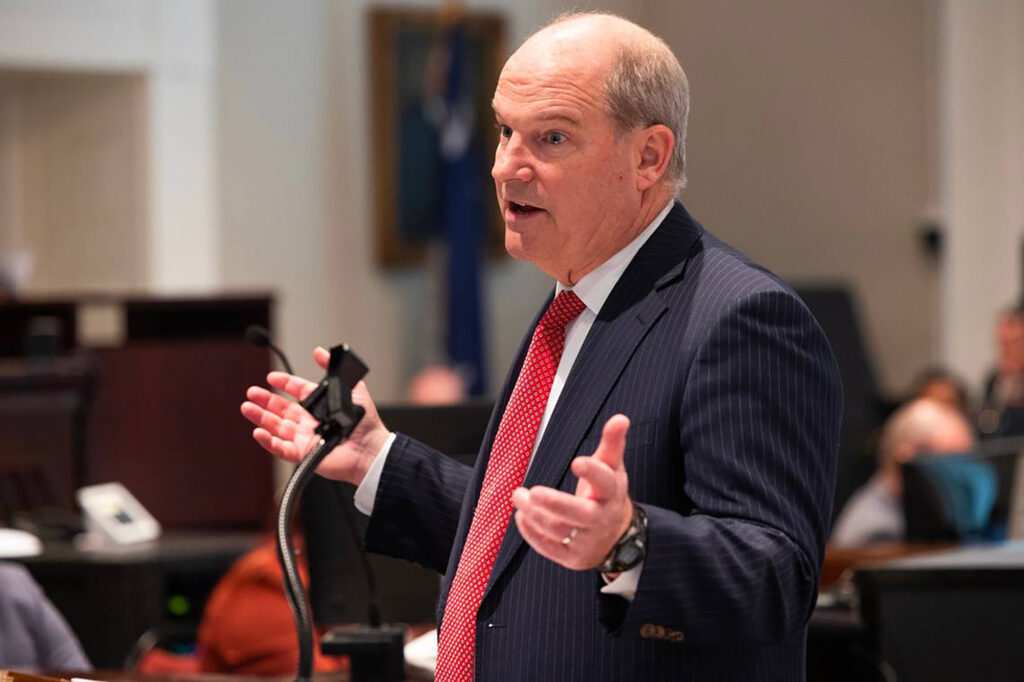 Their verdict endorsed the prosecutors' version of events: that Murdaugh was a powerful man who lived a hidden life of lies and betrayals while embezzling millions from law partners, clients, family and friends, and that pressures created by the imminent exposure of his secret world drove him berserk and caused him to kill his wife and son.
Murdaugh, a disgraced lawyer who faces life in prison, stood stoic as the verdict was announced in the same courtroom where his father, Randolph, and his grandfather, "Buster," brought cases as the circuit solicitor against thousands of accused criminals over the years. Murdaugh's great-grandfather, the original Randolph Murdaugh, was solicitor from 1920 until his death in 1940.
After a poll of the jurors found the decision to be supported unanimously, Murdaugh's defense team made one final move to have Judge Clifton Newman set aside the verdict and declare a mistrial.
Newman refused.
"The evidence of guilt is overwhelming and I deny the motion," he said, before telling the jury, "All the evidence pointed to one conclusion, and that is the conclusion you-all reached."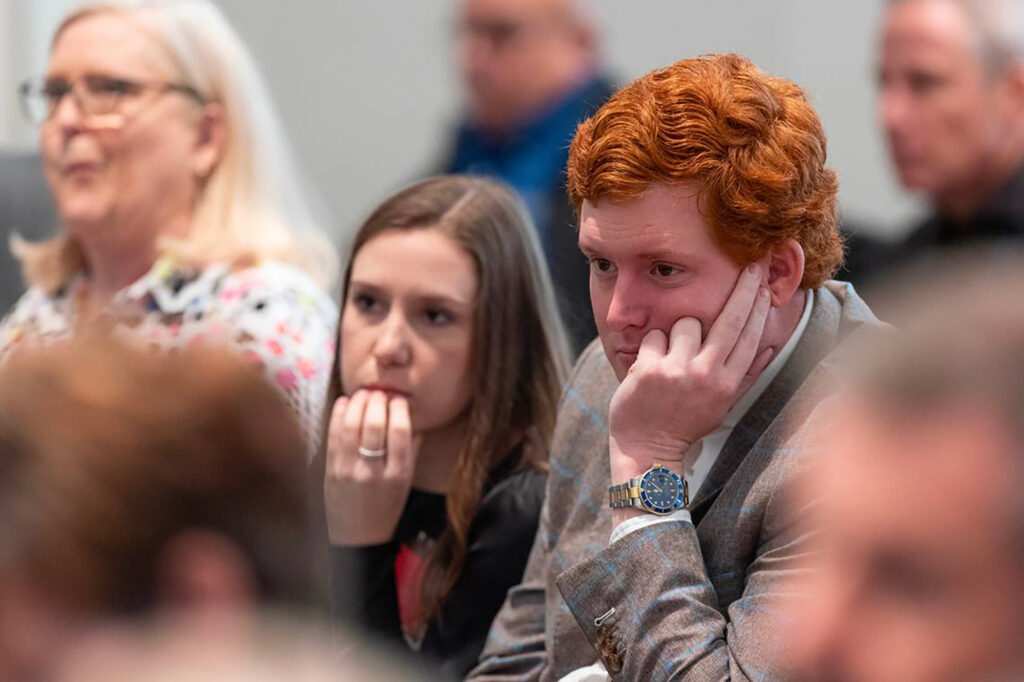 Newman said he would delay sentencing until Friday morning, noting that "many people will likely have something to say."
Newman can sentence Murdaugh from 30 years to life in prison for each count of murder. He is known as a tough sentencer who often comments on the crimes committed by those found guilty before him.
Murdaugh was remanded to the custody of the Colleton County Sheriff's Office, who have held Murdaugh in the county jail throughout the six-week trial. Deputies had Murdaugh put his hands out, and then in a short burst of metallic clicks heard around the courtroom, handcuffs were put on the former millionaire and now disbarred lawyer.
One of Murdaugh's lawyers, Dick Harpootlian, said after the verdict he was "disapppointed" and would have more to say after Newman passes sentence Friday.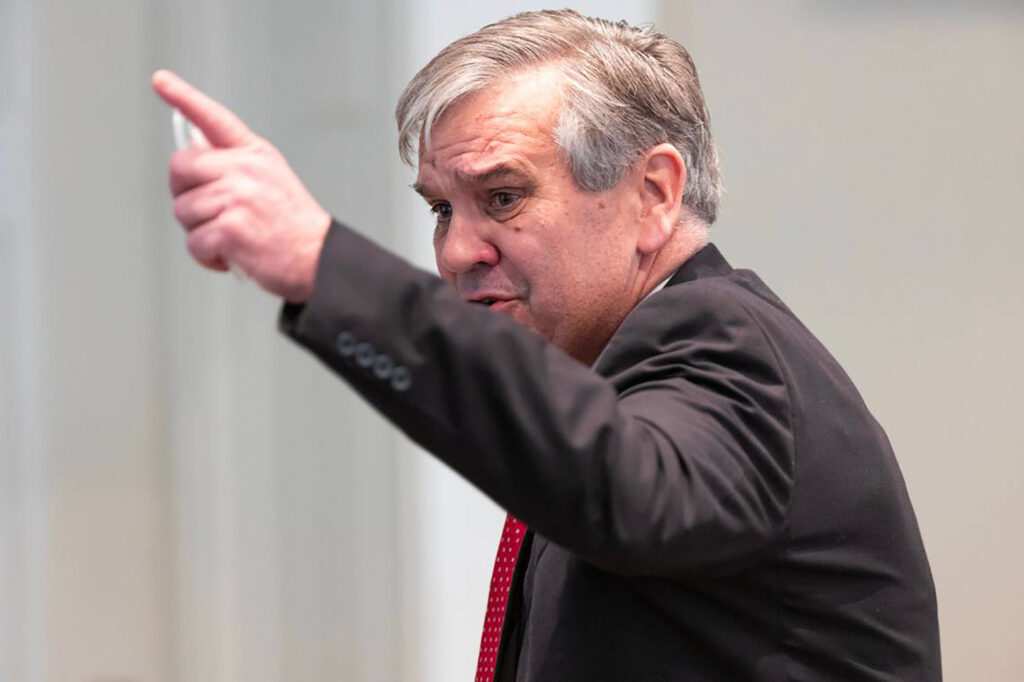 The verdict in Murdaugh's trial marked the closing of one chapter in a multi-dimensional story that has encompassed major financial fraud, drug trafficking, tax evasion and the fall of the Murdaugh political and legal dynasty, which for four generations had reigned supreme over a wide swath of South Carolina's Lowcountry.
For six weeks, in the 201-year-old Colleton County courthouse 90 miles south of Columbia, lead prosecutor Creighton Waters pulled together a case with one major hurdle: no direct evidence.
In the case brought against Murdaugh, the South Carolina Attorney General's Office had no direct evidence, such as fingerprints or DNA, that would have clearly linked the defendant to the crimes and allowed the state to conclusively prove Murdaugh's guilt. Even the weapons used to kill Paul and Maggie were missing — hidden or destroyed by Murdaugh, prosecutors contended.
To overcome that hurdle, prosecutors introduced hundreds of pieces of evidence, ranging from police interrogation videos, gunshot residue tests, car and cellphone data and — most importantly — a cellphone video taken from Paul's phone that showed Murdaugh at the dog kennels in the minutes just before his wife and son were murdered. Murdaugh had repeatedly told investigators that he hadn't seen Paul or Maggie for at least an hour before they were believed to have been killed.
The digital data, along with Paul's video, showed Murdaugh to be a liar and shredded his alibi of being somewhere else at the time of the killings, prosecutors contended.
Murdaugh's alibi was that he quickly drove to his ailing mother's house in a nearby unincorporated community, Almeda, where he visited with a caregiver and lay on his mother's bed for 30 to 40 minutes minutes as a game show played on the television.
He then told investigators he drove back to Moselle, where he found the bodies of Maggie and Paul and called 911.
Another major hurdle faced by prosecutors was the apparent lack of a motive. To make understandable to the jury why a seemingly happy family man such as Murdaugh might kill his wife and son, Waters introduced a theory called "family annihilation," which says that an outwardly successful person who has lived a hidden life and suddenly faces exposure, might suddenly kill those closest to him.
To prove this theory, Waters introduced some nine witnesses, who testified that Murdaugh for years had lived a secret life of fraud, stealing from friends, family, colleagues and his law firm, bilking them of millions of dollars. Waters also showed the jury that Murdaugh, on the day of the murders, was on the verge of being exposed as a debt-ridden criminal instead of a prosperous respected lawyer. Evidence also showed Murdaugh had lured Paul and Maggie to Moselle the night of the killings.
In hopes of countering the theory of family annihilation, defense lawyers Harpootlian, Jim Griffin, Phil Barber and Margaret Fox introduced witnesses who told the jury a different story: that Murdaugh had been a loving, devoted father and husband.
Witnesses also gave undisputed testimony that the Murdaugh family had a seemingly idyllic life at Moselle, creating a kind of aLowcountry Camelot teeming with game that was a magnet for Paul and Buster, Paul's older brother, and many of their friends. At Moselle, the sons and their friends apparently had unlimited ammunition to hunt turkeys, ducks, hogs and deer, shooting as much as they wanted.
Maggie, although not enamored with life in the country, enjoyed being with her two sons and their friends at Moselle, and going on trips with Alex and the boys, witnesses said.
Shortly after 7 p.m. Thursday, three hours after Judge Newman charged the jury with the laws that governed the case, and six hours after prosecutor John Meadors, an old-fashioned attorney known for talking to juries like a fire-and-brimstone preacher, made a final pitch for guilt, the jury finally spoke.
The forewoman, a white-haired woman in her 50s, handed slips of paper on which the verdicts were written to Judge Newman, who in turn gave them to Colleton County clerk of Court Becky Hill, who read them aloud to the partially filled courtroom and, thanks to the live broadcast by Court TV, to the nation and world.
Newman then allowed jurors to leave the courthouse by a back entrance after thanking them for their service and telling them they were free to talk about the case or keep silent.
Jurors were paid $20 a day for their 28 days of jury duty, according to Hill.
The jury also found Murdaugh guilty of two counts of using a weapon in a crime of violence.
Jurors appeared to be ordinary, working class people, dressed in comfortable informal clothes. One man who appeared to be in his 20s wore a coat and tie for the entire trial. Among them were a student, a letter carrier, a pharmacy technician, a warehouse manager, an employee of a truck accessory store and a payroll processor
At the heart of the widespread media interest in the latest generation Murdaugh was a long-running "whodunit" mystery that quickly attracted national and international attention because of the brutality of the Maggie and Paul's execution-style killings, the prominence of the victims' family and the seeming helplessness of the South Carolina Law Enforcement Division to identify even one suspect for more than a year or advance a theory of what had happened.
For 14 months — until Murdaugh's indictment on murder charges in July 2022 — neither SLED officials nor prosecutors from the S.C. Attorney General's office would comment on evidence in the case or law enforcement's highly publicized failure to make an arrest.
Interest in what became known as the "Murdaugh murders" case was heightened when, three months after the killings, in early September 2021, Murdaugh was fired by his law firm, which publicly accused him of misappropriating client funds.
At the trial, one of Murdaugh's law partners revealed that Murdaugh had embezzled more than $10 million from of the law firm and its clients, and although insurance had compensated some of the firm's clients for their losses, firm members had to borrow money to reimburse other clients.
A day after he was fired by his law firm, Murdaugh staged what SLED later called a fake suicide in a botched attempt to have his life insurance pay $10 million to his only surviving son, Buster, who was not in on the scheme. SLED charged Murdaugh with financial fraud in that alleged crime.
In late 2021, and on into 2022, Murdaugh was repeatedly indicted on multiple counts of financial fraud by the state grand jury. Members of his former law firm, known as PMPED, after Parker Murdaugh Peters Eltzroth and Detrick, created a new firm and rebranded themselves as the Parker Law Group. It was a sign that the Murdaugh name, once respected and even feared around the Lowcountry's 14th Judicial Circuit for more than 100 years, was now tainted.
The full extent of Murdaugh's alleged financial frauds still are not known. He also faces charges of evading $486,000 in state taxes on the millions he stole, as well as drug trafficking charges, according to indictments.
The murders had taken place at night, the crime scene had been overrun by Murdaugh's friends and family until it was sealed off and there were no witnesses except the family's dogs who barked at investigators from their cages. The state was never able to produce the murder weapons, a shotgun and a .300 Blackout assault-type rifle.
Facing life in prison without parole, Murdaugh has seen witness after witness testify how he has stained the name of his family that has been woven into the fabric of the 14th Judicial Circuit for more than a century.
Today "Murdaugh" has become shorthand for wickedness and the firm the family founded in 1910 was dissolved and reformed, without the Murdaugh name.
In a move reportedly opposed by his defense team, Harpootlian and Griffin, Murdaugh took to the stand for two days.
In testimony that was in turn tearful, defiant and litigious, the disbarred attorney denied killing his wife and son.
But in five hours of cross-examination by Waters, Murdaugh offered a stunning series of admissions. He confessed, for the first time, to lying about his alibi and to a decade's worth of thefts from his clients and his law firm, which he said was driven by a need to fund a $50,000 a week addiction to prescription painkillers.
Even before he took the stand, Murdaugh's defense team had little room to maneuver.
Newman granted the prosecution's wish list of motions.
He allowed them to introduce a landslide of witnesses who testified about Murdaugh's financial crimes, leading Harpootlian to protest that it was more of a "Madoff trial than a murder trial." Bernie Madoff was imprisoned for orchestrating a $64.8 billion Ponzi scheme, the largest in history.
While not required to prove motive, Waters repeatedly accused Murdaugh of being a "family annihilator," driven to commit a biblical act of destruction when the facade of his successful life began to crack.
Ballistics experts also matched a family gun to the weapon that killed Maggie and the state used family's phones and data from Murdaugh's car to map out a minute-by-minute timeline of events, casting doubt on the defense's improbable claim that Murdaugh missed the killings by mere minutes.
Many of the witnesses were drawn from the inner circle of the Murdaughs' close knit and clannish world, among them Murdaugh's surviving son, 26-year-old Buster, who testified in his father's defense.
Their testimony threw back the curtain on an insular world of privilege and power among the swamps of the Lowcountry.
Since the fatal 2019 boat crash allegedly caused by Paul, the family has gained unwelcome international prominence through podcasts, documentaries and a zealous community of online sleuths.
In court, the 6-foot-4 Murdaugh often appeared gaunt, his once red hair turned almost white. He frequently rocked back-and-forth and openly wept during testimony.
It was hard to connect the man at the defense table with the image of well-fed, affluent contentment who beamed out from family pictures that have been featured heavily in nearly four years of coverage of the case.
The verdict is a vindication for SLED and the South Carolina Attorney General's office, who conducted perhaps the state's highest-profile law enforcement investigation and prosecution in a generation amid a whirlwind of scrutiny and criticism.
It was also a personal test for South Carolina Attorney General Alan Wilson, whose office rarely prosecutes murders and who sat at the prosecution's table throughout the trial and led direct examination of the state's final witness.
Wilson is the heir to his own South Carolina legacy — his father is U.S. Rep. Joe Wilson – and is rumored to be considering a run for higher office.
The case was transferred to his office after 14th Circuit Solicitor Duffie Stone recused himself on Aug. 11, 2021.
Stone occupied the same office that had been held by Murdaugh's father, grandfather and great grandfather. Murdaugh himself held the nebulously defined role of "volunteer solicitor," and frequently displayed the badge in his car's cup holder while maintaining a seven figure a year practice at the Murdaugh law firm.
___
© 2023 The State
Distributed by Tribune Content Agency, LLC.