Last week, a Chinese fighter jet flew within 20 feet of a U.S. Air Force RC-135 reconnaissance aircraft, cutting off the U.S. aircraft which had to take evasive maneuvers to avoid a collision, according to footage obtained by American Military News from the Defense Department.
In a statement released on Thursday, the U.S. Indo-Pacific Command (INDOPACOM) said the U.S. reconnaissance plane was lawfully conducting routine operations over the South China Sea in international airspace on Dec. 21 when a Chinese People's Liberation Army Navy (PLAN) J-11 fighter jet approached.
"The PLAN pilot flew an unsafe maneuver by flying in front of and within 20 feet of the nose of the RC-135, forcing the RC-135 to take evasive maneuvers to avoid a collision," INDOPACOM said.
A member of the RC-135's flight crew took a video, showcasing a segment of the close encounter with the Chinese fighter jet.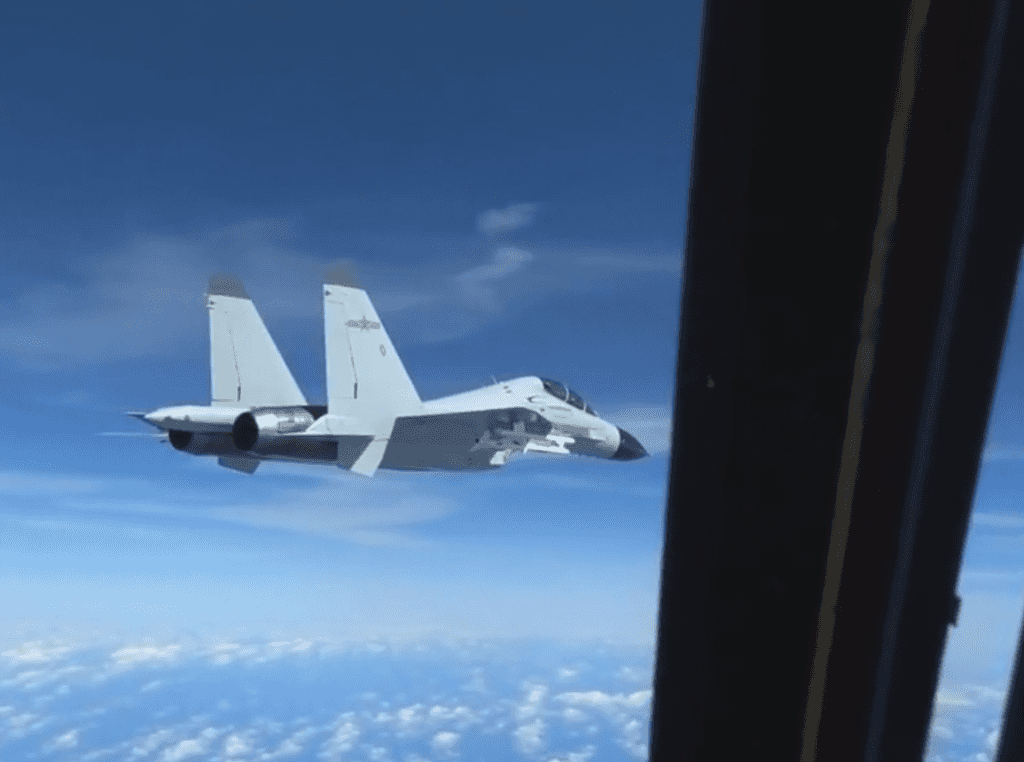 "The U.S. Indo-Pacific Joint Force is dedicated to a free and open Indo-Pacific region and will continue to fly, sail and operate at sea and in international airspace with due regard for the safety of all vessels and aircraft under international law," INDOPACOM said. "We expect all countries in the Indo-Pacific region to use international airspace safely and in accordance with international law."
The Shenyang J-11 is a Chinese-production variant of the Soviet-designed Sukhoi Su-27 Flanker.
The Dec. 21 incident is not the first time Chinese fighter jets have flown dangerously close to U.S. aircraft.
In June, a Chinese Su-30 fighter jet reportedly flew dangerously close to a U.S. Air Force Special Operations Command (AFSOC) C-130 aircraft.
In August, Vice Adml. Karl Thomas, the commander of the Japan-based U.S. 7th Fleet, said Chinese aircraft have been increasingly conducting dangerous intercepts of U.S. aircraft in the Indo-Pacific region.