It's been nearly two years since a Marine veteran doggedly pushed the "Tally Bill" through Congress, closing a legal loophole that shielded doctors contracted by the Department of Veterans Affairs from civil liability for medical malpractice.
With his mission accomplished, Brian Tally is now a motivational speaker, a weekly podcaster, and a resource for veterans who want to create change of their own.
"If you see an injustice, or if you see something that doesn't make any sense, it's our duty as Americans to stand up," Tally said in an interview with American Military News.
"We have a voice," he continued. "But you need to know how to use that voice in an effective way."
For three-and-a-half years, Tally intensively lobbied Congress to pass a simple law closing what he calls a "very clever loophole" that shielded a VA-affiliated doctor from liability after their misdiagnosis nearly killed him, leaving him with lifelong damage.
The doctor mistook a bone-eating staph infection for a low back sprain, forgoing the MRI and blood tests that could have detected it. Tally spent the next four months being "eaten alive" before a surgeon caught the infection and, in all likelihood, saved his life.
To this day, there are more spinal surgeries ahead, and there have been "dozens of other diagnoses" resulting from the infection that raged in him unchecked, including bladder paralysis and a kidney issue.
When Tally tried to hold the original doctor legally liable for medical malpractice, he hit a dead-end. That doctor had been an independent contractor, not a government employee, meaning they had to be sued in state court. But the VA only revealed that to Tally after the state statute of limitations had expired, leaving him with no one to hold accountable.
While Tally said it isn't "100 percent fact" that the VA deliberately shielded the doctor by keeping their contractor status under wraps, he said "it didn't really pass the smell test with me."
The former Marine set out to make sure no other veteran faced his situation again. The "Brian Tally VA Employment Transparency Act" he helped usher through Congress is simple: within 30 days of a federal tort claim being filed, the VA must disclose whether a contractor was involved.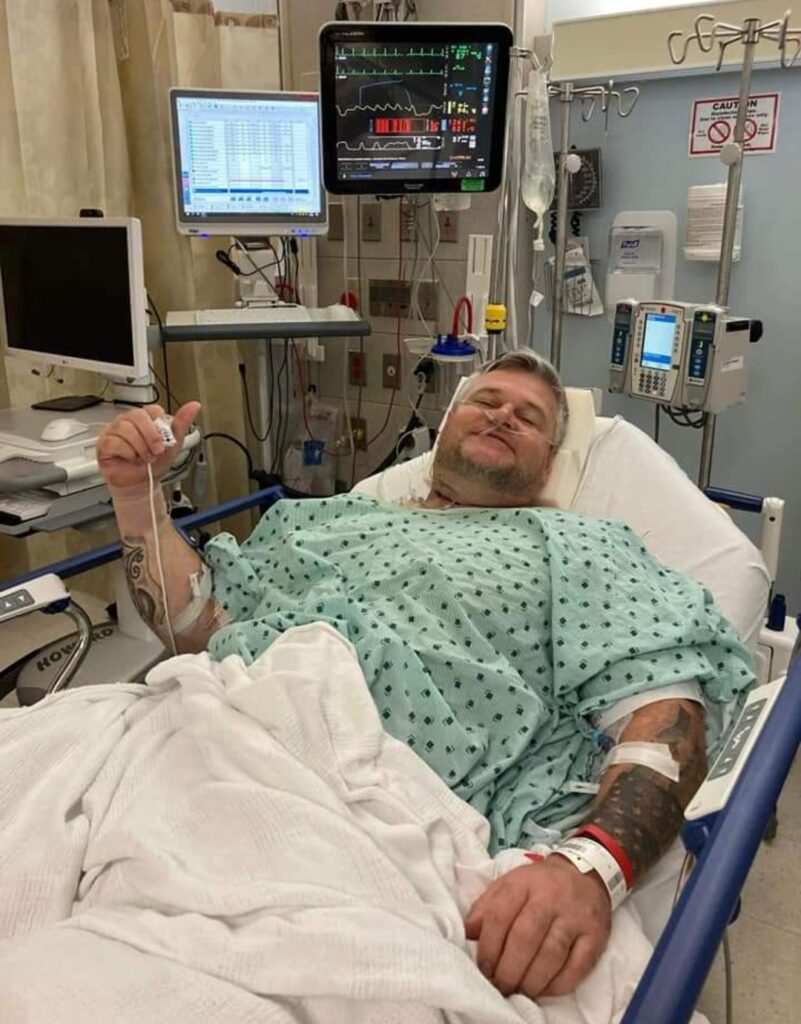 Then-President Donald Trump signed the Tally Bill into law on Jan. 5, 2021, in a moment that was overshadowed by the events at the Capitol the following day, when demonstrators entered the building and disrupted a joint session of congress to certify the 2020 election results.
Since then, the "Tally Bill" policies have been put into effect, according to a letter from the VA's general counsel office Tally showed AMN. While it's too late for Tally to personally benefit from the transparency required by his law, he said his "life has definitely changed for the better" since its passage.
"I'm able to focus on me now," he said. "For that three-and-a-half years, I completely abandoned myself. … All I had was an obsession on getting this law changed."
But even as Tally now channels his energy into motivational speaking and a podcast, "Tuesdays with Tally," his phone is still lighting up with calls about the "Tally Bill."
Describing himself as "the name and the face of VA policy," Tally said he now gets between 200 and 300 messages a month from veterans, many of whom say their "Tally Bill" notices gave them the information they needed, when they needed it.
In many other calls, people ask him one particular question: "How do I write my own bill?"
"You'd be amazed on how many veterans now want to do something not only for the VA, but for their community, or whatever it may be," he said.
And they're coming to the right man. Tally said making his bill into law took 12,000 hours of advocacy, 5,000 emails, five treks to Washington, D.C., as well as visits to about 30 congressional districts across eight states.
"It was three-and-a-half years of 100 percent laser-focused, every second, every minute, every hour of every single day, advocacy for the Tally Bill," he said.
Tally said that with veterans in particular, "there's a big gap" in being able to effectively "communicate what their problems are" because of the disconnects between military and civilian life.
And since he was asked so often how he carried his bill across the finish line, he now has a five-minute video that lays out the keys, as he sees them, to effective communication and successful advocacy for change.
The video, viewable on Facebook, highlights two key themes: "Kill them with kindness," and keep your negative emotions in check.
"How you dress and how you present yourself and how you speak is how they're going to remember you," Tally says in the video. "Do not lose your bearing. You cannot show frustration."
He told AMN that the "credibility" gained by controlling your emotions is among the most important things to maintain.
"As soon as you raise your voice and as soon as you lose your bearing, you are going to be turned off and your credibility is gone," he said. "Once you lose your credibility, you lose the battle. And when you lose the battle, you're done."
By the time Tally set out to create change at the VA, he was an "anxiety-riddled, depressed, broken man" from the pain of his situation. But he transformed himself into a persistent – and successful – congressional lobbyist, and stands ready to help others do the same.
"If somebody needs help, I'm going to do what I can to help them find the help they need," he said, "because I didn't have a Brian Tally when I needed a Brian Tally the most."