On Tuesday, journalist Lee Fang released the eight part in the ongoing "Twitter Files" series, providing internal documents that showed how the social media platform permitted Twitter accounts linked to U.S. military that engaged in influence operations around the world.
Elon Musk, who took over ownership of Twitter in October, has been assisting with the publication of the company's internal communications. Under Musk's direction, the company has turned over documents to multiple journalists.
Thus far, the files provide evidence that Twitter executives ignored their own stated policies in search of justifications to suppress the Hunter Biden laptop story on Twitter and to ban President Donald Trump from the platform. The files also show that the FBI had foreknowledge of the Biden laptop story and conditioned Twitter executives to see it as an election interference effort rather than a legitimate act of journalism.
Twitter Files Part 1: Twitter employees questioned justifications for censoring Hunter Biden laptop story
The first set of Twitter Files, published by Matt Taibbi, described how Twitter's content moderation practices grew from fighting spam and financial fraud to censoring political content.
Taibbi tweeted that Twitter would routinely receive communications from political actors, asking them to review content on the social media platform. Taibbi included a screenshot of an internal email, referring to tweets President Joe Biden's campaign had requested Twitter review.
Taibbi also detailed how Twitter employees questioned the justifications the platform ended up using to explain why they censored New York Post reporting on a laptop reportedly abandoned at a computer repair shop by Joe Biden's son, Hunter Biden. Taibbi relied on a mix of emails and interviews with Twitter employees to describe how they debated over their decision to suppress the New York Post.
Taibbi tweeted that the decision to censor the New York Post "led public policy executive Caroline Strom to send out a polite WTF query. Several employees noted that there was tension between the comms/policy teams, who had little/less control over moderation, and the safety/trust teams. Strom's note returned the answer that the laptop story had been removed for violation of the company's 'hacked materials' policy."
One unnamed Twitter employee told Taibbi "Hacking was the excuse, but within a few hours, pretty much everyone realized that wasn't going to hold. But no one had the guts to reverse it."
Taibbi included further emails from Twitter communications official Trenton Kennedy, who wrote, "I'm struggling to understand the policy basis for marking this as unsafe."
"By this point 'everyone knew this was fucked,' said one former employee, but the response was essentially to err on the side of… continuing to err," Taibbi tweeted.
Taibbi shared another email from former Twitter VP of Global Communications Brandon Borrman who asked, "Can we truthfully claim that this is part of the policy?" Former Deputy General Counsel Jim Baker said there was evidence to believe either that the laptop was hacked or that it was simply abandoned and that "caution is warranted."
Twitter Files Supplemental: Fmr. FBI lawyer Jim Baker interfered in Musk's Twitter expose
In addition to writing the first installment of the Twitter files, Taibbi also wrote a supplemental Twitter thread explaining why subsequent tranches of Twitter internal documents were not immediately released. Taibbi explained that the delay in additional rounds of Twitter files came about after fellow journalist Bari Weiss realized Baker was involved in "vetting the first batch of 'Twitter Files' – without knowledge of new management."
Baker previously worked at the FBI before becoming one of Twitter's top legal representatives.
Taibbi didn't explain how Baker was "vetting" the Twitter files and if Baker had suppressed any specific information. Musk fired Baker after his involvement in "vetting" the files came to light.
Part 2: Twitter had secret blacklists
In the second full round of Twitter files, Weiss shared screenshots of internal Twitter tools that were used to lower the visibility of tweets from certain accounts.
Project Veritas — a journalistic group that specializes in undercover camera recordings — published an undercover video in January of 2018, with Twitter employees describing a process to "shadow ban" certain users, essentially preventing other Twitter users from seeing posts by a targeted account.
Twitter responded to the Project Veritas video in 2018 by saying, "Twitter does not shadowban accounts. We do take actions to downrank accounts that are abusive, and mark them accordingly so people can still to click through and see these Tweets if they so choose."
Twitter has denied "shadowbanning" according to a narrow definition of the term, while "limiting tweet visibility" has publicly been one of its enforcement options since at least 2018.
"What many people call 'shadow banning,' Twitter executives and employees call 'Visibility Filtering' or 'VF.' Multiple high-level sources confirmed its meaning," Weiss tweeted. "'Think about visibility filtering as being a way for us to suppress what people see to different levels. It's a very powerful tool,' one senior Twitter employee told us."
Weiss shared screenshots of Twitter's tools for "visibility filtering," and showed that the tools were used on conservative commentators like Dan Bongino and Charlie Kirk.
Parts 3, 4 & 5: Twitter may have been looking for reasons to ban Trump, execs ignored rules on interpreting tweets
Taibbi, Shellenberger and Weiss all wrote in successive portions about how Twitter handled the removal of then-President Donald Trump's account. Together the journalists laid out how Twitter executives were closely monitoring Trump's tweets for months in search of potential violations and went against their own stated policy to not interpret hidden meanings in tweets. The journalists also showed how some lower-level Twitter employees disputed assessments that Trump's tweets violated the platform's policies.
Taibbi covered the period spanning from the lead up of the November 2020 elections to Jan. 6, 2021. Taibbi shared a screenshot of an internal communication in which a Twitter executive said Trump's removal from that platform was justified by the behavior of Trump and his supporters "over the course of the election and frankly last 4+ years."
"The bulk of the internal debate leading to Trump's ban took place in those three January days," Taibbi tweeted, referring to Jan. 6-8, 2021. "However, the intellectual framework was laid in the months preceding the Capitol riots."
Taibbi tweeted that before the 2020 election, there was a mix of both automated and manual content moderation on Twitter, but that manual moderation efforts saw senior executives increasingly making decisions "on the fly." Taibbi also said that Twitter executives "increasingly struggled with rules, and began to speak of 'vios' as pretexts" for removing accounts they disfavored.
Taibbi included a screenshot of one exchange where a Twitter employee referenced an "escalation" over a tweet Trump published, saying "Breakings News: 50,000 OHIO VOTERS getting WRONG ABSENTEE BALLOTS. Out of control. A Rigged Election!!!" The Twitter employee asked whether Trump's "rigged election" comment would be a violation of the platforms rules to which then-Twitter head of Trust and Safety Yoel Roth replied, "if the claim of fact were inaccurate, yes," along with an NPR article providing a factual basis for Trump's tweet.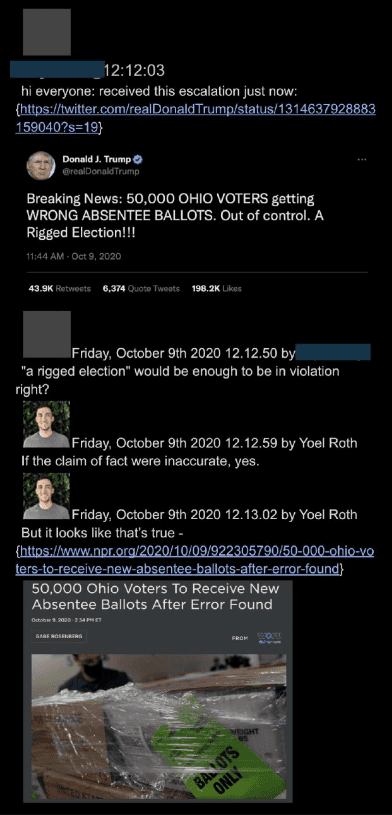 Shellenberger picked up after Taibbi, to describe Twitter's internal deliberations around banning Trump after demonstrators entered the U.S. Capitol building on Jan. 6, 2021. Shellenberger noted Former First Lady Michelle Obama , tech journalist Kara Swisher and the Anti-Defamation League (ADL) all joined in public calls for Trump's removal from the platform.
Shellenberger described a series of Jan. 7, 2021 communications, including one from then-Twitter CEO Jack Dorsey, calling for Twitter to remain consistent on its policies, including for allowing users to return to the platform after temporary suspensions. Shellenberger then showed a message by Roth announcing to a Twitter employee that Dorsey had agreed to modify the platforms enforcement measures on "civic integrity" to allow for permanent suspensions.
After the rule change, a Twitter employee asks Roth whether the rule change will allow the platform to ban Trump outright for "incitement to violence," to which Roth replied that "Trump continues to just have his one strike" remaining before he is suspended.
"Roth's colleague's query about 'incitement to violence' heavily foreshadows what will happen the following day. On January 8, Twitter announces a permanent ban on Trump due to the 'risk of further incitement of violence,'" Shellenberger tweeted.
Trump's last tweet on Jan. 8, 2021 was, "To all of those who have asked, I will not be going to the Inauguration on January 20th."
Twitter suspended Trump's accounts saying, "After close review of recent Tweets from the @realDonaldTrump account and the context around them — specifically how they are being received and interpreted on and off Twitter — we have permanently suspended the account due to the risk of further incitement of violence." Twitter said Trump's tweet could be interpreted to "serve as encouragement to those potentially considering violent acts that the Inauguration would be a 'safe' target, as he will not be attending."
In his Twitter thread, Shellenberger noted that Twitter had previously said it would not rely on such interpretations of a tweet's meaning before taking enforcement action. In a 2019 blog post, Twitter had said "we focus on the language of reported Tweets and do not attempt to determine all potential interpretations of the content or its intent."
Shellenberger also tweeted a screenshot of one Twitter employee's internal comment that "one off ad hoc decisions like this that don't appear rooted in policy are [in my honest opinion] a slippery slope."
In part five of the Twitter Files, Weiss shared internal Twitter communications showing that Twitter employees initially tasked with reviewing Trump's final tweets did not violate Twitter's policies.
"I think we'd have a hard time saying this is incitement," one Twitter employee said after reviewing Trump's tweets.
"Another staffer agreed: 'Don't see the incitement angle here,'" Weiss tweeted.
"'I also am not seeing clear or coded incitement in the DJT tweet,' wrote Anika Navaroli, a Twitter policy official. 'I'll respond in the elections channel and say that our team has assessed and found no vios' —or violations—'for the DJT one,'" Weiss tweeted, with screenshots of additional internal Twitter communications.
Twitter's safety team also that Trump's tweet about not attending Biden's inauguration is also not in violation. Weiss tweeted, "They are unequivocal: 'it's a clear no vio. It's just to say he's not attending the inauguration.'"
Part 6: FBI flagged tweets for potential Twitter rule breakers
Throughout the previous tranches of Twitter documents, Taibbi, Weiss and Shellenberger had alluded to communications between Twitter executives and the FBI and other government agencies. In the sixth installment Taibbi shared examples of FBI officials specifically flagging tweets for Twitter to inspect for possible rules violations.
"Between January 2020 and November 2022, there were over 150 emails between the FBI and former Twitter Trust and Safety chief Yoel Roth," Taibbi tweeted.
"Some are mundane, like San Francisco agent Elvis Chan wishing Roth a Happy New Year along with a reminder to attend "our quarterly call next week." Others are requests for information into Twitter users related to active investigations," Taibbi continued. "But a surprisingly high number are requests by the FBI for Twitter to take action on election misinformation, even involving joke tweets from low-follower accounts."
Taibbi showed en email of an FBI official referring four accounts for Twitter to see if their posts "may potentially constitute violations of Twitters Terms of Service for any action or inaction deemed appropriate within Twitter policy."
In one apparent joke tweet, a user said "I want to remind republicans to vote tomorrow, Wednesday November 9," giving the day after the 2020 election day. Another tweet the FBI referred for review was a picture of a small tugboat with a shipping container with the caption "proposed container ship if there's a world wide recession."
Taibbi also got reactions from users who saw their tweets "bounced" after FBI requests for Twitter to take action.
""My thoughts initially include 1. Seems like prima facie 1A violation 2. Holy cow, me, an account with the reach of an amoeba 3. What else are they looking at?" one user told Taibbi.
"I can't believe the FBI is policing jokes on Twitter. That's crazy," another user told Taibbi after learning his tweets were "bounced" after an FBI referral to Twitter.
Part 7: FBI warned Twitter to be wary of Biden laptop
In the seventh installment of the Twitter Files, Shellenberger returned to Twitter's suppression of the New York Post's reporting on the alleged Biden laptop, this time detailing the FBI's role in priming Twitter to distrust the reporting before it was published.
"The story begins in December 2019 when a Delaware computer store owner named John Paul (J.P.) Mac Isaac contacts the FBI about a laptop that Biden had left with him On Dec 9, 2019, the FBI issues a subpoena for, and takes, Biden's laptop," Shellenberger tweeted with photos of legal documents relating to the FBI subpeona.
"By Aug 2020, Mac Isaac still had not heard back from the FBI, even though he had discovered evidence of criminal activity," Shellenberger added. "And so he emails Rudy Giuliani, who was under FBI surveillance at the time. In early Oct, Giuliani gives it to @nypost."
On Oct. 13, 2020, Biden and his lawyer George Mesires learned that the New York Post would run their article on the laptop the following day. That same night, FBI agent Elvis Chan contacted Roth, who was Twitter's then-Head of Site Integrity with an urgent matter. The FBI agent told Roth that he would be sending documents through "teleporter" a special one-way communications portal between the FBI and Twitter.
"Heads up I will be sending a Teleporter link for you to download 10 documents. It is not spam! Please confirm receipt when you get it," the FBI agent told Roth.
Shellenberger tweeted that even before Biden's lawyer learned about the New York Post's planned story on the laptop, the FBI had "repeatedly primed Yoel Roth to dismiss reports of Hunter Biden's laptop as a Russian 'hack and leak operation." Shellenberger included an image of a sworn statement from Roth in December of 2020, stating that he had been warned about potential 2020 election "hack-and-leak operations" including rumors that one of the operations "would involve Hunter Biden."
Facebook CEO Mark Zuckerberg has also said the FBI warned his platform about potential Russian interference efforts on social media.
"Were the FBI warnings of a Russian hack-and-leak operation relating to Hunter Biden based on *any* new intel? No, they weren't," Shellenberger tweeted. "'Through our investigations, we did not see any similar competing intrusions to what had happened in 2016,' admitted FBI agent Elvis Chan in Nov." with screenshots of a deposition transcript.
Shellenberger tweeted multiple examples of Twitter officials saying they saw little to no signs of Russian efforts to interfere in the 2020 U.S. election.
Chan reached out to Twitter in July and August of 2020, to ask if anyone at Twitter had a top secret security clearance. Roth responded that Baker — who previously worked for the FBI — had such a clearance.
As an aside, Shellenberger noted that Baker had been involved in elevating allegations of collusion between Trump and the Russian government during the 2016 election cycle, when he still worked for the FBI. Earlier this year, federal prosecutors tried Michael Sussman — who worked as a lawyer for Hillary Clinton's 2016 campaign — with lying about his motives for bringing Trump-Russia collusion allegations to Baker at the FBI. Sussman was ultimately found not-guilty during the trial in May.
Beyond the direct FBI communications about a potential hack and leak operation involving Hunter Biden, Shellenberger wrote that Roth also took part in an Aspen Institute "tabletop exercise" on a potential "Hack-and-Dump" operation relating to Hunter Biden.
Shellenberger wrote that on Sept. 15, 2020, the head of the FBI's Foreign Influence Task Force, and agent Chan, request to give a classified briefing to Baker, who by then was working for Twitter.
After the New York Post published its first article on the Hunter Biden laptop, Roth told Baker that article "isn't clearly violative of our Hacked Materials Policy, nor is it clearly in violation of anything else," to which Baker advised caution about allowing the article to remain on the platform.
"It's inconceivable Baker believed the Hunter Biden emails were either fake or hacked," Shellenberger claimed. "The @nypost had included a picture of the receipt signed by Hunter Biden, and an FBI subpoena showed that the agency had taken possession of the laptop in December 2019. As for the FBI, it likely would have taken a few *hours* for it to confirm that the laptop had belonged to Hunter Biden. Indeed, it only took a few days for journalist [Peter Schweizer] to prove it."
Schweizer told Shellenberger that he authenticated materials from the laptop by matching up dates and locations that Hunter Biden referenced in emails with his Secret Service travel records. Schweizer said he also contacted one of the people who communicated with Biden in the emails on his alleged laptop, Bevan Cooney. Schweizer said Cooney showed his actual emails, showing that communications between him and Biden on the alleged laptop were actual communications they had.
Shellenberger then alleged the FBI also used a tactic of setting up substance-free briefings with politicians, with the stated intention of warning them about election interference. Shellenberger said that while the FBI told lawmakers they were there to provide information about election interference efforts, their actual intent was to leak descriptions of those briefings to the media which would then report on the leaked meeting descriptions under the assumption that the briefings were substantive interactions between the FBI and lawmakers.
Sens. Chuck Grassley (R-IA) and Ron Johnson (R-WI) sent a complaint letter to the FBI, alleging the FBI had used this very same tactic against them to discredit their investigation into Hunter Biden's foreign business connections.
Shellenberger also revealed that the FBI reimbursed Twitter for the time it took to brief Twitter employees. According to a Feb. 10, 2021 email from Baker, Twitter had collected over $3.4 million from the FBI since October of 2019.
Shellenberger said the FBI's apparent effort to discredit the Hunter Biden laptop story may have been reinforced by their payments to Twitter.
Part 8: Twitter permitted U.S. military-linked 'psyop' accounts
The eighth installment of the Twitter Files, written by Intercept journalist Lee Fang, details how Twitter worked with the Pentagon to enable dozens of accounts that engaged in influence operations around the world.
Fang began the thread by noting that Twitter had claimed for years that it would work to detect and thwart gov-backed platform manipulation.
"But behind the scenes, Twitter gave approval & special protection to the U.S. military's online psychological influence ops," Fang tweeted. "Despite knowledge that Pentagon propaganda accounts used covert identities, Twitter did not suspend many for around 2 years or more. Some remain active."
Fang shared a screenshot of a 2017 email that a U.S. Central Command (CENTCOM) official sent to Twitter, asking for the platform to "whitelist" 52 accounts "we use to amplify certain messages."
"The same day CENTCOM sent the list, Twitter officials used a tool to grant a special "whitelist" tag that essentially provides verification status to the accounts w/o the blue check, meaning they are exempt from spam/abuse flags, more visible/likely to trend on hashtags," Fang tweeted.
Some of the accounts initially indicated their ties to the U.S. military, but Fang said these accounts gradually deleted such disclosures. He showed a screenshot of one account that changed its profile to hide a U.S. military connection.
"One Twitter official who spoke to me said he feels deceived by the covert shift," Fang tweeted. "Still, many emails from throughout 2020 show that high-level Twitter executives were well aware of DoD's vast network of fake accounts & covert propaganda and did not suspend the accounts."
"For example, Twitter lawyer Jim Baker mused in a July 2020 email, about an upcoming DoD meeting, that the Pentagon used 'poor tradecraft' in setting up its network, and were seeking strategies for not exposing the accounts that are 'linked to each other or to DoD or the USG,'" Fang continued, once again tying Baker in with the latest Twitter files.
While CENTCOM had tipped Twitter off to some of its accounts in 2017, Fang reported that Twitter detected other Pentagon-linked accounts that the U.S. military had not previously disclosed to the platform. Rather than taking any immediate action against the additional Pentagon-linked accounts, Twitter reached out to the Pentagon to review the list of accounts.
"Many of these secretive U.S. military propaganda accounts, despite detection by Twitter as late as 2020 (but potentially earlier) continued tweeting through this year, some not suspended until May 2022 or later, according to records I reviewed," Fang tweeted.