The nonprofit Everytown for Gun Safety has filed a lawsuit against Daniel Defense, the maker of the firearm the suspect used in the Uvalde school shooting, on behalf of a mother of one of the victims. Everytown for Gun Safety is largely financed by former New York City mayor Michael Bloomberg.
Last week, Everytown For Gun Safety announced it filed the lawsuit on behalf of Sandra Torres, whose daughter, Eliahna, was among the 22 people killed in the attack. Daniel Defense is named in the lawsuit, followed by the gun store that sold the suspect his rifle, as well as state and local law enforcement agencies, who were criticized for their slow response to the shooting.
The lawsuit argues Daniel Defense has legal liability for the shooting in which 22 people were killed and 18 more were injured, because of its marketing.
The lawsuit against Daniel Defense is not the first time a gun maker has been sued for their product's use in a shooting. Earlier this year, Remington paid out a settlement after a eight-year legal battle with the family's of the victims of the 2012 Sandy Hook school shooting.
This lawsuit by Everytown for Gun Safety is separate from a lawsuit filed earlier this year that also names Daniel Defense as a defendant in connection with the Uvalde shooting. Charles Bonner, the attorney who brought that first case, told Reuters he is coordinating his lawsuit with Everytown though their cases are separate.
Everytown's legal complaint states the Uvalde shooting suspect, Salvador Ramos, "was an ideal customer for Daniel Defense: young, isolated, troubled, and violent."
"Daniel Defense directed marketing towards this demographic by using militaristic imagery to suggest that civilian consumers could (and should) use their weapons the way service members are sometimes asked to: to engage in offensive combat missions directed at other humans," the legal complaint states. "They furthered this message by placing their products in Call of Duty, and then using social media like Instagram to amplify their product placement, even suggesting that consumers reenact the video games in real life with their products in hand. Thus, it was no accident that a young man with a history of violence who associated the military with killing people and was fascinated with Call of Duty purchased a Daniel Defense AR-style rifle to perpetrate this horrific crime."
The complaint takes note of several posts on Daniel Defense's Instagram profile that it argues "encouraged their illegal misuse." One of the selected posts is a picture through a sniper scope looking down at a car on a public street. The lawsuit said the post is suggestive of targeting the car "as if to carry out an assassination."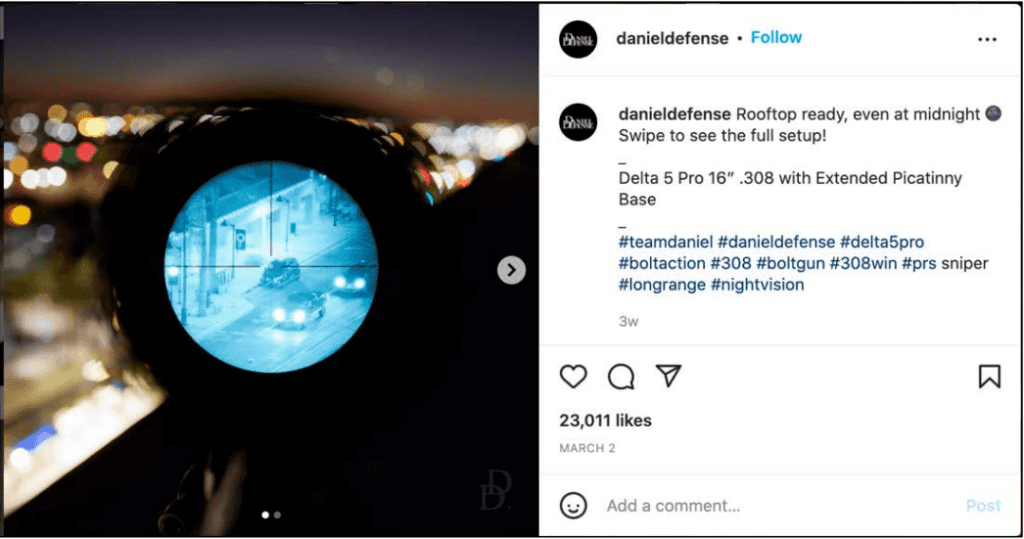 In an exchange the same week Daniel Defense posted that image, an Instagram user asked "Is this an assassins setup? And can I buy this?" to which the gunmaker replied, "More geared toward MIL/LE but adaptable to anyone. Yes, our Delta 5 Pro 16" is live on our site right now!"
The lawsuit goes through several other social media posts and advertisements, including a commercial showing an armed military-style team moving in formation with Daniel Defense gear, intercut with footage of a civilian target shooter.
"There is no 'don't try this at home' warning; the message of this advertisement is the opposite: 'This could be you!'" the lawsuit states.
The gunmaker addressed the lawsuit in an Instagram post on Friday.
As loyal customers and friends, you may be aware that this week gun-grabber Michael Bloomberg and Everytown for Gun Safety has brought a frivolous lawsuit against Daniel Defense blaming us-not the shooter-for the Uvalde tragedy. This lawsuit is yet another in a growing line of blatant and legally unfounded attempts to bankrupt the firearms industry. We reject and will vigorously defend against these politically motivated attempts to blame Daniel Defense for the criminal actions of others, as well as to undermine your means of self-defense secured by the Second Amendment.

The erosion of public trust and personal responsibility in our nation has only served to embolden criminals and instigate crime waves across the country. Michael Bloomberg is the same person who wanted to blame obesity on soda cup size; now he wants to shift blame from the shooter to the firearm manufacturing industry. However, the political tide is turning due to surging numbers of first time gun buyers who appear to recognize that their personal safety is their personal responsibility. At Daniel Defense, it is our honor to provide millions of women, minorities, and other first time buyers the very best means to ensure their safety in an unsure world.

On behalf of all veterans and members of the military, we find former New York City Mayor Bloomberg and Everytown's insinuation that the actions of our military can in any way inspire the mass murder of school children to be deeply insulting and baseless. To imply that images portraying the heroic work of our soldiers risking their lives in combat inspires young men back home to shoot children is inexcusable.

From its inception, Daniel Defense has been committed to promoting responsible firearms ownership and has built its reputation on its unwavering support for the Second Amendment and the law-abiding citizens who protect their homes, connect with their children, and put food on the table with our products. Daniel Defense stands with Americans everywhere who will not be bullied into silence or political inaction as the freedoms and protections ensured by the Second Amendment are under attack.

We are proud of our company, our products, and our community. We stand ready to defend ourselves and your freedoms before the public and the court.