President Joe Biden's official White House Twitter account deleted a tweet on Wednesday after it was fact-checked through Twitter's new crowdsourced fact-checking feature. This is at least the third time a Biden administration Twitter account has been fact-checked since billionaire Elon Musk took control of the platform.
On Tuesday, the White House tweeted, "Seniors are getting the biggest increase in their Social Security checks in 10 years through President Biden's leadership."
Using Twitter's new crowdsourced fact-checking mechanism, dubbed Birdwatch, users then "added context" to the White House's tweet. According to Twitter, the context is "written by people who use Twitter, and appears when rated helpful by others."
The "added context" note stated, "Seniors will receive a large Social Security benefit increase due to the annual cost of living adjustment, which is based on the inflation rate. President Nixon in 1972 signed into law automatic benefit adjustments tied to the Consumer Price Index."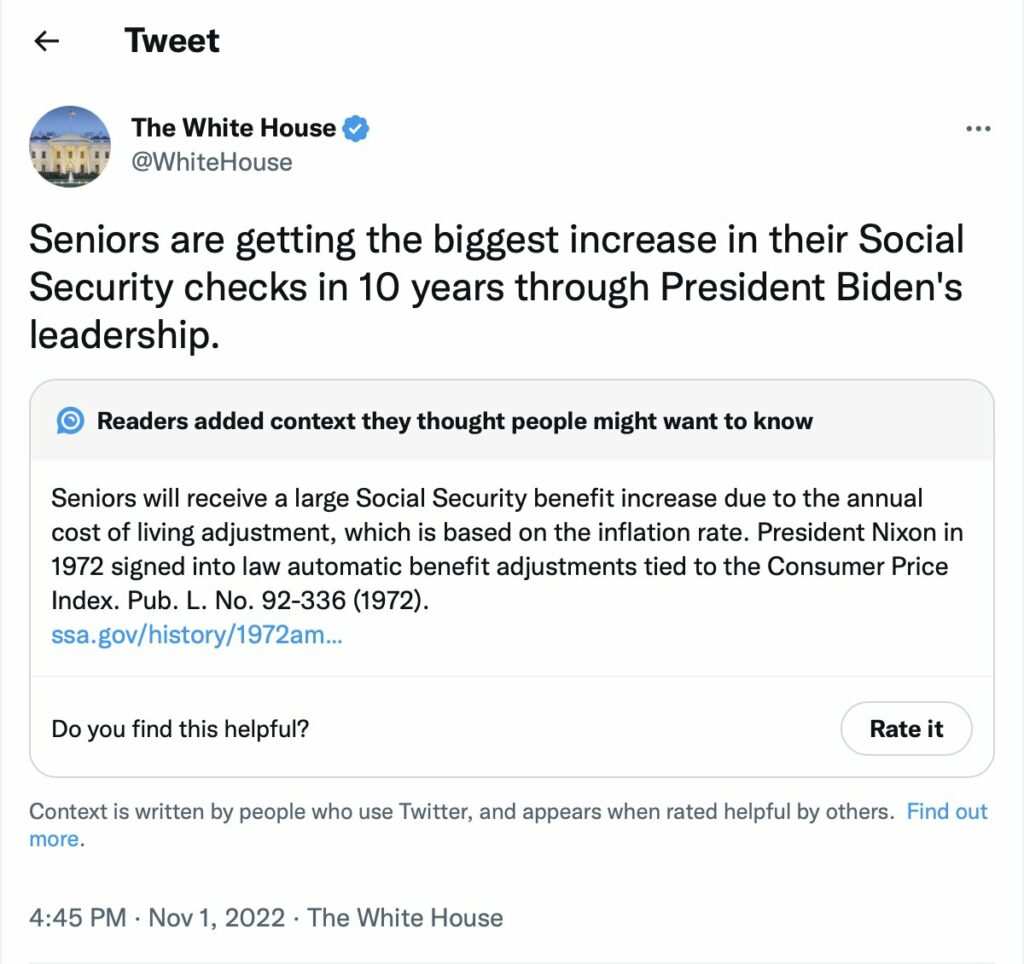 Users were asked to rate whether the note was "helpful" before the White House deleted the tweet.
During a press conference on Wednesday, White House press secretary Karine Jean-Pierre claimed the White House deleted the tweet because it was "incomplete."
"Look, the tweet was not complete. Usually, when we put out a tweet, we post it with context and it did not have that context. In the past we've pointed out that for the first time in over a decade, seniors' Medicare premiums will decrease even as their social security checks increase. That's a little bit of context that was not included," Jean-Pierre said. "This means that seniors will have a chance to get ahead of inflation due to the rare combination of rising benefits and falling premiums."

"And let's not forget, as you've been hearing me say for the past few minutes, about MAGA Republicans in Congress and their continued threat — uh — threatened Social Security and Medicare, proposing, uh, proposing to them on the chop, proposing to put them on the chopping blocks every five years, threatening benefits and to change, uh, eligibility," she added. "So those are the types of context that would normally be with a tweet like that. It did not have that context. It was an incomplete tweet, as I just mentioned. And so that's why you saw the digital team take that action."
Over the weekend, President Joe Biden posted two other tweets that were also fact-checked on Twitter.
In one tweet posted on Saturday, Biden claimed the Inflation Reduction Act is "capping" the cost of insulin at $35 a month.
Twitter users then added context to the tweet, writing, "While the Inflation Reduction Act capped insulin costs at $35 for individuals on Medicare, it did not cap costs for seniors on private insurance or anyone under the age of 65."
"Out of the 8.4 million Americans who take insulin, only 3.3 million are covered by Medicare," the context note added.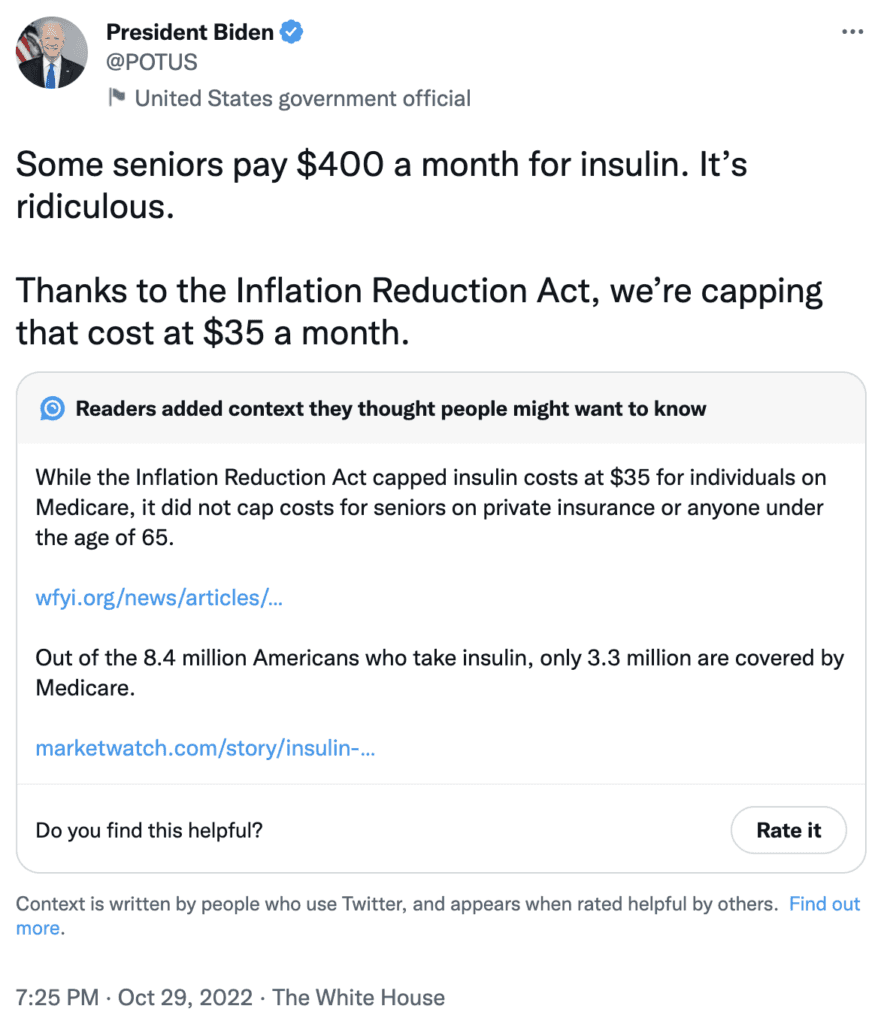 In another tweet posted on Friday, Biden wrote, "Let me give you the facts. In 2020, 55 corporations made $40 billion. And they paid zero in federal taxes. My Inflation Reduction Act puts an end to this."
Twitter's subsequent "added context" note stated, "The Inflation Reduction Act imposed a minimum tax on corporations with average pre-tax earnings greater than $1 billion. Out of the 55 corporations the tweet references, only 14 had earnings greater than $1 billion and would be eligible under Biden's tax law."