The First Company Governor's Horse Guard in Avon is more than a cavalry unit — it's an exercise in keeping nearly 250 years of tradition and service alive.
This Saturday, Oct. 8, at 280 Arch Road in Avon from 10 a.m. to 3 p.m., the First Company will open its doors to the public and provide a peek behind the scenes of America's oldest, continuously serving cavalry unit.
Frank Berrian, who is coming up on five years with the Horse Guard in March, said that he and his fellow members of the First Company are looking forward to welcoming the community back to their headquarters.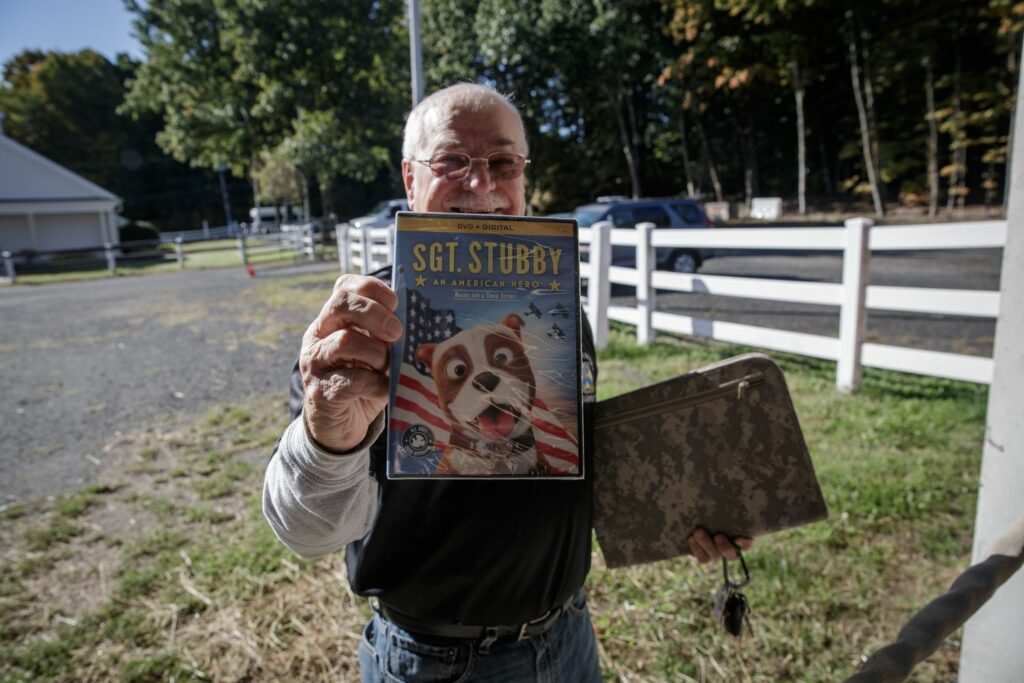 "We just hope to see everybody that can come out this weekend, come out and see the history, see the horses, see the troopers and get to see in real life, the oldest mounted cavalry in the United States still existing," Berrian said.
The open house, sponsored by the Friends of the First Company Governor's Horse Guard, will feature a meet and greet with troopers and horses, demonstrations by Connecticut's 928th military working dog detachment, a display of military vehicles, t-shirts, a raffle, and a free showing of the animated children's movie "Sgt. Stubby."
Released in 2018, "Sgt. Stubby" is based on the true story of the first dog to receive a rank in the U.S. armed forces. A stray from New Haven, Stubby befriended a soldier and followed him on his deployment to France in World World I. While serving in the trenches, Stubby was lauded as a hero for warning troops of imminent gas attacks with his sharp nose, locating injured soldiers on the front lines, and even taking down a German spy.
Retired Brigadier General Daniel McHale suggested the film. McHale led the 102nd infantry of the Connecticut National Guard, the same regiment as Sgt. Stubby, from 1992 to 1994. He joined in 1973 after serving in Vietnam and retiring from the Army in 1971. McHale now sits on the Friends of the First Company Governor's Horse Guard board of directors.
"One of the reasons why we're doing this is to get kids and high school kids down here to look and see what the organization is about," McHale said. "They're not getting [this history] anymore."
Since 1778, the all-volunteer First Company Governor's Horse Guard has proudly served the state of Connecticut, participating in ceremonial and civil service duties for the last 244 years. The Horse Guard accompanied President George Washington during his visit to Hartford in 1789, served on the Mexican border in 1916 against Pancho Villa, and fought in both World War I and World War II. Today, in addition to a number of community-based programs, the Horse Guard assists the Connecticut National Guard with disaster and pandemic relief.
Mike Downes served as the First Company's commandant from 2008 to 2012, after joining in 2002. Downes met his wife Tara when she joined the Guard in 2006 and the couple married at the First Company headquarters in 2009.
"We're maintaining a history and a custom and a tradition in that unit, that once it's gone, you cannot recreate it, you cannot reconnect it when it's broken. It's an important recognition of and preservation of Connecticut's heritage," Downes said. "These [troopers] are people who ordinarily wouldn't ever have anything to do with each other. They wouldn't know each other. They wouldn't have any cause to even talk to each other, but because of the common bond that was created from being a part of this tradition, of being responsible for carrying on that tradition, it helps unite [us]."
Retired Horse Guard Captain Gary Brooks started constructing an archive for the First Company in the basement of its headquarters roughly 18 months ago. More than 240 years of history dot the walls with pictures and artifacts from inaugurations, bicentennial celebrations, and group training over the years.
Brooks joined the First Company in 1971 and retired in 1998 but has remained involved through the board of directors.
When he started, Brooks said that three Horse Guard members, who served in the cavalry during World War II, taught him everything from jumps, to acrobatics, to riding two horses at the same time.
"I was very fortunate to be able to be in at that time and have these gentlemen teach me," Brooks said. "What they taught me, this is what I tried to pass on to the next generation so that it's not forgotten. And we keep the tradition of the cavalry and we keep the tradition of the Horse Guard alive."
Brooks said that not too long ago, the Horse Guard had more than 30 horses, but budget cuts have reduced the herd to 10 over the last few years. Years ago, Brooks said that Connecticut residents would donate horses to the Guard, but today a lack of donors has forced the Horse Guard to fundraise and purchase its horses, which can cost up to $5,000 a horse.
"Once you lose it, it's gone," Brooks said. "It's important to be able to pass this on to future generations and the youth of the state and the people of the state, the heritage that they have here."
When asked if he thinks the Horse Guard will ever return to its previous large herd numbers, Brooks said that he does not consider those days as lost.
"It never passed. I'm always hoping it's gonna be back to 39 horses and 70 troopers and a big staff," Brooks said. "We'll build it back up again."
___
© 2022 Hartford Courant
Distributed by Tribune Content Agency, LLC.