The chief diversity, equity and inclusion officer for the Department of Defense's Education Activity (DoDEA) disparaged white people in a number of previous tweets that have come under new scrutiny this week.
Kelisa Wing is an author and self-described "woke administrator"
who was selected in December of last year to serve as the DEI chief for the DoDEA. DoDEA provides K-12 education to DoD dependents.
Wing is outspoken about her "woke" political views, having coauthored children's books like "What is White Privilege?" "What Does it Mean to Defund the Police?" and "What is Anti-Racism?"
On Tuesday, Fox News first resurfaced several racially and politically charged posts from Wing's Twitter account.
In one June 23, 2020 tweet, Wing wrote "I'm so exhausted at these white folx in these PD sessions this lady actually had the CAUdacity to say that black people can be racist too….I had to stop the session and give Karen the BUSINESS…we are not the majority, we don't have power."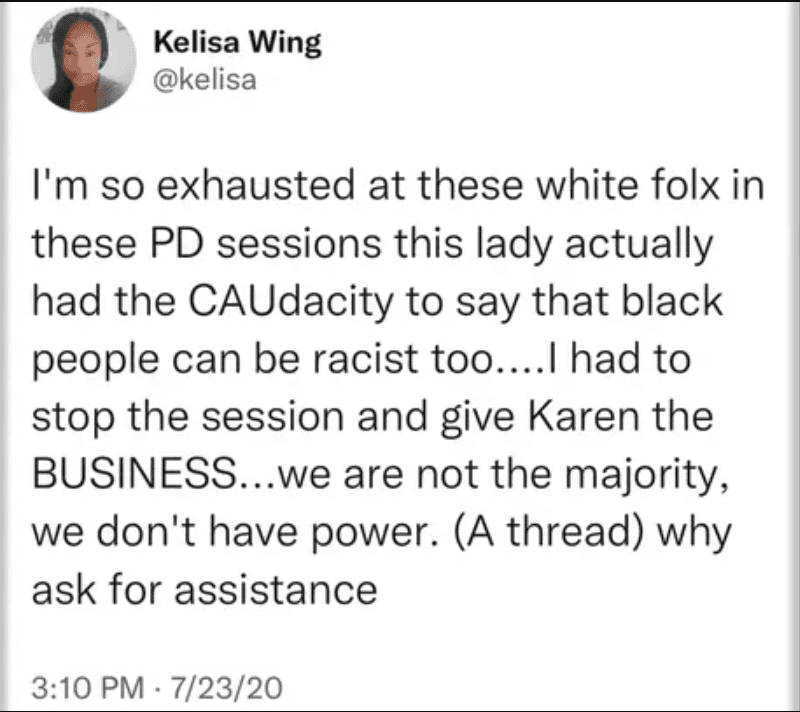 "CAUdacity" is a slang term blending the words "caucasion" and "audacity" to describe the so-called audacity displayed by white people.
"[B]eing antiracist means being active against racism… you will NEVER arrive… stop centering this on whiteness," Wing said in another Tweet.
"I am exhausted by 99% of the white men in education and 95% of the white women," Wing said in another tweet. "Where can I get a break from white nonsense for a while?"
Wing also has tweets referring to former President Donald Trump as "whole boy version of a Karen" and former Education Secretary Betsy DeVos as "the queen of Karens."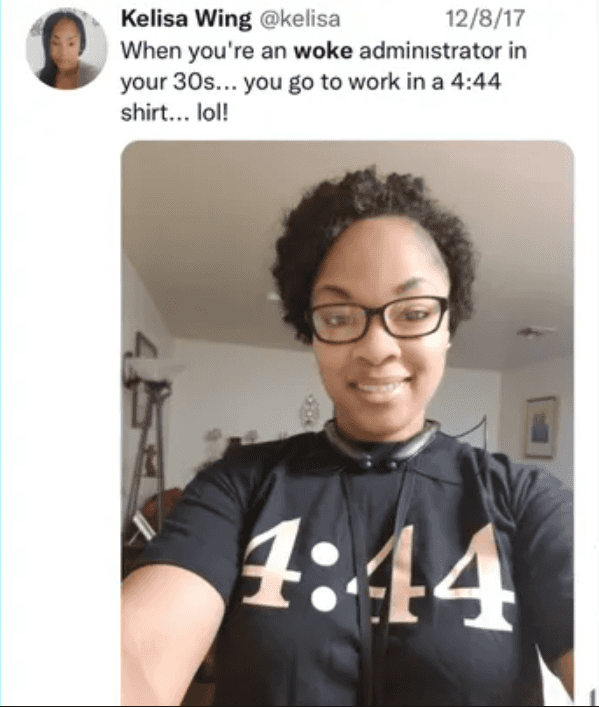 Wing's book "What is White Privilege?" also calls on white kids to "unpack" their "backpack" of privilege. The children's book further cites an article by Peggy McIntosh that said that White women are "justly seen as oppressive" and "enjoy unearned skin privilege" and laments that her training as an educator didn't teach her to herself, a white woman, as "an oppressor, as an
unfairly advantaged person, or as a participant in a damaged culture."
After Fox News resurfaced the old tweets, they reached out to Wing for comment. She did not immediately respond, but her Twitter account has since been placed on "private" mode.
DoDEA Director Tom Brady had praised the decision to hire Wing in December and said her "new position" will "take a holistic approach to identifying and improving how we integrate the practice of diversity, equity and inclusion in every aspect of DoDEA, from curriculum and assessment to hiring and professional development."
Wing is not the first diversity specialist brought on by the DoD to come under scrutiny for past comments. Last March, the U.S. Special Operations Command (SOCOM) announced it had hired Richard Torres-Estrada to serve as the command's first-ever chief diversity and inclusion officer. Estrada came under investigation within SOCOM after announcing his hiring, as resurfaced Facebook posts showed he shared made politically charged posts including one of a digitally altered image comparing Trump to Nazi German leader Adolf Hitler.