A man was arrested after getting into an altercation at a New York City McDonald's on Friday in which he struck multiple people with his hands and used a hatchet to smash glass and tables in the restaurant. The incident was captured on video that amassed more than 25 million views as of Monday.
ALERT: The Death Ray is here – and the US military has it
The suspect had been arrested and identified as 31-year-old Michael Palacios. ABC7 reported on Sunday that Palacios was charged with criminal mischief, three counts of menacing and two counts of criminal possession of a weapon. The New York Post reported he was released without bail.
Video of the incident showed several people in a shouting match. Palacios, seen in the video as a black man wearing a black tank top and a green backpack, was yelling and appeared to be trying to approach one individual, but several others stopped him. At one point, Palacios punched one individual in a white shirt in the face and that individual and two others began hitting him back, raining a flurry of blows against the back of his head.
After the three individuals stopped striking back at Palacios, he stepped away for a moment and took off his backpack to pull out a hatchet.
As one individual noticed him take out the weapon, he said "bro, please," and raised his hands, backing up. Palacios then appeared to smash a table with the blunt end of the hatchet and then a glass partition.
Palacios then approached the man in the white shirt with the hatchet in his right hand and slapped the man with his left hand. He then turned to another individual who was seated and smacked him across the face three times, with the last two blows knocking him out of his seat.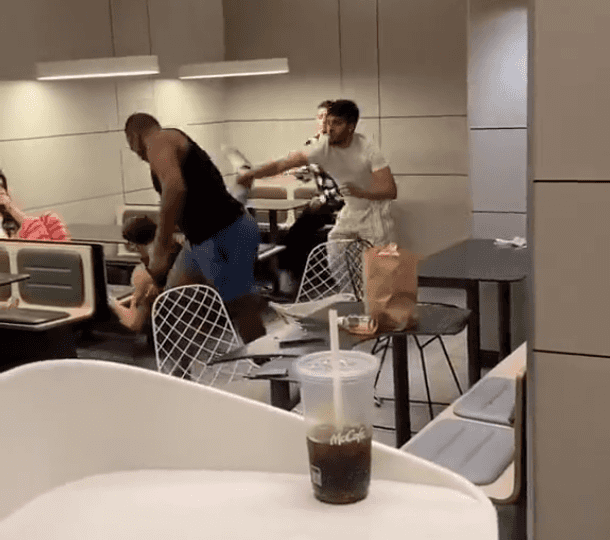 After knocking the man to the ground, Palacios walked away for a second but then returned.
Palacios then appeared to repeatedly shout "are you trying to impress these bitches?" and pointed his hatchet at a woman cowering in her seat.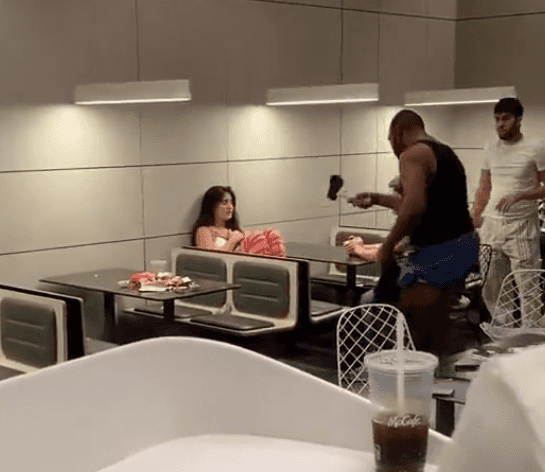 Palacios then smashed the table the woman was sitting at with the hatchet, causing pieces of it to break off.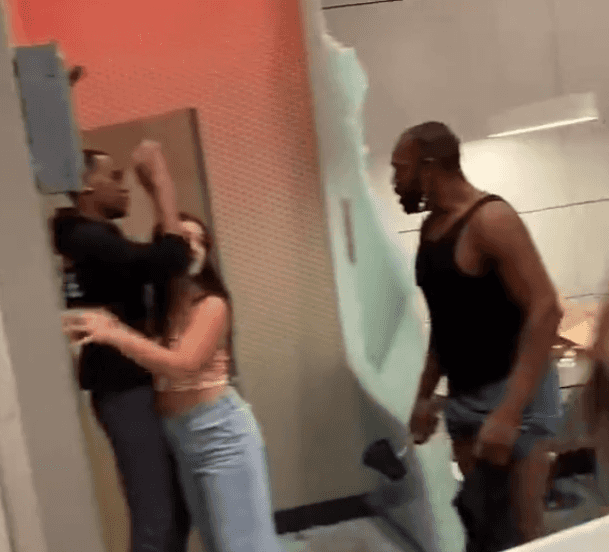 A witness who spoke to the New York Post said the altercation began after Palacios tried to talk to a woman who "rejected" his advances.
"So, basically he got into an argument with a girl, and then the girl rejected him," Uber Eats deliveryman Ruben G told The Post. "She didn't want to talk to him. He kept going at her."
In an interview with ABC 7, Palacios said he had zero regrets about his actions. Palacios admitted he had been drinking before the altercation.
Describing being hit by the three men after punching one of them, Palacios said, "I kind of waited for them to finish what they were doing and I just did what I wanted to do."
"My intentions were not to hurt anyone, my intentions were not to put anyone in the hospital or dice anyone up, the reason I pulled out the hatchet was, ok, I'm going to get back at these guys but make sure they don't jump me again," said Palacios.
Palacios described his actions as teaching the people in the restaurant "a lesson."
"I hope that the fear they felt that night is enough to never assault someone again," he told ABC7.
Palacios told the news channel he carries the hatchet because "I'm out there on the road, always getting into it with drivers which is what the tomahawk is for, it's not for people, it's for trees and — you know — vehicles."