As soon as 2023, the United States military could have a new spacecraft to transport troops to space and low Earth orbit locations anywhere in the world within three hours.
Colorado-based aerospace company Sierra Space announced Sept. 8, 2022 that it signed a research and development contract with the U.S. Transportation Command to develop options to transport military crews and cargo around the world using the "Dream Chaser" space plane.
The Dream Chaser space plane is a 7-passenger winged shuttle-like plane that launches to space on a rocket and flies back to Earth, landing on a runway. It's designed to be highly reusable, as it can be launched on various launch vehicles and land on a wide range of runways.
The 30-foot-long space plane will haul a cargo module called "The Shooting Star" that will be towed behind it and is capable of carrying an additional 10,000 pounds of equipment and supplies.
Both the U.S. Transportation Command and the U.S. Air Force have shown interest in space vehicles to supplement traditional air, land and surface transportation modes.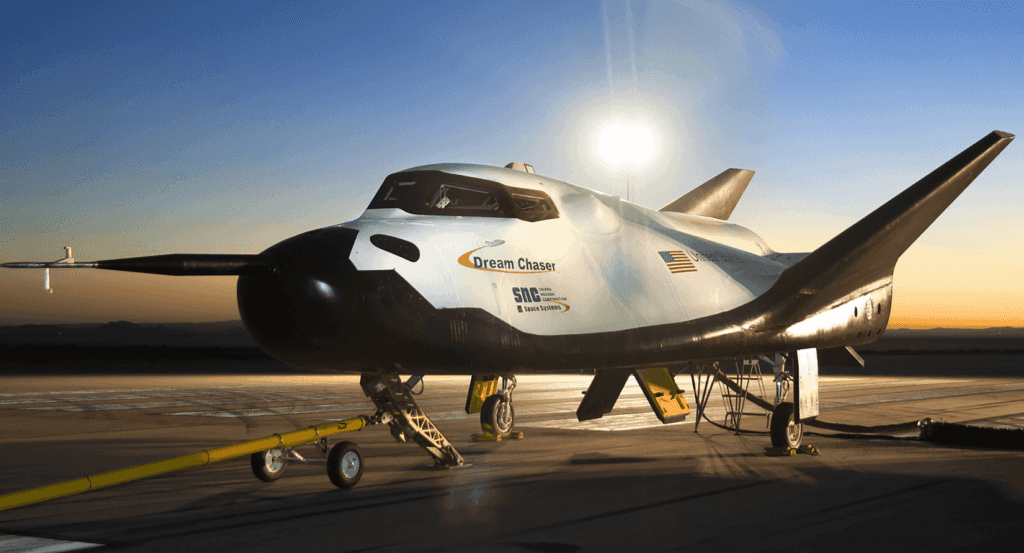 The Dream Chaser will also support non-combat activities like humanitarian relief operations and medical missions. Sierra says the plane will serve as a "new mode of point-to-point global terrestrial delivery of materiel and personnel, as an alternative and complement to traditional air, land and surface modes for Department of Defense global supply chains."
With the addition of a robotic arm, the Dream Chaser has the potential to boost satellites to a higher orbit or pull them out of orbit and potentially make repairs.
Sierra successfully conducted their first drop test in 2017 and the first Dream Chaser is projected to launch in 2023.
The spacecraft will begin flying a series of NASA cargo resupply missions to the International Space Station. It is slated to carry out a minimum of seven cargo missions to the ISS.