The Buddhist pennant was flown on a U.S. Navy ship for the first time ever this week, according to a Navy press release published on Wednesday.
ALERT: Mysterious Space Force vehicle X-37B has been in space for 2 years straight but it's a giant mystery
The guided-missile destroyer USS McFaul raised the Buddhist flag on Sept. 11 in observance of a Buddhist Dharma service held aboard the ship. The flag features a blue Dharmachara (Dharma Wheel) on a white field with a rounded tip.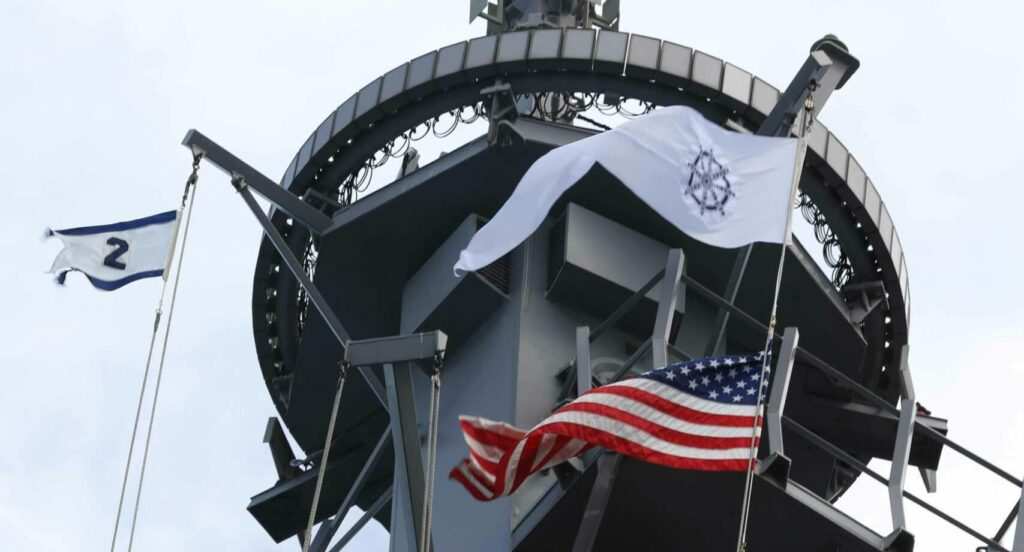 "I want to share this special moment with my Sailors and fellow Buddhist practitioners," said Navy Chaplain Lt. Saejeong Kim. "While Buddhist representation in the U.S. military is not large, as a Buddhist chaplain in the fleet, I have been uniquely positioned to appeal to a broad cultural and faith spectrum in the growing number of sailors who identify as 'Spiritual But Not Religious.'
"I am grateful for this opportunity to support the spiritual readiness of Sailors who sometimes do not have a language for their spirituality," Kim added.
Destroyer Squadron 2 Commodore, Capt. Stefan Walch said the pennant is "a landmark of our Navy's commitment to our Sailors' faiths and genuine support of religious diversity."
"I am thrilled for Chaplain Kim. Her efforts provide excellent care for our Sailors and she is an outstanding ambassador for her faith throughout the sea services. This is a great day for the Navy," Walch said.
U.S. Flag Code states that religious pennants should be flown above the ensign during religious services. The U.S. Navy has four church pennants: Christian, Jewish, Muslim, and Buddhist.
"McFaul is proud to fly the Buddhist Pennant for the first time in the Navy as Chaplain Kim leads divine services at sea," said Cmdr. Antonia Shey, McFaul commanding officer. "While flying this pennant is a historic first today, Kim has faithfully provided exceptional care and religious guidance to Sailors for many years. The support Kim provides my Sailors is extraordinary."
Last week, a new report revealed that the U.S. Navy has ordered a high-level investigation of the Basic Underwater Demolition/SEALs (BUD/S) course. Such a high-level investigation into a major SEAL component could open the floodgates to congressional scrutiny and reform, potentially changing the entire course of the Navy SEALs.