A U.S. Coast Guard crew conducting a routine patrol in the Bering Sea spotted three Chinese and four Russian naval vessels operating off the coast of Alaska on Sept. 19, officials said, adding that the Chinese and Russian vessels were all sailing in a single formation.
According to a press release published on Monday, the U.S. Coast Guard Cutter Kimball crew first encountered a Chinese guided missile cruiser, Renhai (CG 101), sailing roughly 75 nautical miles north of Kiska Island, Alaska.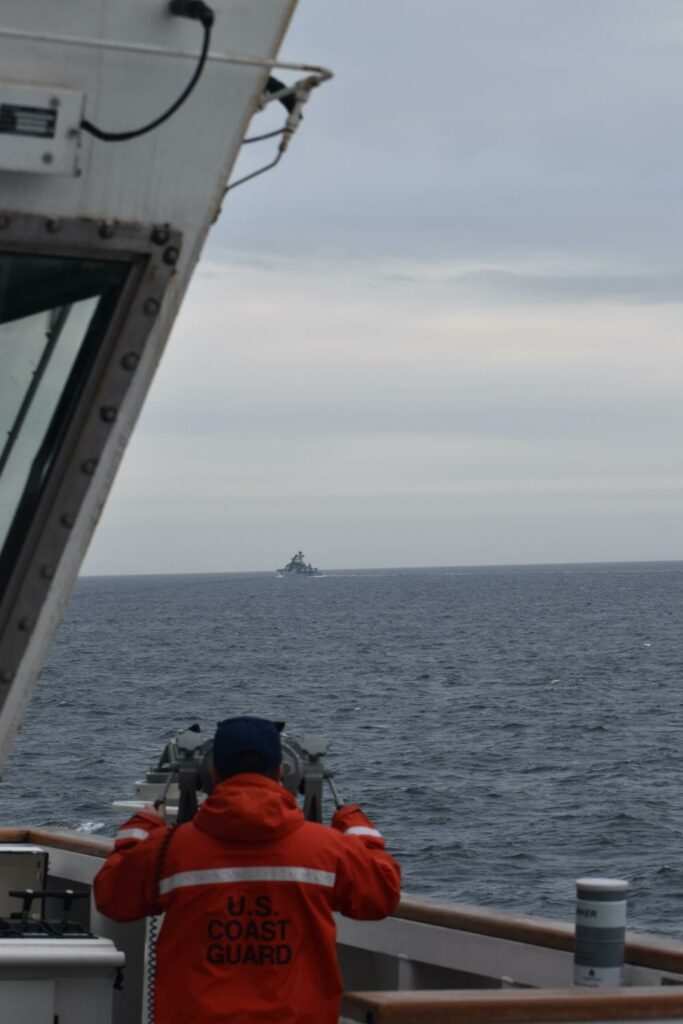 The same crew later identified two additional Chinese naval vessels and four Russian naval vessels, including a Russian Federation Navy destroyer. The single formation was operating in the U.S. Exclusive Economic Zone (EEZ).
"As a result, the Kimball crew is now operating under Operation Frontier Sentinel, a Seventeenth Coast Guard District operation designed to meet presence with presence when strategic competitors operate in and around U.S. waters," the Guard's press release stated. "The U.S Coast Guard's presence strengthens the international rules-based order and promotes the conduct of operations in a manner that follows international norms."
The Coast Guard said the Kimball eventually observed the Chinese and Russian vessels disperse, but noted that it will "continue to monitor activities in the U.S. EEZ to ensure the safety of U.S. vessels and international commerce in the area."
"While the formation has operated in accordance with international rules and norms, we will meet presence-with-presence to ensure there are no disruptions to U.S. interests in the maritime environment around Alaska," Rear Adm. Nathan Moore, Seventeenth Coast Guard District commander, said in a statement.
The Chinese and Russian presence near Alaska comes just weeks after the U.S.-led North American Aerospace Defense Command (NORAD) said it detected, tracked and identified multiple Russian aircraft operating in U.S. and Canadian air defense identification zones on the anniversary of the Sept. 11, 2001, terrorist attacks.