Former U.S. Ambassador to the United Nations Nikki Haley criticized President Joe Biden for granting Iranian President Ebrahim Raisi a visa to enter the U.S. for the United Nations General Assembly this week. She also claimed the U.S. tax dollars will have to foot the bill for Raisi's security as he visits the country.
In an Instagram post on Tuesday, Haley wrote, "Our tax dollars are being used to provide security for Iran's President during #UNGA. Ebrahim Raisi's brutal regime plotted to murder Americans on U.S. soil and is responsible for terror around the globe. It's a disgrace that President Biden allowed him to set foot in our country."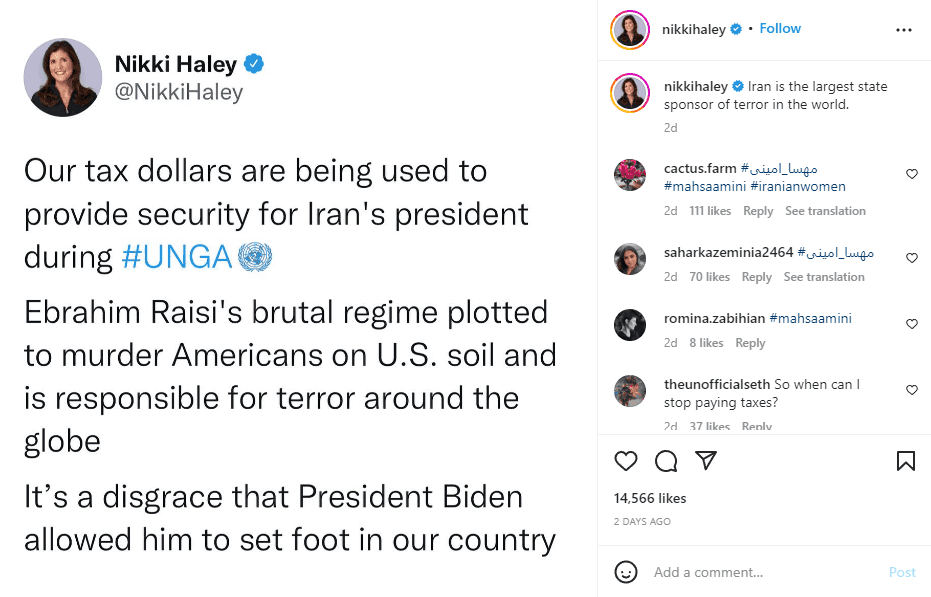 In an interview with Fox News host Harris Faulkner on Wednesday, Haley said Biden was showing weakness and "the enemy is seeing opportunity."
According to the National Union for Democracy in Iran (NUFDI) — an organization of Iranian-Americans critical of the Iranian government — Raisi is receiving "taxpayer funded security protection at the level of a sitting U.S. Vice President."
Haley continued to criticize Biden as Raisi spoke at the U.N. General Assembly on Wednesday.
"The idea that he's falling all over himself to get into the Iran deal, it is unbelievable to me that you have had Iran do strikes on American soldiers in Syria, you've red-listed — multiple of us are red-listed with Iran, assassination attempts to Americans and Biden granted Raisi's visa to come give a speech at the United Nations," Haley said in an interview with Fox News host Harris Faulkner.
"Why would you do that?" asked Haley, who served as the U.S. Ambassador to the U.N. during the Trump administration.
Raisi has a reputation as a political hardliner who oversaw the executions of many Iranian dissidents. In the 1980s, Raisi served as a member of a prosecution committee that the Guardian reported was responsible for sending as many as 3,000 accused Iranian criminals and dissidents to be executed in 1988. The prosecuting committee earned the nickname of the "Death Committee" by opponents of the Iranian regime and by some in western media.
In the time since Raisi took office, Iranian forces have launched missiles that landed near a U.S. consulate in Iraq. U.S. prosecutors have also charged a member of the Iranian Islamic Revolutionary Guard with plotting to assassinate former Secretary of State Mike Pompeo and former National Security Advisor John Bolton.
"Do you want the Iran deal so bad that you're going to let a killer who has tried to kill Americans on U.S. soil — you're going to let him come give a speech on the world stage," Haley said.
Several other Republican lawmakers previously called for Biden to block Raisi from attending the U.N. General Assembly.
During his U.N. speech on Wednesday, Raisi claimed Iran is "not seeking to develop nuclear weapons."
Raisi also said the U.N. nuclear inspection agency the International Atomic Energy Agency (IAEA) had confirmed 15 times that Iran "has fully adhered" to limits on its nuclear development.
A May Wall Street Journal report alleges Iran was able to infiltrate the IAEA and gain insights into their inspection plans to help hide the full extent of their nuclear activities.