Hurricane Fiona knocked out Puerto Rico's already-fragile electrical system Sunday afternoon, leaving millions without power and thousands without running water — as devastating floods and landslides destroyed roads, homes and at least one bridge.
"The damage we are seeing is catastrophic," Puerto Rico Gov. Pedro Pierluisi said during a news conference Sunday evening.
Fiona is pummeling the U.S. territory nearly five years after Hurricane Maria devastated the island's infrastructure, killing thousands and keeping millions in the dark for months. As of late Sunday afternoon, the Puerto Rican government hadn't reported any deaths caused by the hurricane.
Pierluisi said some evacuations were underway in the towns of Caguas and Toa Baja. Fiona has caused "severe damage" in several towns, he noted, knocking down trees and power lines, producing landslides and blocking roadways.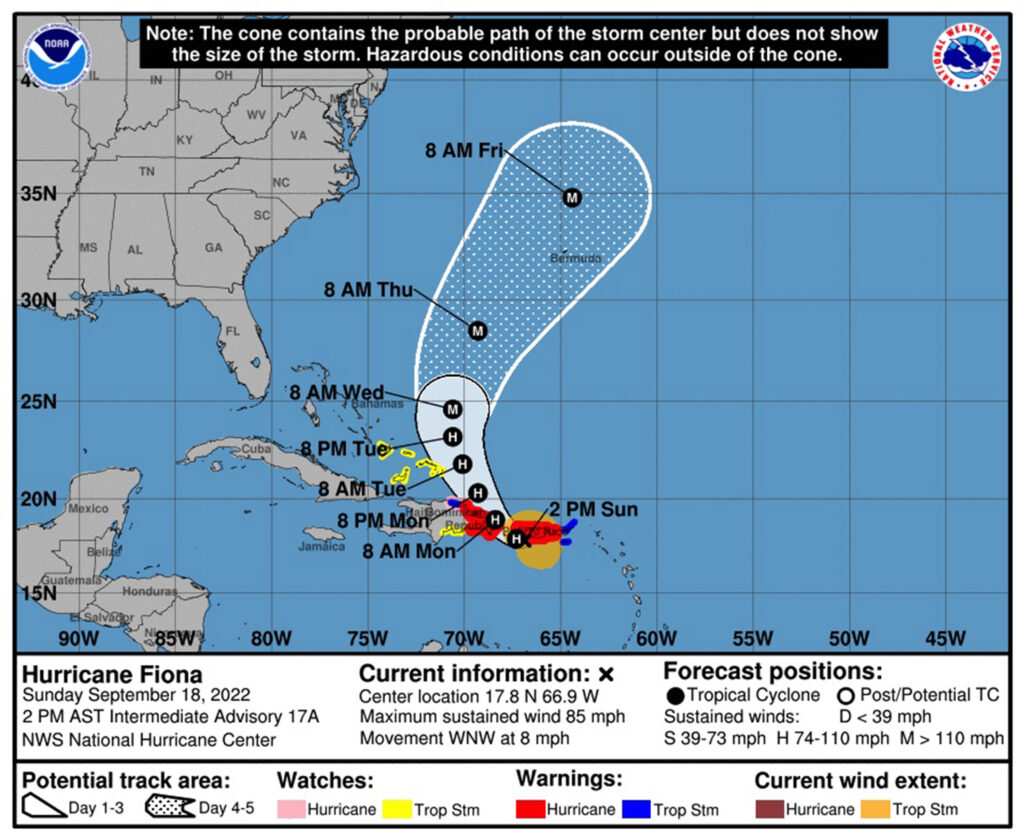 "The danger of flooding and landslides continues," added the governor, "and no one should be taking to the streets with the exception of first responders."
Fiona made landfall shortly after 3 p.m. Sunday in the coastal town of Cabo Rojo. It was moving just west of Puerto Rico and heading for the Dominican Republic, the National Hurricane Service said Sunday in its 5 p.m. advisory.
Puerto Rico goes dark
The U.S. territory is experiencing an island-wide blackout, private power utility operator LUMA Energy spokesman Hugo Sorrentini told the Miami Herald. He said the hurricane's powerful winds had caused several interruptions in the grid's transmission lines. LUMA has nearly 1.5 million clients.
"The current weather conditions are currently extremely dangerous and are hindering our capacity to evaluate the situation," Sorrentini said. "We will begin the re-establishment efforts as soon as it is safe."
Restoring power service for the entire island could take several days, Sorrentini said. The storm could isolate some places, making repairs difficult.
The power company already contacted partners that could help restore power through mutual aid agreements. LUMA's parent company, Quanta, can deploy 5,000 additional workers, Sorrentini said.
"We have the people, we have the equipment, the tools, and the technology," he said.
Nearly 196,000 clients lost potable water service, in part, as a result of the power outage, the Puerto Rico Aqueducts and Sewers Authority announced. The agency had almost 150 generators operating to help bring water to nearly 160,000 clients.
The heavy rains, flooding and damaged infrastructure caused over 1,000 people to take refuge in more than 100 shelters across the island.
'Catastrophic flooding'
The island may get 12 to 18 inches of rain with a local maximum of 30, particularly in the south and southeast regions, the NHC said. Fiona's sustained winds are 85 mph, and it's expected to continue strengthening as it moves from very close to Puerto Rico's southwest coast toward the Dominican Republic. Fiona is forecast to become a Category 2 hurricane in 24 hours or less with 100 mph winds.
"If you are watching us from Puerto Rico, please stay indoors," NHC acting director Jamie Rhome said in a live transmission before the outage.
The hurricane — moving at nearly 9 mph — will be a two-day storm, and many will likely have to stay put until at least Monday night, added Ernesto Rodriguez, a meteorologist for the National Weather Service in San Juan.
"We are expecting significant and even catastrophic flooding in those areas," Rodriguez said.
Nearly the entire island was under a flash flood warning Sunday afternoon. Several rivers across were no longer contained within their riverbanks or had been receiving so much rain they could eventually overflow.
Earlier Sunday, President Joe Biden declared a federal state of emergency for Puerto Rico, freeing up FEMA funds to address the anticipated disaster. Pierluisi had declared a state of emergency Saturday, later announcing the cancellation of classes and non-emergency public services for Monday.
A bridge collapses in Utuado
In the mountain town of Utuado, a bridge that was built to replace one that Hurricane Maria tore down had collapsed again Sunday.
A video shared on Twitter by local reporter Celimar Adames shows the entire metal structure being pulled away by a ferocious brown river. A thunderous sound of clanks can be heard as a man yells in Spanish: "It took it way! It took it away!"
Meanwhile, the mayor of the mountain town of Barranquitas said on local radio station WKAQ that a house had collapsed. The house, he added, was unoccupied.
The emergency management director in the municipality of Ponce, Jorge Mercado, told the Miami Herald that one person had been rescued with the National Guard after a local river overflowed its banks. Additionally, Mercado said that flooding had impacted the town's airport runway and that the sea had entered coastal communities.
The storm made landfall in the same area devastated by a string of earthquakes, including a magnitude 6.4 quake, in early 2020. The quakes destroyed schools, businesses and homes and the region is still reeling from the seismic activity.
Dagnes López, a community leader from the region, moved to the town of Lajas from her home in Barrio Fuig, in the nearby municipality of Guánica, after her home was destroyed during the 2020 earthquakes.
She is worried about her former neighborhood because if the nearby river overflows its banks, they will lose access in and out of the community. Parts of her neighborhood are still in ruins, including her old home. She said the government responds only to situations when "things get hard," and doesn't take preventative steps to address emergencies, such as dredging rivers before storms.
"My house looks like the earthquakes happened yesterday," she said.
Hispaniola braces for impact
The Dominican Republic's president, Luis Abinader, announced on his Twitter that public and private work were suspended for Monday through executive action. The storm's center is expected to move close to the country's northern coasts between Sunday and Monday.
In neighboring Haiti, where days of violent protests and looting have brought the country to a standstill, emergency responders were trying to prepare as best as they could given blocked roads and the ongoing volatile situation.
"This system is going to dump a lot of rain despite the fact that it is veering north and the eye is not aiming at Haiti," said Jerry Chandler, who heads Haiti's disaster response agency, the Office of Civil Protection.
Chandler told the Herald that the flood and mudslide-prone country that shared the island of Hispaniola with the Dominican Republic is expecting rain in the regional departments of the Northwest, North and the Artibonite Valley.
While it's still too early to tell, Fiona may impact South Florida's daily weather pattern this week, Robert Garcia, a meteorologist with the National Weather Service in Miami, told the Herald on Sunday. The hurricane may also cause rip currents, beach erosion and higher waves.
___
© 2022 Miami Herald
Distributed by Tribune Content Agency, LLC