Republicans in the House of Representatives are calling for the U.S. Treasury Department to release as many as 150 Suspicious Activity Reports (SARs) linked to millions in payments the Biden family received from investors linked to the Chinese Communist Party (CCP).
Rep. James Comer (R-KY), the ranking member of the House Oversight and Reform Committee, called for the release of these SARs in a letter to Treasury Secretary Janet Yellen on Tuesday.
The Treasury Department states that financial institutions are required to file these SARs with the department within 30 days of detecting suspicious financial activity. Financial institutions are required to watch for signs like transactions exceeding $10,000.
In his opening paragraph, Comer wrote:
Documents obtained by Committee Republicans show that the Biden family received millions of dollars from a Chinese business closely affiliated with the Chinese Communist Party, and therefore the Chinese government, to sell American natural gas to China. According to additional information provided by a whistleblower, Joe Biden was involved with this arrangement as a business partner, and documents reveal he even had office space to work on the deal. This comes to light at a time when the cost of natural gas is at a 14-year high and Americans struggle to pay their energy bills. The President has not only misled the American public about his past foreign business transactions, but he also failed to disclose that he played a critical role in arranging a business deal to sell American natural resources to the Chinese while planning to run for President."
Comer's letter is a follow-up after House Republican lawmakers called for the SARs earlier this year. In a Sept. 2, letter, the Treasury Department said they could provide the SARs "upon a written request stating the particular information desired, the criminal, tax or regulatory purpose for which the information is sought, and the official need for the information."
In his seven page letter, Comer alleged that President Joe Biden's son, Hunter Biden, had worked with a Chinese assistant named JiaQi Bao. According to Comer, Bao was previously employed by the CCP.
As part of his work for Hunter Biden's company, Hudson West, Bao created maps of natural gas reserves in the U.S. and discussed plans with Hunter to sell those U.S. natural gas reserves to a Chinese energy company called CEFC.
In his letter, Comer said Hunter Biden had referred to CEFC Founder Patrick Ho as his client. The younger Biden also called Ho the "f**king spy chief of China."
Comer's letter states that throughout 2017, the Biden family received $5 million in money transfers from CEFC and its affiliates. Comer said a U.S. Senate Investigation has described these CEFC affiliates as "essentially arms of the communist Chinese regime."
Comer also alleged that by the end of 2017, "the Biden family established a plan to America's energy resources to the Chinese, and they were getting paid millions of dollars to do it."
Comer said multiple whistleblowers have come forward linking Joe Biden to Hunter Biden's business dealings. The whistleblowers claimed the Biden family promised their business associates that Joe Biden would run for president in 2020 and "those who worked with the Bidens in 2017 onward would reap the rewards in a future Biden administration."
Comer included parts of text conversations from one whistleblower, James Gilliar, who wrote another of Biden's business partners "Don't mention Joe being involved, it's only when u are face to face, I know u know
that but they are paranoid."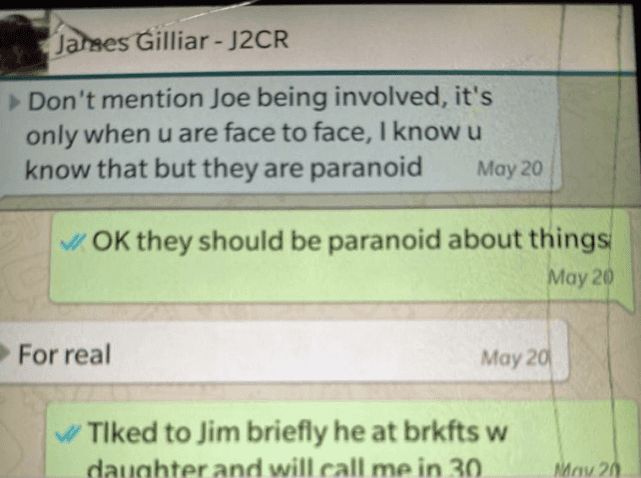 Another whistleblower said the plan was for Joe Biden to be an "obfuscated partner" in these business dealings with Chinese entities and that Hunter Biden would hold 10 percent of the ownership for their business venture on his father's behalf.
While the whistleblowers claimed Hunter Biden and other business partners went to some lengths to conceal Joe Biden's involvement in the business activities, "Hunter Biden appears to have made a mistake on September 21, 2017." In an email that day, Hunter wrote that his business partners are Joe Biden, the president's brother James Biden and two CEFC executives.
In his letter, Comer argued for the release of the SARs because it is critical to understand why the Bidens were allegedly selling American energy reserves to the Chinese, if this is impacting Joe Biden's decision-making now as president and why he has never disclosed these business activities to the American public.
Comer's letter calls on Yellen to respond by Sept. 27 to indicate whether Republicans on the oversight committee will be given access to these SARs.
Comer brought a bill forward in the committee on Tuesday to force President Biden to hand over any records of communications with his son Hunter, his brother James and other alleged business partners as well as his communications with various business entities associated with the Biden family. The Democrat-controlled committee ultimately voted against the measure.
In December of 2020, Hunter Biden revealed he was being investigated over his taxes.