The U.S. Army's Medical Center of Excellence (MEDCoE) had blocked a user on Twitter but reversed course on Wednesday after American Military News investigated the center's social media practice.
MEDCoE's official Twitter account had blocked at least one Twitter user who called out the behavior on the social media platform.
In response to a tweet by Sergeant Major of the Army (SMA) Michael Grinston announcing he removed users blocked on his own Twitter account, a Twitter user named LadyoftheFlag tweeted, "Someone should tell medcoe not to block service members & their family members."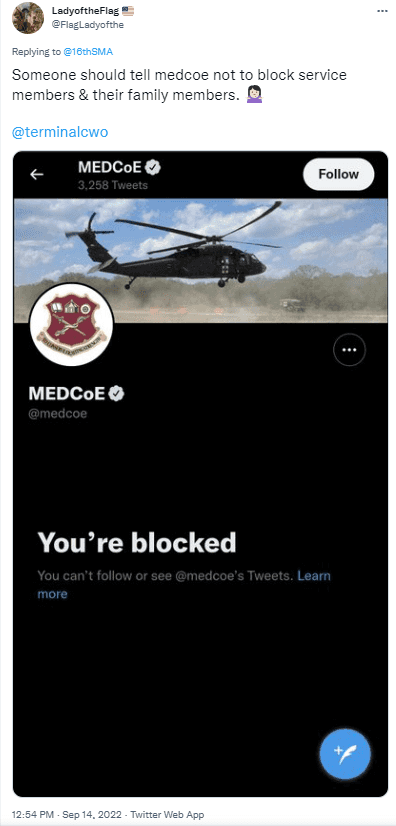 The Twitter account blocks came despite a U.S. Department of Justice ruling last month that official Air Force social media accounts could not remove posts or ban users from commenting on their accounts based on their opinions.
In their initial response to an American Military News request for comment, a spokesperson for the Medical Center of Excellence said on Wednesday the LadyoftheFlag's screenshot "appears to be a fake" because it included an inaccurate number of tweets. The spokesperson then presented the 1,484 posts on MEDCoE's Intagram account (a different social media platform) as true number of tweets on their Twitter account.
American Military News independently confirmed that the number of tweets displayed in LadyoftheFlag's screenshot was indeed accurate. When asked about this error, the MEDCoE spokesperson eventually admitted they have blocked LadyoftheFlag's account on Twitter and that the account "may have solicited on the page." The spokesperson said "in good faith, we have reversed the block on the account as our current regime could not find a reason for the block."
The action came after TerminalCWO — a popular social media handle that shares military whistleblower claims, leaks and complaints — tweeted screenshots on Monday of a user criticizing the Army's COVID-19 vaccine mandate and getting blocked on Twitter by SMA Grinston.
Grinston replied to the blocked account saying, "Removed the block, wasn't aware. Thanks for bringing it up – hoping the great work of our Army adds value to your news feed and followers."
"These various social media accounts that represent government organizations or figures don't have the luxury or authority to simply block the public for comments they disagree with," TerminalCWO said in a statement provided to American Military News. "I'd be apt to agree with them that blocking harassing comments or spam might be appropriate, but even that isn't in their wheelhouse to decide based on a number of rulings that have come out in the last few years. They need to be held accountable, and this is why accounts like mine exist in the first place."
Though Grinston indicated in one tweet that he wasn't aware he had blocked the account, he suggested in another tweet that the account may have been exhibiting "spam behavior."
"Intent was never to block actual people/soldiers. It's hard to tell sometimes when they don't have identifying information or exhibit spam behavior," Grinston tweeted.
Grinston also replied to TerminalCWO tweeting, "Addressed the issue directly and appropriately. Removed any blocks on the account to help ensure that all accounts have the ability to see information shared. Transparency is important, but spam/harassing replies will be muted or removed."