A German paratrooper caught viral attention last week after making an unusual landing on the balcony of a home during a parachute competition in Rhode Island.
ALERT: Russia and China show off robot dogs with grenade launchers and more
The popular Twitter account U.S Army WTF! Moments tweeted the video of the paratrooper sailing over a wide-open field and instead landing on the narrow second-story balcony of a two-story home.
The video quickly turned into a meme.
"When your girl says her parents aren't home," Pop Smoke said in one Instagram post.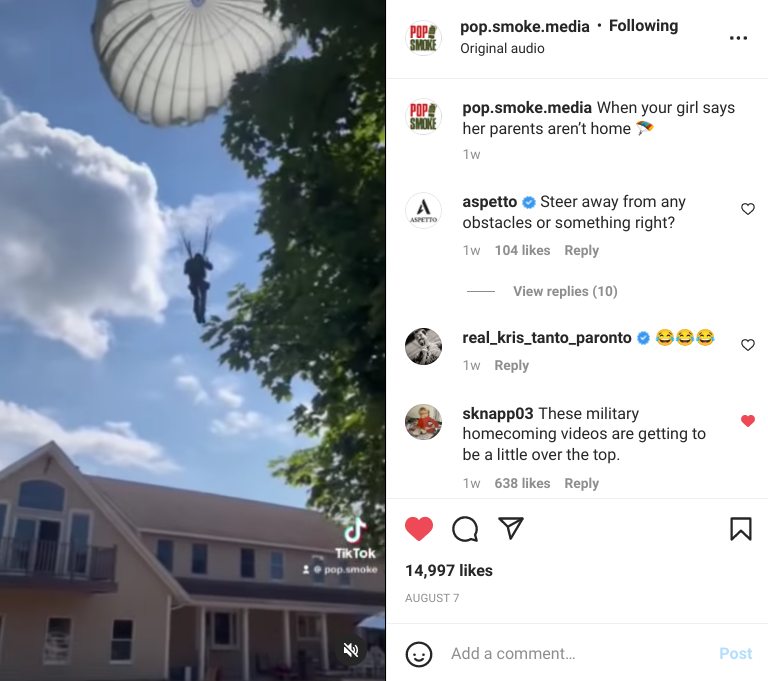 "There's a paratrooper on my balcony . . .," another Twitter user posted.
Task & Purpose reported the paratrooper in question was a German soldier who was participating in this year's Leapfest contest — an annual military parachute competition organized by the Rhode Island National Guard.
The competition entails teams of four jumpers exiting a CH-47 Chinook on a static line (which automatically deploys their parachute) at a height of about 1500 feet. Participants aim to land as close as possible to a marked landing zone. Upon landing, participants are then timed until they reached the designated area.
Leapfest competitors can qualify for either team or individual awards. Individuals have to complete at least two jumps to qualify for the individual award, while teams have to complete eight jumps.
Leapfest has run annually from 1982 until 2019, with a pause in 2020 and 2021. Members of the U.S. Army, Air Force, Navy and Marines have participated in the competition, as have members of allied foreign militaries like Germany.
"The purpose of the competition is to promote the camaraderie and Esprit de Corps of the Airborne Soldier through international competition," the Leapfest website states.
Commentating on the balcony landing video for Task & Purpose, an 82nd Airborne Division jumpmaster said, "I've never had to brief landing on a house."
Judging the video, the unnamed jumpmaster told Task & Purpose the German paratrooper appear to pull on both parachute control toggles simultaneously, which he said is a "highly ineffective way to maneuver that canopy."
"You should either pull one or the other to turn and then you pull down on both of them and keep them stable at a certain level," the jumpmaster added. "You don't rock them back and forth, because that would cause oscillation, and oscillation makes you fall faster."
It's not clear where this individual German paratrooper ended up in the competition standings.
Detachment 1 of the U.S. Air Force's Alaska-Based 3rd Air Support Operations Squadron (ASOS) won the team event, beating 29 other teams. 1SG Robert Hughey of the U.S. Army's 160th Special Operations Aviation Regiment (SOAR) won the individual competition.
While the German paratrooper did not win Leapfest, at least he didn't bust through anyone's roof like this British paratrooper who ended up in the kitchen of a southern California home last year.