The U.S. Department of Justice released a photo of several classified-marked documents strewn across the floor of former President Donald Trump's Mar-a-Lago residence in Florida. The department is now alleging Trump attempted to hide these classified documents from investigators.
BREAKING FOOTAGE: Iran seizes US Navy sea drone; then capitulates immediately
In a 54-page filing on Tuesday night, federal prosecutors argued against Trump's request to appoint a special master to review the documents FBI agents seized from his home during their Aug. 8 raid. In the filing, federal prosecutors claimed Trump may have tried to hide classified documents from prior search efforts.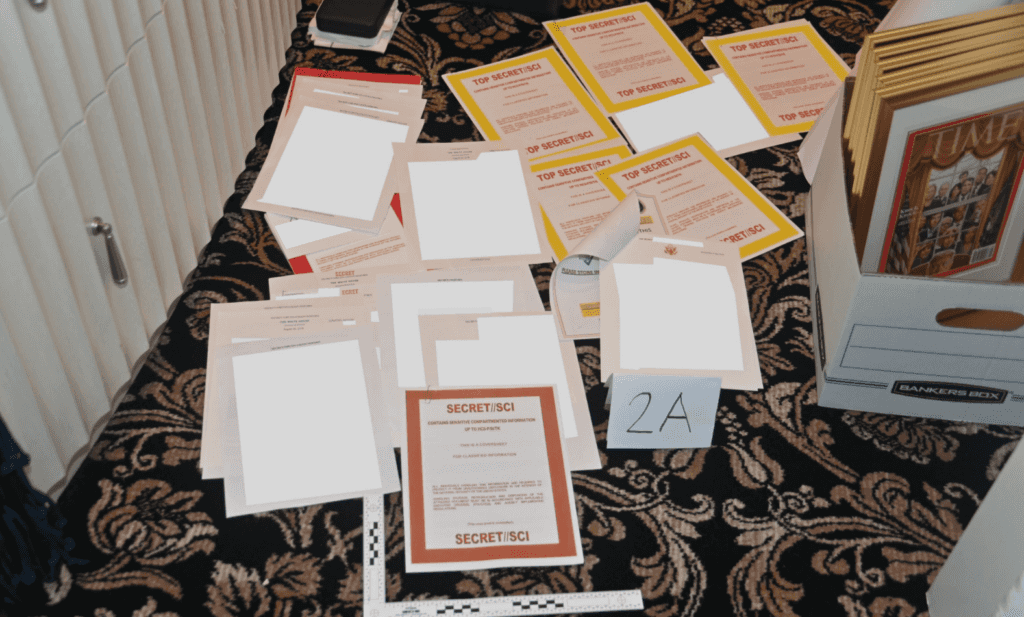 According to the court filing, federal authorities visited Mar-a-Lago on June 3 as part of an ongoing investigation following allegations from the National Archives that Trump may have had classified documents in his possession at Mar-a-Lago.
The filing stated that in response to a federal subpoena requesting "[a]ny and all documents or writings in the custody or control of Donald J. Trump and/or the Office of Donald J. Trump bearing classification markings, a lawyer acting as Trump's "custodian of records" signed a document certifying that after a "diligent search" they had turned over all documents responsive to the subpoena.
The DOJ said the discovery of additional documents with classified markings "calls into serious question the representations made in the June 3 certification and casts doubt on the extent of cooperation in this matter" and furthered their allegations Trump's team tried to hide the documents.
The court filing further stated the government "also developed evidence that government records were likely concealed and removed" from a document storage room Trump had previously disclosed to federal authorities "and that efforts were likely taken to obstruct the government's investigation."
The DOJ also said Trump's lawyers "explicitly prohibited government personnel from opening or looking inside any of the boxes that remained in the storage room, giving no opportunity for the government to confirm that no documents with classification markings remained."
The DOJ made these assertions in their argument against a federal judge appointing a special master to review documents recovered from Trump's home. Trump's legal team requested the special master after learning that the DOJ took documents covered under attorney-client privilege.
The DOJ said "appointment of a special master is unnecessary and would significantly harm important governmental interests, including national security interests." The DOJ also claimed that a filter team already found and returned any privileged documents.
Trump's team also requested the special review process, asserting some documents seized were covered under executive privilege. Trump has also asserted that he had declassified documents bearing classified markings that he had taken to Mar-a-Lago.
The DOJ disputed Trump's executive privilege and declassification claims, arguing he had not asserted such claims when voluntarily handing over other sets of documents to federal authorities earlier this year.
"Instead, counsel handled them in a manner that suggested counsel believed that the documents were classified," the DOJ stated.
The DOJ also argued against appointing the special master because the documents they recovered were so sensitive that "even the FBI counterintelligence personnel and DOJ attorneys conducting the review required additional clearances before they were permitted to review certain documents."
Trump reiterated his declassification claims and also mocked the DOJ for sharing a picture of classified documents in a post on his Truth social media platform on Tuesday.
"Terrible the way the FBI, during the Raid of Mar-a-Lago, threw documents haphazardly all over the floor (perhaps pretending it was me that did it!), and then started taking pictures of them for the public to see," Trump's Truth post read. "Thought they wanted them kept Secret? Lucky I Declassified!"
The Trump legal team may file a formal response to the DOJ's argument against appointing a special master to review the seized documents.