Stuart Scheller — the U.S. Marine officer who was discharged for his viral videos criticizing the military and political handling of the U.S. withdrawal from Afghanistan — has written a tell-all book that will publish next month. In it, he exposes failures in military leadership and the Afghanistan withdrawal, and details the events that led to his discharge from the Marine Corps after 17 years.
Scheller's book "Crisis of Command: How We Lost Trust and Confidence in America's Generals and Politicians" is set to hit shelves on Tuesday, Sept. 6. In an interview with American Military News, Scheller recounted his thoughts behind his viral public indictment of military leaders and the outcome of the 20-year war in Afghanistan.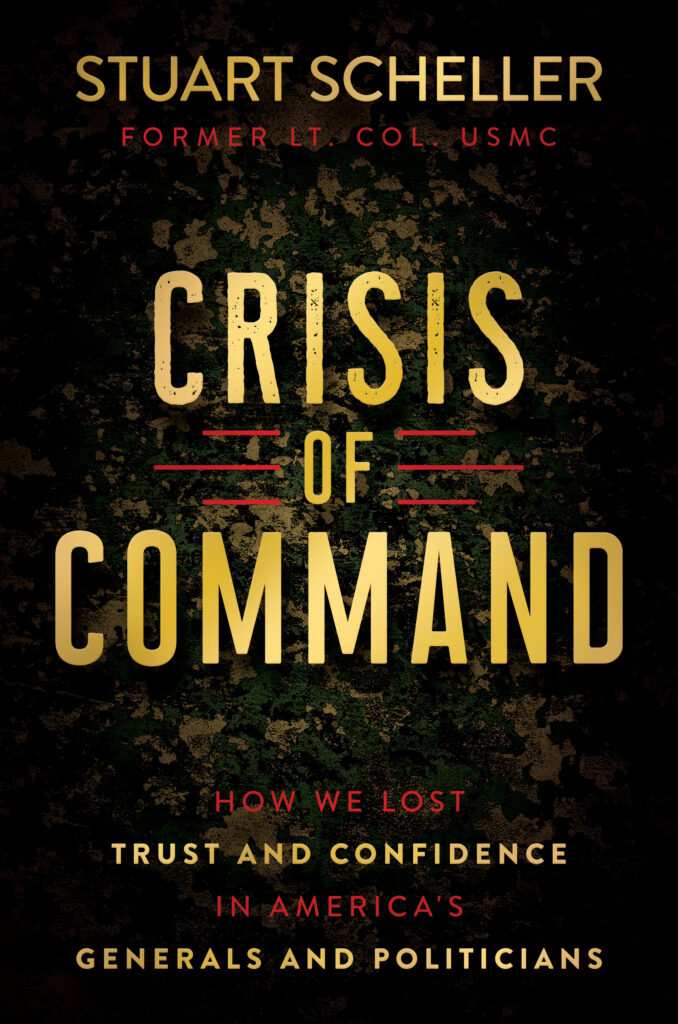 Beginning with what he saw as the flaw in the overall objective of the war in Afghanistan, Scheller said U.S. military commanders understood how to win in combat, but either didn't understand how to achieve the overall political goals set by successive presidential administrations or failed to oppose problematic plans.
"Once we declare war, the general officers should be held responsible for achieving those political objectives," Scheller said. "And what we have seen in Vietnam, Kosovo, Somalia, the list goes on, Libya, Syria, Iraq, Afghanistan — if you go back and actually pull out the political objectives, we're falling short."
"You can keep winning tactical battles but the problem is people start confusing the conversation," Scheller continued. "So like right now the big conversation in the Marine Corps is about force design, which is how you fight on the tactical level. No one in the Marine Corps is talking about how they link military success to the political objectives."
Scheller served in the Marine Corps for 17 years. His deployments included participation in the evacuation of civilians during the 2006 Lebanon War; a deployment to Ramadi, Iraq as a company fire support leader; a year in Afghanistan with the Joint Improvised Explosive Device Defeat Organization (JIDO) as a counter-IED team leader; a 10-month Marine Expeditionary Unit (MEU) deployment after the 2012 Benghazi attack.
In addition to his deployments, Scheller served for two years as Marine Corps School of Infantry company commander; completed expeditionary warfare; served as a basic school operations officer, company commander and warfighting director, attained his master's degree in military science; and served as an executive officer in a Marine Special Operations Command (MARSOC) support battalion. Scheller was the advanced infantry battalion training commander at Camp Lejeune when he made his first video criticizing military leaders and setting him on the path towards his departure from the military.
Scheller's book "Crisis of Command" has received advanced praise from retired Marine Lt. Col Oliver North; former Congresswoman and current Army Reserve Lt. Col Tulsi Gabbard; Congressman Brian Mast, a veteran Army explosive ordnance disposal technician who lost his legs in a 2010 IED blast; Army National Guard veteran and Fox News host Pete Hegseth and retired Army Gen. Don Bolduc.
The Afghanistan Withdrawal
Scheller said the U.S. withdrawal from Afghanistan was a prime example of what he saw as U.S. military leaders failing to push back on unworkable military plans
"President Biden told [then-U.S. Central Command Gen. Frank McKenzie] that he had to go down from 2,500 to 650 troops. This was in March-ish, with an execute date of 1, April and he wanted to be out by Sept. 11," Scheller said, referring to President Joe Biden's decision to delay the U.S. withdrawal from Afghanistan from May 1 to Sept. 11, 2021. "General McKenzie doesn't push back. He knows it's a bad idea but he ultimately says at his congressional testimony that he's just going to follow the orders he's given."
"As he's drawing down troops, he doesn't evacuate American citizens, he's just withdrawing troops," Scheller continued his criticisms of McKenzie. "Now any military professional knows that the Taliban hides in the mountains of Pakistan in the winter. General McKenzie knew this and he drew down military troops in the peak fighting season because of a bullshit Sept. 11 date. We risked American lives and treasure because of this PR date which was, tactically, just like the 180 of the decision that should've been made."
Scheller further alleged that once the withdrawal date was pushed back, military planners overseeing the Afghanistan withdrawal spent the next three months working off the assumption they would use Bagram Airbase to complete the withdrawal.
"And then the third week of June, Gen McKenzie tells the staff that they're taking Bagram off the table because he feels 650 troops is not enough to hold the embassy, Kabul airfield and Bagram," Scheller said. "No one realizes that he took three months to make that decision."
After closing down Bagram, Scheller said military planners had to redraw their plans and had less than two months to put together a new plan as the Taliban was sweeping through Afghanistan.
Scheller also noted the decision to abandon Bagram was done without a plan to deal with thousands of prisoners held at a detention facility on the base. When the Taliban took control of Bagram Airbase on Aug. 15, 2021, they began freeing those detainees.
Scheller — who posted his first public video criticizing military leadership on the day a suicide bomber killed 13 U.S. service members at the Kabul airport — said "most likely that suicide bomber came from one of those prisons."
Changing The Military
When asked how he would go about improving military leadership, Scheller largely criticized a military structure that promotes officers based on how well evaluated they are by their superiors.
"If I'm a commander and I have five subordinates, those five subordinates figure out that all they have to do is please me and they'll get the highest evaluation," Scheller said. "So maybe that means you're the best warfighter or maybe it just means you give that guy compliments a lot."
Scheller said promotions should be more heavily based on demonstrating the skills directly related to the tasks military leaders need to achieve.
"If I was to make one fundamental change, it would be to sever the tie from a subordinate just trying to please his boss on a subjective evaluation and I would create scenarios demonstrating job performance," he said. "[For example] if I'm an infantry officer, I get into the warfighting lab, whatever you create the rules to be, a real-life chess game and I go against you and the winner gets promoted despite if my boss thinks that I'm an asshole."
"That right there would do more to kill nepotism and incest and all the other shit that's going on in the military," he said.
Ending a Military Career
During the interview, Scheller admitted his viral videos criticizing military leadership broke military social media conduct rules and arguably violated standards of good order and discipline.
"I took accountability. From the beginning, I said I broke the rules and I should be held accountable," Scheller said. "But my point was, the failures of our senior leaders should also be held to account. . . I broke the rules because I thought the gain outweighed the potential punishment I would face."
Scheller said he was offered a deal after the third video he posted, that might have allowed him to stay in the military, but he said he "burned up" that chance as he purposefully proceeded with a fourth video. He said he felt the criticisms he was making were worth giving up his military career three years short of the 20-year mark and full retirement benefits.
"I made a post violating my gag order saying 'I'll see you Monday ready for jail," Scheller said. "And they were ready for me Monday at 0800 for jail. I called my shot."
Scheller ultimately pled guilty to six misdemeanor level offenses: contempt toward officials; disrespect toward superior commissioned officers; willfully disobeying a superior commissioned officer; dereliction in the performance of duties; failure to obey an order or regulation and conduct unbecoming an officer and a gentleman. He was separated from the Marine Corps with a general discharge under honorable conditions, losing out on some of the benefits that would come with a full honorable discharge status.
What's Next?
Scheller said his life has changed since his separation but he feels he's still on a path to promoting change in military leadership.
"My story in the news cycle, you want to wrap it up in quick soundbites or people lose interest. More than a year, people lose interest," Scheller said. "But, you know, this is my life and I plan on making the difference that I intentionally sought out to make."
Despite losing his future as a military leader, Scheller feels he's not alone. He said many up-and-coming military leaders he considers "great minds" and will "text me all the time" and "they all see it the same way that I do."
After leaving the military, Scheller started an organization supporting veterans seeking political office called Veteran Candidate Coalition.
When asked if he's considering his own political run, Scheller said "my focus is the book for the next six months."
"In January 2023, we're going to take a look at it," he added. "I don't want to be a politician but I don't my future in the hands of the people that we have right now. So what that means, I'm still working through that."