FBI agents raided former President Donald Trump's Mar-A-Lago club in Palm Beach, Fla. on Monday night. Among the wide ranging reactions from the public, "Civil War" began trending on Twitter.
Join our AMN Telegram channel here for no tech censorship.
By about 9:30 p.m. EST – approximately three hours after Trump announced the FBI raid on his social media platform, Truth Social – "Civil War" had been tweeted more than 35,000 times and became trending in the Political figures and Politics categories.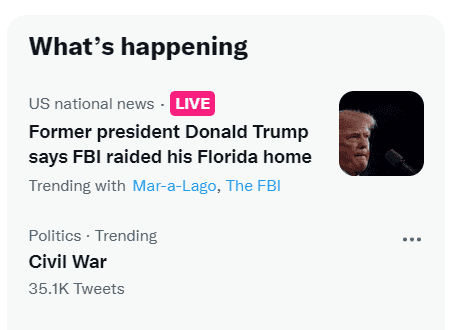 Some posts, such as one from Rep. Marjorie Taylor Green, likened the FBI's raid on Trump's home as "the type of things that happen in countries during civil war." She added, "The political persecution MUST STOP!!!"
Other users said the FBI's actions were akin to waging civil war. Some who supported the raid accused Trump supporters of using the raid as an excuse to start civil war.
"National Divorce" was another trending keyword.
Other trending keywords included "Hillary" referring to former Secretary of State Hillary Clinton with nearly 80,000 tweets, "Wray" referring to FBI director Christopher Wray with 35,000 tweets, "Garland" referring to Attorney General Merrick Garland with more than 81,000 tweets.
Trump said in his statement that his Mar-A-Lago club was "currently under siege, raided and occupied by a large group of FBI agents." He added that FBI agents "even broke into my safe."
Trump also linked the FBI raid to deliberate political persecution ahead of the 2022 midterm elections and his possible reelection bid in 2024.
"It is prosecutorial misconduct, the weaponization of the Justice System, and an attack by Radical Left Democrats who desperately don't want me to run for President in 2024, especially based on recent polls, and who will likewise do anything to stop Republicans and Conservatives in the upcoming Midterm Elections," Trump said.
CNN reported Trump was not in Florida at the time of the FBI raid. The FBI raid reportedly focused on Trump's living quarters and office spaces.
The FBI told American Military News, "We don't have any comment."
House Minority Leader Kevin McCarthy released a statement warning Attorney General Merrick Garland that an investigation would be underway.
"I've seen enough. The Department of Justice has reached an intolerable state of weaponized politicization. When Republicans take back the House, we will conduct immediate oversight of this department, follow the facts, and leave no stone unturned," McCarthy said. "Attorney General Garland, preserve your documents and clear your calendar."
Florida Gov. Ron DeSantis also released a statement condemning the raid as a political move.
"The raid of [Mar-A-Lago] is another escalation in the weaponization of federal agencies against the Regime's political opponents, while people like Hunter Biden get treated with kid gloves. Now the Regime is getting another 87k IRS agents to wield against its adversaries? Banana Republic," DeSantis said.