On Tuesday, the Chinese government announced plans for its military to virtually surround Taiwan with new live-fire attack drills starting on Thursday.
The Chinese state-run media outlet CCTV shared a graphic of planned Chinese People's Liberation Army (PLA) military drills that will take place around Taiwan beginning on Thursday, Aug. 4. CCTV shared the graphic after it was released to them by the Chinese government's official Xinhua News Agency.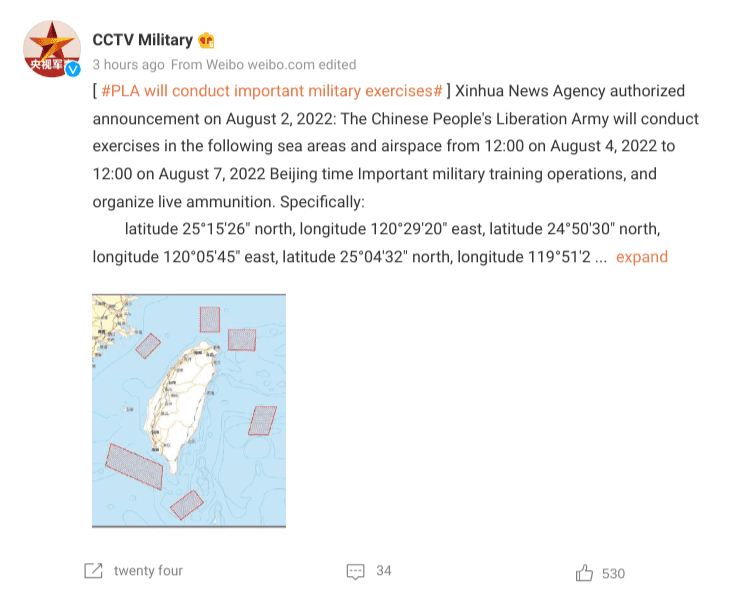 "The Chinese People's Liberation Army will conduct exercises in the following sea areas and airspace from 12:00 on August 4, 2022 to 12:00 on August 7, 2022 Beijing time Important military training operations, and organize live ammunition," CCTV wrote on the Chinese Weibo social media app. CCTV also included a list of coordinates for the live-fire drills, which ring around Taiwan in all directions.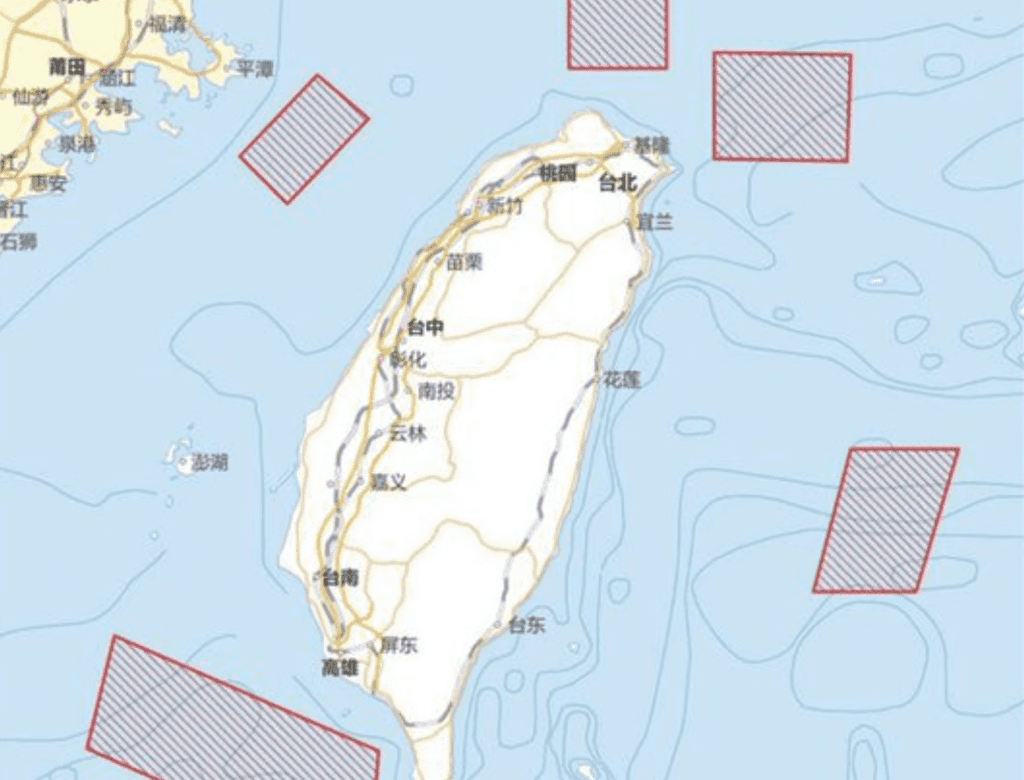 The full extent of China's plans for these new military drills is not entirely clear. Earlier on Tuesday, CCTV reported "a number of speedboats from a missile speedboat brigade of the navy in the Eastern Theater Command formed a formation to conduct live-fire drills. The formation practiced subjects such as air defense, anti-reconnaissance, air and missile defense, long-range sea strikes, and damage control."
Deng Xijub, the Chinese ambassador to the Association of Southeast Asian Nations (ASEAN) also tweeted, "According to Hainan Maritime Safety Administration, #China will hold MILITARY EXERCISES in the #SouthChinaSea from August 2-6. Entry will be prohibited."
CCTV announced the drills surrounding Taiwan on the same day U.S. House Speaker Nancy Pelosi arrived in Taiwan.
Though Taiwan governs itself as a de facto independent nation, China considers the island a part of its territory and considers Pelosi's visit a violation of Chinese sovereignty.
Chinese government officials and other high-profile Chinese figures have repeatedly threatened to take a "strong" response to Pelosi's visit to Taiwan.
Hu Xijin, former editor-in-chief and current commentator at the Chinese state-run Global Times tweeted new threats of Chinese military action on Tuesday. "Based on what I know, in response to Pelosi's possible visit to Taiwan, Beijing has formulated a series of countermeasures, including military actions."
Pelosi's Taiwan visit will last through Wednesday. The newly announced Chinese military drills are set to begin shortly after Pelosi leaves.
Even before the Chinese state media announced the PLA's plans to virtually surround Taiwan with the new live-fire drills, Chinese forces have been amassing near Taiwan.
This week, Chinese officials announced military movements in the South China Sea and East China Sea, which border Taiwan to the west and east respectively. Chinese social media users also shared videos of Chinese troops and armored fighting vehicles gathering in Xiamen, which sits just across the strait from Taiwan.
It remains to be seen if Chinese forces will carry out actual military training at the announced locations, or use the announcement as a pretext to surround Taiwan before a military confrontation. Last fall, Russian forces began amassing on Ukraine's border under the pretense of holding military drills. In February, those same forces helped launch Russia's invasion of Ukraine.
On Tuesday, ahead of Pelosi's arrival in Taipei, Chinese Foreign Ministry spokesperson Hua Chunying again reiterated China's warning for Pelosi to avoid Taiwan.
"China has, on many occasions, made its principled position clear and made multiple serious démarches to the U.S. side," Hua said. "We are closely following the itinerary of Speaker Pelosi. And if the US continues down the wrong path, we will take strong and resolute measures to protect our sovereignty and security interests."