An administrator of the Facebook group "Indiana Gun Free Zones" created a photoshop rendering of the incredible 40-yard shot that armed citizen Eli Dicken took with a pistol to stop an active shooter at an Indiana mall last week.
"My photoshop rendering of what Eli Dicken's point of view & distance to the shooters location might have been. The red X is generalized location of were [sic] the shooter was firing from," Jason Lee posted on Facebook along with the image.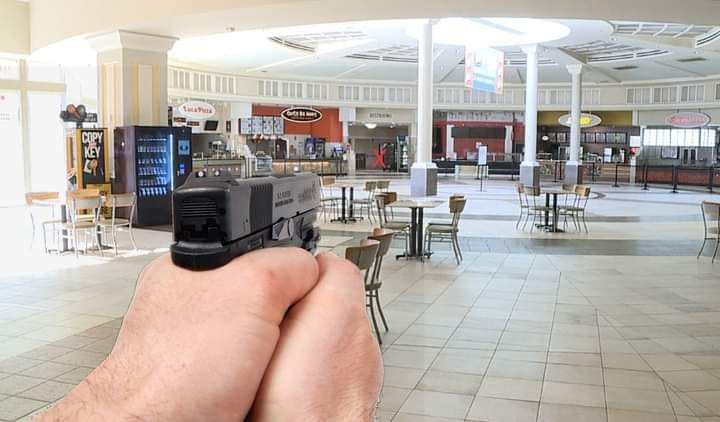 According to police, Dicken was carrying a pistol under the state's recently enacted constitutional carry law, which went into effect on July 1. Just 15 seconds after the mass shooter opened fire, Dicken steadied himself on a pole and fired eight to 10 shots, striking the gunman from 40 yards away.
"His actions were nothing short of heroic. He engaged the gunman from quite a distance with a handgun. Was very proficient in that, was tactically sound and as he moved to close in on the suspect, he was also motioning for people to exit behind him," said Greenwood Police Chief Jim Ison, according to WTHR. "Many people would have died last night if not for a responsible, armed citizen that took action very quickly within the first two minutes of this shooting."
Reporter Rachael Wilkerson posted on Twitter video of a resident praising Dickson as "a true hero" after the incident.
"If I had a medal, I'd like to pin that on him," the resident said. "Because I believe he's a true hero. He had seconds to think about it, where it might have been minutes before the police got there and there might have been more people killed."
Texas Senator Ted Cruz also recognized Mr. Dicken's heroism during a Senate Judiciary Committee hearing.
"On Sunday, another deranged killer fired into a crowd in Greenwood Park Mall in Greenwood, Indiana. Within 15 seconds, that killer was shot and killed by 22-year-old Eli Dicken, who thankfully was carrying a concealed handgun," Cruz said. "Many more lives would have been lost in Indiana that day if Mr. Dicken had not been there, had not exercised his Second Amendment right, and had not saved the lives of the innocent."
Dicken's attorney, Guy A. Relford, said in a statement that the hero is waiting to speak about the shooting out of respect for those who were killed. According to the Washington Examiner, police identified the victims as: Victor Gomez, 30; Pedro Pineda, 56; and Rosa Mirian Rivera de Pineda, 37.
"I am proud to serve as Eli Dicken's attorney and spokesperson. He is a true American hero who saved countless lives during a horrific event that could have been so much worse if not for Eli's courage, preparedness and willingness to protect others," the statement read.
"Because we want to respect the ongoing criminal investigation by the Greenwood Police Department and take time to honor the three innocent lives lost, we won't be making any substantive comments on Sunday's events until after the authorities' investigation is closed. In the interim, we ask that you respect the privacy of Eli and his family."