A pair of U.S. Air Force B-2 Spirit stealth bombers landed in Australia this week in a massive show of force to China and the Indo-Pacific region.
In a Monday press release, Pacific Air Forces (PACAF) announced that B-2 Spirit bombers from the 509th Bomb Wing, Whiteman Air Force Base, Missouri, landed at the Royal Australian Air Force Base in Amberley, Australia on Sunday. The Air Force said the bombers are part of a rotational Bomber Task Force that is "supporting the Enhanced Cooperation Initiative under the Force Posture Agreement between the United States and Australia."
Video taken near RAAF Amberley showed the pair of the B-2 Spirits landing at the base.
The arrival of these advanced bombers in the Indo-Pacific region comes as the U.S. has been expanding its military presence in the region, establishing new ways to counter China in a potential conflict.
According to an Air Force fact sheet, the B-2 Spirit has an "intercontinental" range (though its exact mileage is not disclosed), can carry a 40,000-pound payload of either conventional or nuclear weapons, and can fly at "high subsonic speeds." The B-2's low observable "stealth" characteristics also make it difficult to detect by enemy radar, making it uniquely suited to sneak past enemy defenses to carry out strikes.
"This deployment of the B-2 to Australia demonstrates and enhances the readiness and lethality of our long-range penetrating strike force," said Lt. Col. Andrew Kousgaard, the commander of the 393rd Expeditionary Bomb Squadron, which is a component of the 509th Bomb Wing.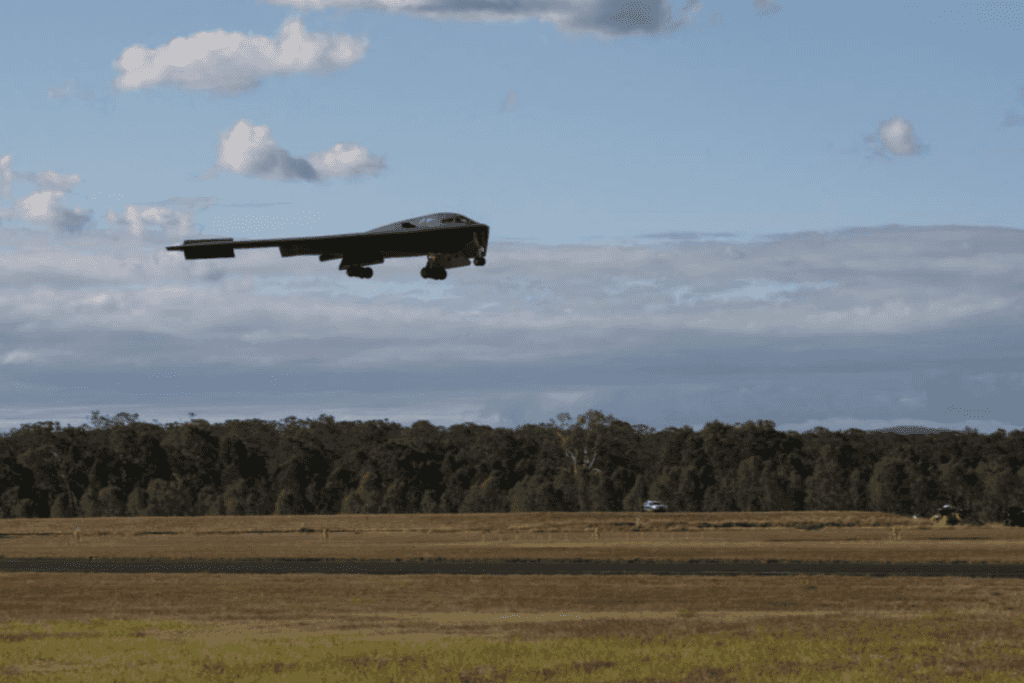 "We look forward to training and enhancing our interoperability with our RAAF teammates, as well as partners and allies across the Indo-Pacific as we meet PACAF objectives," Kousgaard added.
PACAF said this latest deployment fits into broader National Defense Strategy objectives of creating "strategic predictability and operational unpredictability." PACAF also said Bomber Task Force missions like this one demonstrate "U.S. commitment to collective defense and to integrate with Geographic Combatant Command operations and activities."
Another B-2 Spirit participated in a similar Bomber Task Force mission with Australia in March. After entering Australian air space, the B-2 received refueling from an Alaska Air National Guard KC-135 Stratotanker before integrating with two Royal Australian Air Force F-35A Lightning IIs, two RAAF EA-18 Growlers, two RAAF F/A-18F Super Hornets and two U.S. Air Force F-16C Aggressors to carry out a joint training operation. The B-2 then landed at RAAF Amberley, and a second flight crew swapped in to fly a follow-up mission, integrating with F-22 Raptors from Joint Base Pearl Harbor-Hickam, Hawaii, before returning to Whiteman Air Force Base.