A man charged with fatally shooting one person and injuring five others at a Taiwanese church in Laguna Woods mailed seven volumes titled "Diary of an Independence-Destroying Angel" to the Los Angeles offices of the World Journal, the Chinese-language newspaper reported Wednesday.
The newspaper said it had sent the documents to law enforcement and would not be printing their contents.
A photo included with the World Journal article showed eight stacks of paper that appeared to be handwritten in Chinese and secured with binder clips.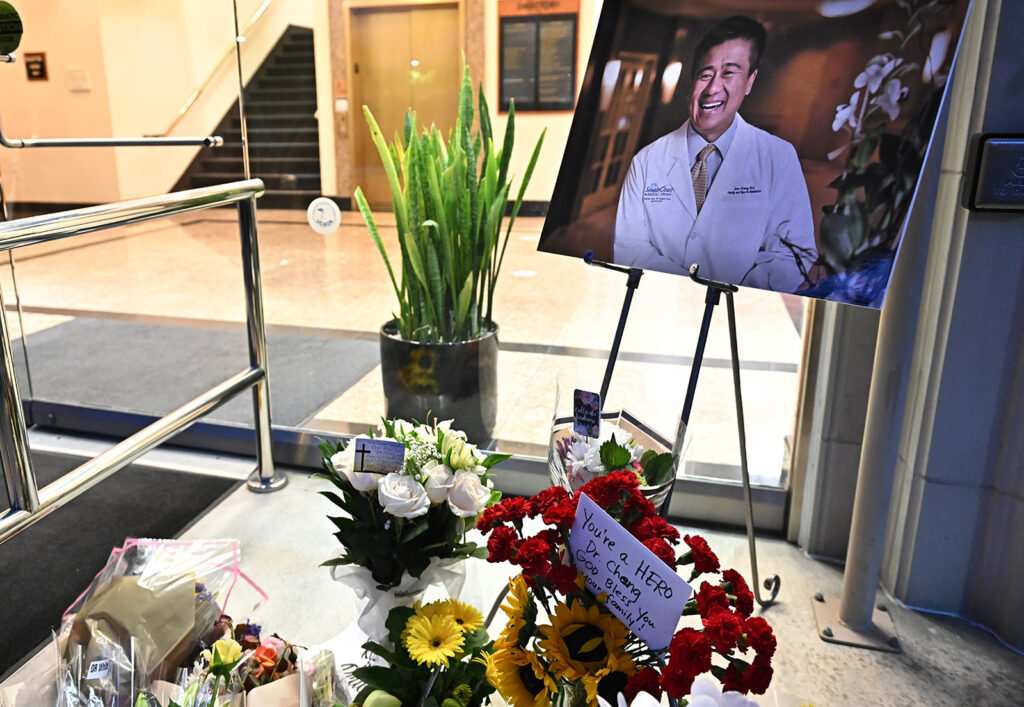 Maxwell Lin, a West Covina-based attorney for the World Journal, confirmed that the newspaper received the documents Tuesday morning. The mailing label listed David Wenwei Chou's name as well as an address from his hometown of Las Vegas, he told a Los Angeles Times reporter.
Lin said he doesn't believe anyone with the paper has fully read through the documents — and that he hasn't reviewed them either.
He said he got the documents Wednesday morning and "am wondering what we do."
Lin could not confirm that the information had been shared with law enforcement. In a text message Wednesday afternoon, Orange County Sheriff's Department spokeswoman Carrie Braun said authorities are looking into the matter, but "do not have any info to share at this time."
The violence on Sunday has left the south Orange County suburb reeling and has also become an international incident because investigators believe the suspect was motivated by hatred of Taiwan. Relations between Communist-ruled China and democratic Taiwan have grown strained in recent years, as Beijing has ramped up calls for unification, while more Taiwanese oppose the mainland's aggression and influence.
"We all are praying," said Leslie Wilson, a member of the Laguna Woods Christian Women's Connection. "Praying for answers as well as for everyone's safety."
Authorities allege that Chou, 68, traveled from his home in Las Vegas and on Sunday morning arrived at Irvine Taiwanese Presbyterian Church, which rents space at Geneva Presbyterian Church in Laguna Woods.
Officials are not sure why he chose that church. Members of the congregation said he didn't look familiar and didn't have a connection to the place of worship.
Orange County District Attorney Todd Spitzer said evidence "could indicate that this church was just random and it could have been any other Taiwanese church," while stressing that the investigation is still ongoing.
Capt. Mark Reyes of the Los Angeles County Sheriff's Department, which oversees much of the unincorporated portion of the San Gabriel Valley, said his team has been doing extra patrols at all houses of worship and community centers. He urged citizens to report any suspicious activity.
"The question was asked … Can that happen here in L.A. County? The answer of course is yes, it could happen anywhere as we've seen historically, but it is important that you can do things to minimize the chances of it happening," Reyes said during a news conference Wednesday at the Taiwan Center Foundation of Greater Los Angeles in Rosemead.
Simon Lin, chairman of the foundation, said he worries about the potential for a similar attack.
"I wish this was the last case, but I don't think so," he said. "Quite a few people in this community in America share the same attitude."
He said he has talked with a few retired Taiwanese American physicians living in Laguna Woods, including some members of Irvine Taiwanese Presbyterian Church. The pain and trauma is still raw for them, he said.
"All my friends are still in panic. They are still horrified," he said. "I don't think they can sleep for several days."
Orange County Sheriff Don Barnes this week characterized the shooting as a "politically motivated hate incident" and said authorities think Chou "specifically targeted the Taiwanese community."
Chou left notes in Chinese in his car stating he did not believe Taiwan should be independent from China and apparently had an issue with Taiwanese people because of the way he was treated while living there, the sheriff said.
"According to the suspect's writings that have been interpreted, he fostered a grievance against the Taiwanese community and he was upset about the political tensions between China and Taiwan," the Sheriff's Department said in a statement Tuesday.
Prosecutors have not yet filed a hate crime sentencing enhancement in the case, but Spitzer said his team is working with the FBI to explore that evidence.
"While there's very strong evidence right now that this was motivated by hate, we want to make sure that we have put together all the evidence that confirms that theory," Spitzer told reporters during a briefing Tuesday.
Spitzer said he wants to "continue to work with our law enforcement partners and the FBI to get all the additional evidence, so that if we file a hate crime enhancement, we've done it knowing full well what the evidence is."
In the months leading up to the shooting, Chou dealt with upheaval in his personal life. His wife had returned to Taiwan in December, to seek treatment for cancer but also to leave him in the midst of a divorce — according to Balmore Orellana, their former neighbor in Las Vegas.
China considers Taiwan a breakaway province and has grown increasingly aggressive about reclaiming the democratic, self-ruled island. Within Taiwan, a majority of people favor maintaining the status quo, with some wanting to openly declare independence and a small minority wanting to someday unify with China.
Officials from the Taipei Economic and Cultural Office in Los Angeles — Taiwan's de facto consulate — said Chou was born in Taiwan and was a "second generation waishengren," meaning his parents were from China.
Waishengren means "people from another province" and is sometimes translated as "mainlanders" in the Taiwanese context. Typically, the term refers to those who arrived on the island sometime around the Chinese Civil War more than 70 years ago, which saw the Nationalists retreat to Taiwan after the Communists gained control over mainland China.
Those with longer-standing roots in Taiwan are benshengren, or, "people from this province."
The Nationalist Party, or Kuomintang, ruled Taiwan under martial law until the late 1980s, introducing democratic elections a decade later. A seminal moment occurred in 1947, when the Nationalist government crushed a protest by killing an estimated 18,000 to 28,000 Taiwanese in a massacre.
The moment has led to a lasting fissure in Taiwanese politics and, in its current form, refers to whether Taiwan should lean toward preserving its own self-ruling democracy and remain politically distinct, or grow closer with the mainland Communist government.
The Presbyterian Church in Taiwan has a long history of advocating for the island's independence from China, said Lev Nachman, a postdoctoral fellow at Harvard University whose research focuses on political participation in Taiwan and Hong Kong.
During martial law in the 1970s, the church helped protect and hide pro-independence activists, Nachman said.
Taiwanese American community leaders called for unity and security — as well as patience — at Wednesday's news conference.
"Taiwan Center and the other participating Taiwanese American organizations have been advocating for democracy in Taiwan for many years, for they have long admired and enjoyed high degree of civil liberty and general adherence to the rule of law in America," nearly 20 Taiwanese American organizations said in a joint statement. "It is a pity that such hate crime can still happen today in the 21st-century California."
The organizations also called for Taiwanese Americans to be more civically engaged.
Louis M. Huang, director general of the Taipei Economic and Cultural Office in Los Angeles, urged the Taiwanese American community to show full confidence in U.S. democratic and judicial systems.
Democracy, he added, is about being inclusive and diverse, as well as respecting others' rights and points of view.
Ken Wu, secretary general of the Taiwan Center Foundation, asked the community to rely on trusted news media and not fall for misinformation, such as conspiracy theories about the role of the Chinese government.
The foundation, along with others, did call for further investigation into the China Council for the Promotion of Peaceful National Reunification. Since the shooting, photos have appeared in Chinese-language media outlets showing Chou speaking at one of the group's events in Las Vegas.
In a text Wednesday, the president of the council's Las Vegas chapter said Chou attended a meeting but was not a regular member.
Officials are still trying to piece together exactly what happened Sunday.
Authorities said a gunman opened fire some time after 1 p.m. The church has offered a more detailed narrative, saying the suspect was lurking around the church for several hours before the shooting began.
In a letter released Monday, the Irvine Taiwanese Presbyterian Church said Chou arrived at the church around 10 a.m., before the Sunday morning service. He was wearing a black shirt that some parishioners believed said "Security," the church said. Chou worked intermittently as a security guard in Las Vegas, according to a neighbor.
"The receptionist welcomed him and asked him in Taiwanese to fill out a form providing his personal information. The man refused, claiming that he had attended services at this church twice in the past and had already filled out the form. The man also spoke to her in Taiwanese," the letter said.
He apparently stayed in the church area until the early afternoon, when he emerged at a banquet honoring former Pastor Billy Chang, who led the church for more than two decades and was visiting from Taiwan.
After the lunch, some churchgoers ran into Chou, the church said in the letter.
"As they walked through the doors, they saw Chou applying iron chains to start locking the doors shut. As Chou had not yet finished, he allowed them to exit. When they asked him about his actions, he refused to answer. They assumed he was a security guard," the letter said.
Soon, other church members saw him hammering shut two other doors with nails, the letter said.
The church said Chou then fired into the air; some in the room assumed the sound was balloons popping.
The church said a member managed to escape from the room and call authorities just before 1:30 p.m. As Chou reloaded his gun, the letter said, John Cheng "struck him with a chair, and other church members confiscated Chou's weapons and hogtied his limbs."
Spitzer said Chou set up a scenario in which he made people inside the church feel comfortable.
"This case is about the person concealing themselves in plain view," he said, adding that the suspect led everyone to believe he was there "to celebrate the life of Jesus and the pastor coming back from Taiwan."
Officials said the heroic actions of churchgoers saved lives. Bags containing additional ammunition, as well as four Molotov cocktail-like incendiary devices, were found at the scene, authorities said.
Three Orange County legislators — U.S. Reps. Michelle Steel, a Huntington Beach Republican, Mike Levin, a San Juan Capistrano Democrat, and Katie Porter, an Irvine Democrat — honored Cheng on Wednesday with a moment of silence on the floor of the House of Representatives.
"He was a hero," Steel said. "We share our condolences with his family and stand here today to honor his life."
On Twitter, Porter said Cheng "undoubtedly saved lives."
___
© 2022 Los Angeles Times
Distributed by Tribune Content Agency, LLC