A man is dead after shooting himself Thursday morning at the main entry gate of Lockheed Martin, located in northwest Fort Worth near White Settlement, and police locked down the area while they investigated the man's briefcase and his car.
Police said the briefcase and car have been X-rayed and no explosives were found.
White Settlement police said they responded to the aerospace company building, on Lockheed Boulevard, around 5:35 a.m. after a report of shots fired.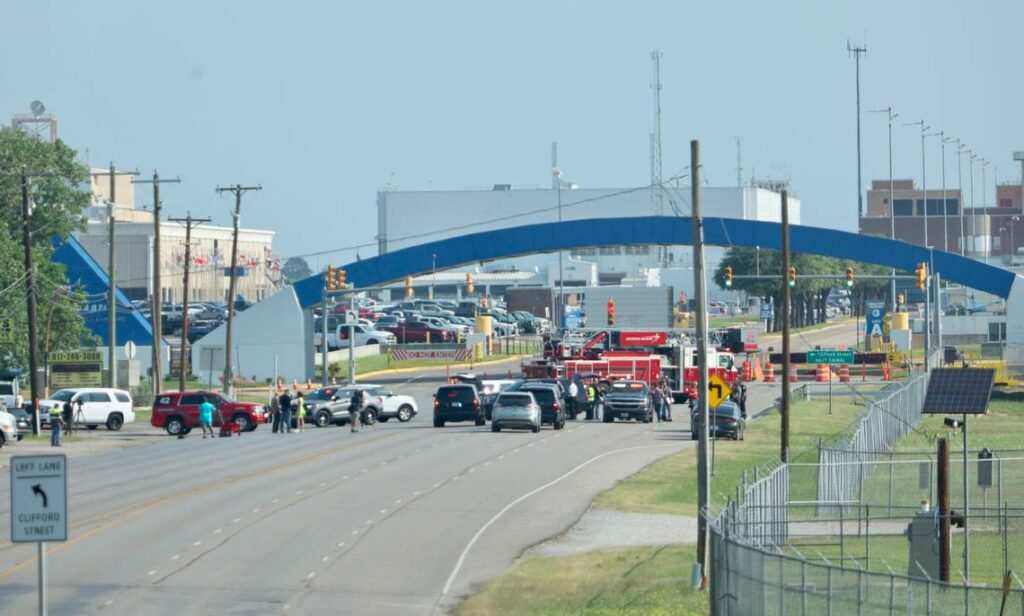 "We have closed the main gate and (are) rerouting all employees to other gates," police posted on Twitter around 6:45 a.m.
The police department said investigators quickly determined the incident was not an active shooter.
The man was dead from a self-inflicted wound when police arrived, White Settlement Police Chief Christopher Cook said during a news conference.
The man, who was in his 60s, was "in distress" and trying to gain entry into the facility before security challenged him, police said. He was carrying a shotgun and shot himself in the head inside his vehicle, Cook said.
Police said the man had identification but they're waiting on confirmation of his identity. They are sure he wasn't a current Lockheed Martin employee but will investigate if he has any connections to Lockheed, Cook said.
The man will be identified by the Tarrant County Medical Examiner's Office.
Cook said that police expanded their lock down "based upon comments the suspect made prior to the shooting," and after locating a "suspicious device," in the suspect's vehicle. Investigators later determined there were no explosives.
The man told security he was looking for a federal office and wanted to talk to the FBI, which guards thought might be a security threat, Cook said.
Cook said that the Fort Worth Police Department's bomb technicians were on scene to investigate. They saw some wires in the man's vehicle and "wanted to be 100% safe that there were no devices" inside the vehicle.
They also X-rayed a briefcase that didn't have "any suspicious components inside," he said.
Cook said investigators identified residences connected to the suspect and went and checked those to ensure there was no further threat to the community. Nothing was found.
Cook said it's concerning anytime someone tries to gain entry onto U.S. government property.
"The Naval Air Station (Joint Reserve Base Fort Worth) has a gate right here as far as the runway is concerned," he said. "So yeah, this is very concerning. That's why we have our federal partners here. The FBI is working the intelligence angle to see if there's anything weird here."
Cook said the man was under distress while speaking with Lockheed security, but investigators don't yet know why he was upset or why he wanted to enter the facility.
"Bringing a firearm, trying to enter a governmental institution that's being operated by Lockheed Martin is a serious crime," Cook said.
Lockheed Martin spokesperson Ken Ross said the security team was suspicious of the man's behavior as he tried to gain entry into the facility without proper credentials.
"What transpired after that as they tried to deescalate the situation is what's now under investigation," he said.
"We're saddened by a loss of life that happened at our facility," Ross said. "We take the safety and health of our employees very seriously and this incident is one that certainly impacts all of our 18,000 people here."
Lockheed Martin builds the F-35 Lightning II military fighter jet at its Fort Worth facility.
"One thing we did learn is that the safety and security protocols that we have in place are effective and they work," Ross said. "We saw that by how our security forces responded to this situation and tried to de-escalate it."
White Settlement police will handle the criminal investigation.
"We're still operating under the premise that the suspect arrived at the gate around 5:35 this morning. He requested to speak with someone from the FBI, that was the federal agency (mentioned earlier)," Cook said. "The Lockheed security team noticed he had a firearm, which was a shotgun, while engaged in conversation with him. [They] tried to get him not to use the shotgun and at that point the shotgun went off. We believe he fired the gun at himself. … There were no shots fired by the Lockheed security team."
The road and gate were expected to reopen in an hour or two, police said about 10 a.m.
If you or a loved one is experiencing a crisis or suicidal thoughts, call the National Suicide Prevention Lifeline at 800-273-8255.
___
© 2022 Fort Worth Star-Telegram
Distributed by Tribune Content Agency, LLC.