Former U.S. President George W. Bush shared photos on Thursday of a phone call he had with Ukrainian President Volodymyr Zelenskyy, whom Bush referred to as "the Winston Churchill of our time."
"I was honored to spend a few minutes talking with President Zelenskyy – the Winston Churchill of our time – this morning," Bush began, in posts on Facebook and Twitter.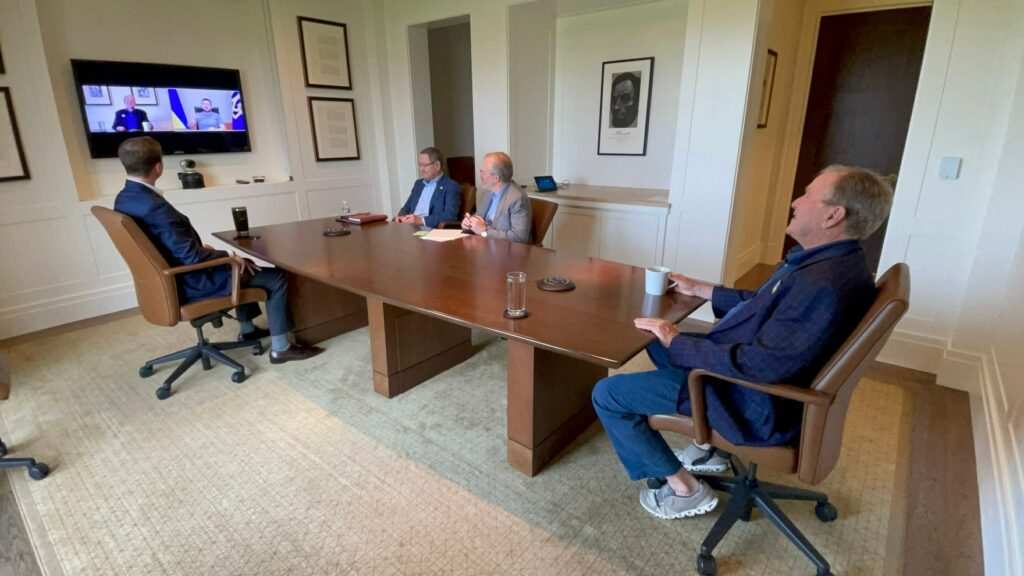 "I thanked the President for his leadership, his example, and his commitment to liberty, and I saluted the courage of the Ukrainian people," Bush's post continued. "President Zelenskyy assured me that they will not waver in their fight against [Russian President Vladimir Putin's] barbarism and thuggery."
"Americans are inspired by their fortitude and resilience," Bush concluded his post. "We will continue to stand with Ukrainians as they stand up for their freedom."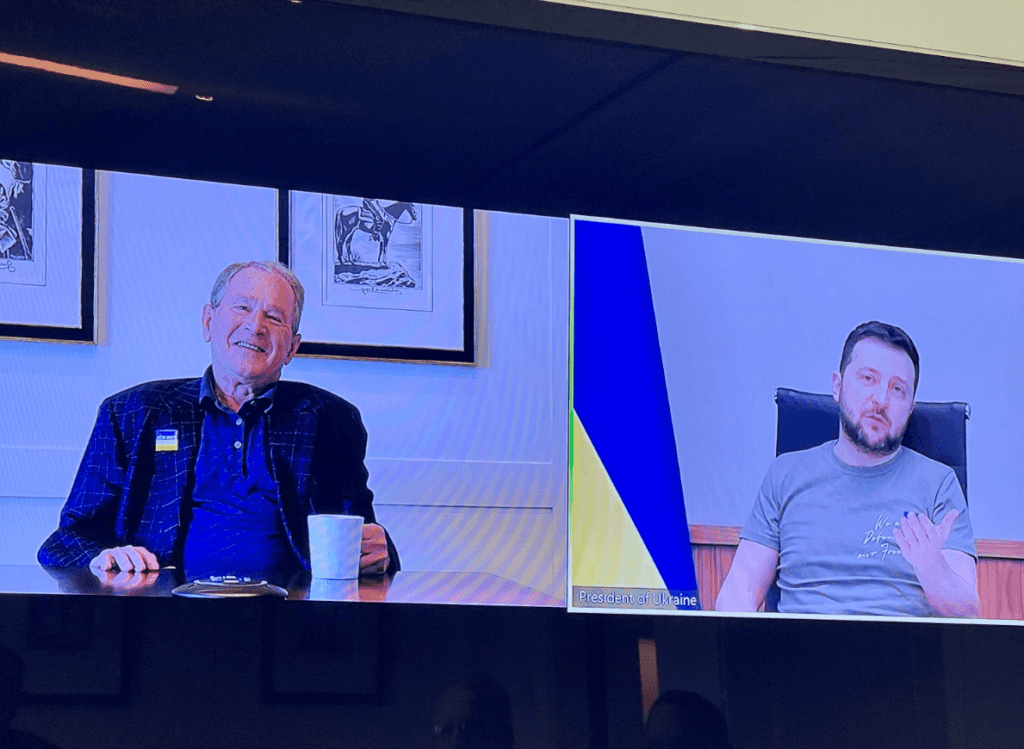 Bush is one of several U.S. political leaders who have met with Zelenskyy by phone or in person. President Joe Biden has held multiple phone calls with Zelenskyy. Earlier this week, House Speaker Nancy Pelosi (D-CA) and Reps. Jim McGovern (D-MA), Gregory Meeks (D-NY), Adam Schiff (D-CA), Barbara Lee (D-CA), Bill Keating (D-MA) and Jason Crow (D-CO) all traveled to Ukraine and also met with Zelenskyy.
Bush has repeatedly shared support for Ukraine throughout the ongoing war with Russia.
"Russia's attack on Ukraine constitutes the gravest security crisis on the European continent since World War II," Bush said on the day the Russian invasion began in a statement through his George W. Bush Presidential Center. "I join the international community in condemning Vladimir Putin's unprovoked and unjustified invasion of Ukraine."
"The American government and people must stand in solidarity with Ukraine and the Ukrainian people as they seek freedom and the right to choose their own future," Bush added in his Feb. 24 statement. "We cannot tolerate the authoritarian bullying and danger that Putin poses. Ukraine is our friend and democratic ally and deserves our full support during this most difficult time."
A week later, on March 2, the center tweeted, "Russian President Vladimir Putin's invasion of Ukraine constitutes the gravest security crisis on the European continent since World War II. Stay up to date on the Bush Institute's ongoing analysis of the crisis here."
On March 18, the center tweeted a video of Bush and fellow former President Bill Clinton bringing flowers to the Saints Volodymyr and Olha Ukrainian Catholic Church in Chicago, Illinois. "President George W. Bush: America stands in solidarity with the people of Ukraine as they fight for their freedom and their future."