In the case of a real wildfire, the smoke wouldn't have been red, the portable reservoir wouldn't have been blown over by a wind gust from a helicopter (hopefully) and the firefighters on the ground would likely have been hidden by the trees.
Still, a training exercise gave plenty of real-world experience to Connecticut Army National Gard members and Westover Air Reserve Base firefighters who joined together for the first time this week to practice dropping buckets of water from helicopters.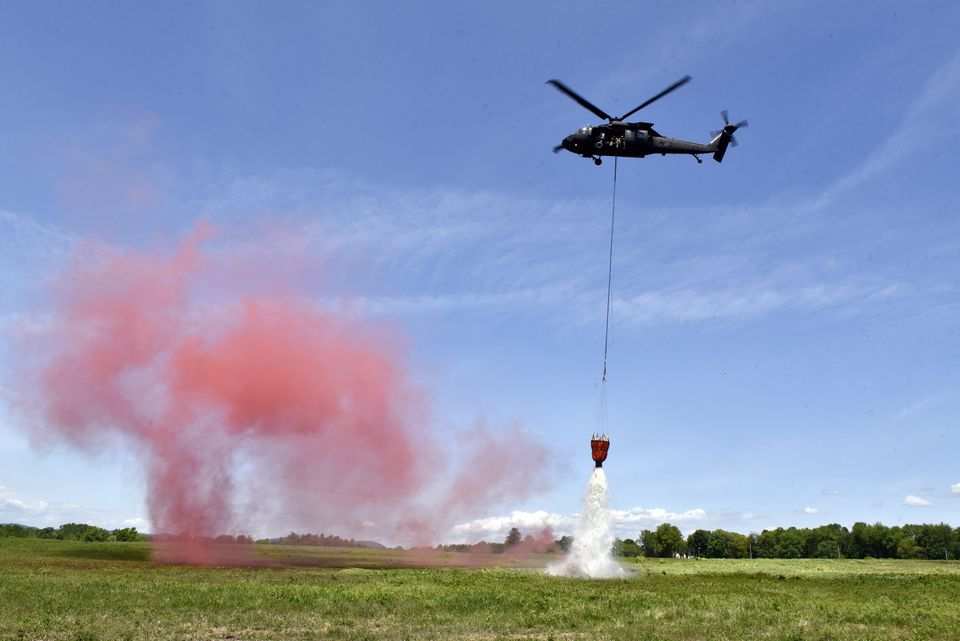 "This is by far, according to everyone I've spoken to, the best way we can do the training," said Capt. Marc Winchester of Connecticut's 1-169th Aviation Regiment. "Doing it in conjunction with the firefighters has brought the training to a whole new level."
For the Westover firefighters, 21 of whom hold red card certifications to fight wildland fires, it taught them a new skill as they learned how to coordinate water drops, said Westover Fire Chief David Benedetti.
On Wednesday, the two units separated to do different jobs. The 1-169th scooped water from the Chicopee Reservoir into a 525-gallon "Bambi Bucket" hanging from the UH-60 Black Hawk they were flying. Westover firefighters served as the ground crew, directing the pilots on the location and types of water drops they needed.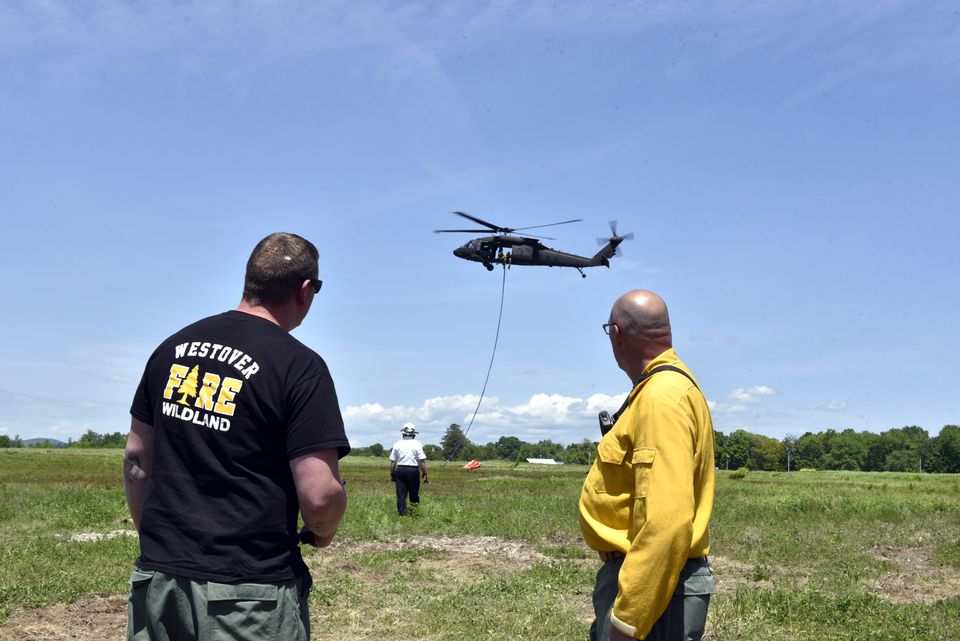 Orange cones were set up on different parts of the field to mark targets for the drops. The ground crews also threw bombs that exploded with dark red smoke to simulate fires.
"The point is you get joint training where it is more realistic for both parties involved," Winchester said. "Obviously, in a wildfire you are going to have your ground crews operating and telling us where they need that water."
The National Guard doesn't have an opportunity to train much with fire departments, so this gave the unit a better foundation for working with ground crews, he said.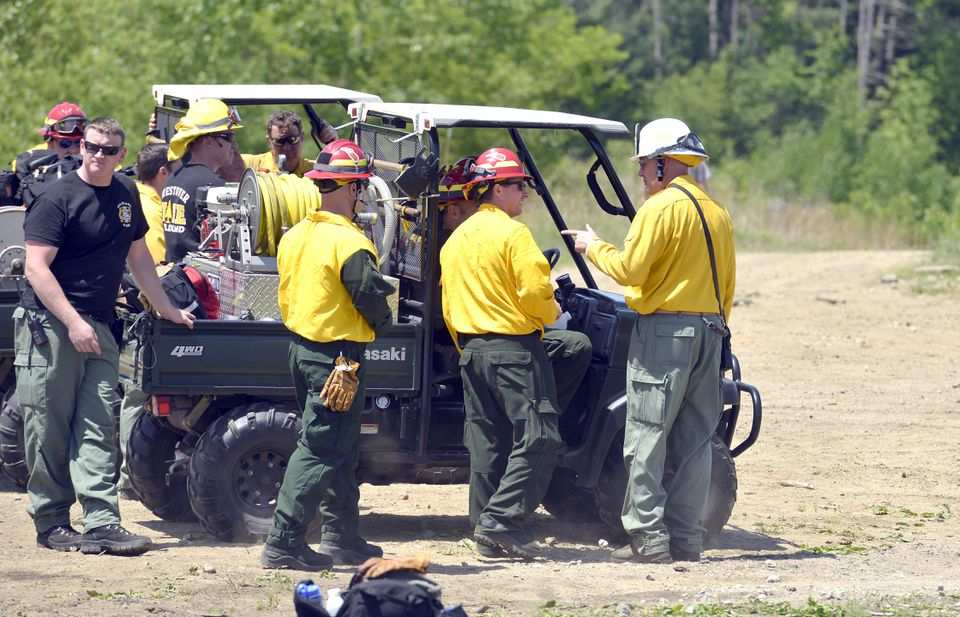 Many times firefighters are in the woods and pilots cannot see them because they are blocked by the tree cover, so they practiced using landmarks to better direct the helicopter crews, Winchester said.
There are a variety of different ways bucket drops can help. The ground crew may ask for the helicopter to drop the entire bucket on one problem spot. They may also ask the flight crew to fly slowly over an area, called a line drop, which can spread the water over 100 yards or so, Westover Fire Capt. Paul Bradford said.
Having a ground crew directing improves the efficiency and effectiveness of a water drop. It also improves safety because they can make sure the pilot does not dump water on the crews who are hidden by trees, he said.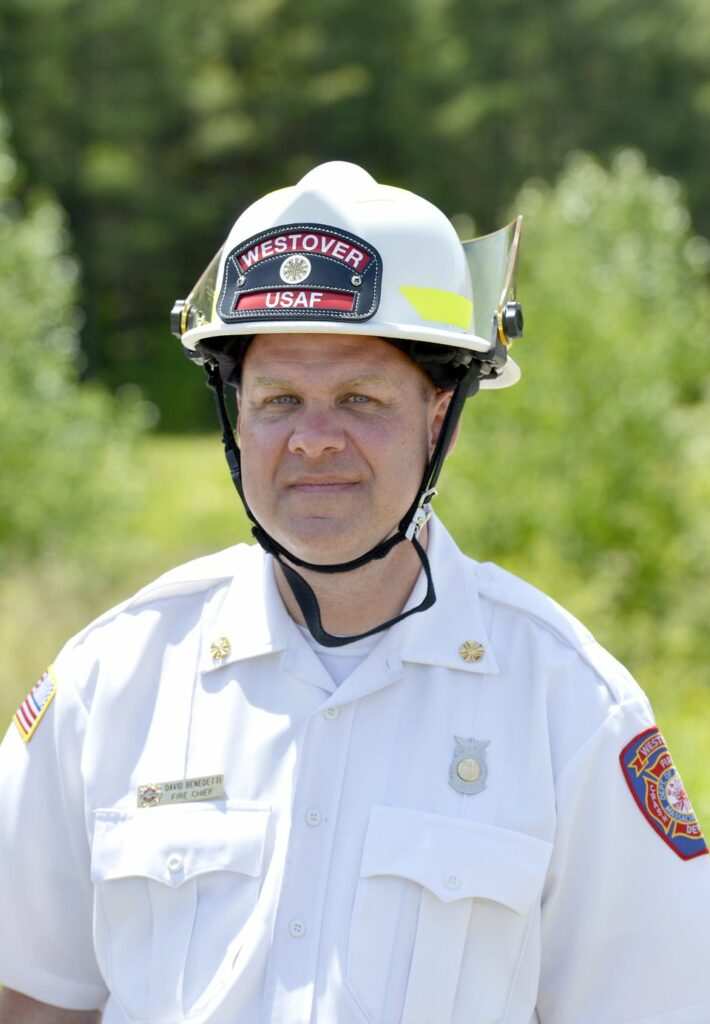 "I have a person on the ground who can say what side of the fire has more intensity or has exposures, such as houses, I want to protect," he said. "If we have a spot fire and we want to put it out quickly before it gets away from us."
The bucket drops can also be used to fill a portable reservoir that firefighters can then draw from. The crews learned their device was too light when it flew away and then collapsed when the helicopter neared.
Westover firefighters also had a chance to fly with the National Guard in the helicopters to get a feel the job they are doing, Bradford said.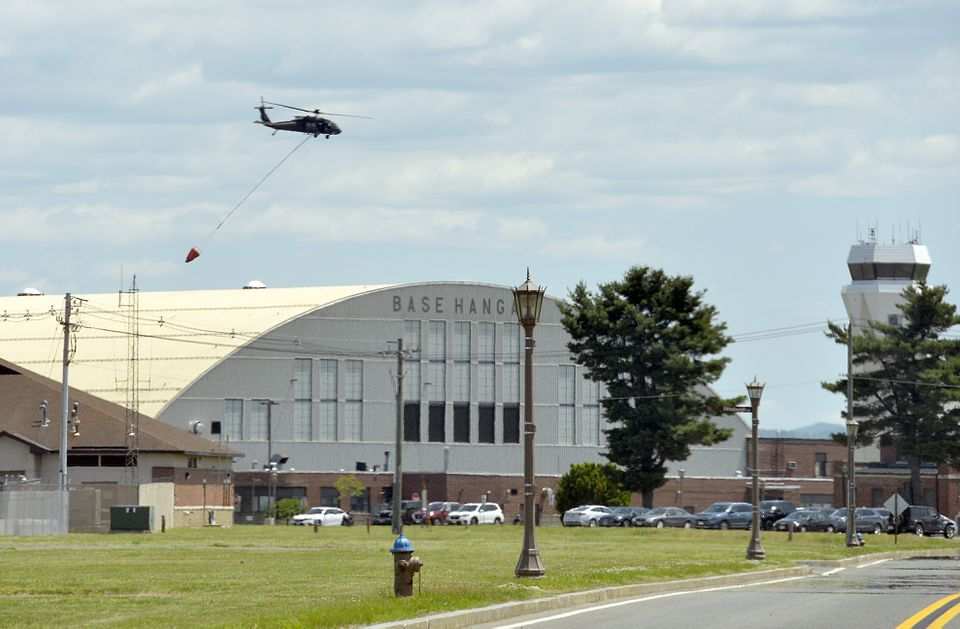 There are a total of 63 positions in the Westover Fire Department, although there are currently some vacancies, so about a quarter of the firefighters are certified in wildland firefighting, Benedetti said.
While Westover firefighters can handle any fire on base grounds without bucket drops, several years ago they did send a four-man crew to Colorado to help fight a massive wildland fire, Bradford said.
The training also helps locally because Westover is often called to assist other communities at fires across the region under the mutual aid system. In May 2021 and in September 2020 the Massachusetts National Guard and State Police Airwing did bucket drops when there were massive fires in the Clarksburg State Forest, in the Berkshires, and Minnechaug Mountain in Hampden, he said.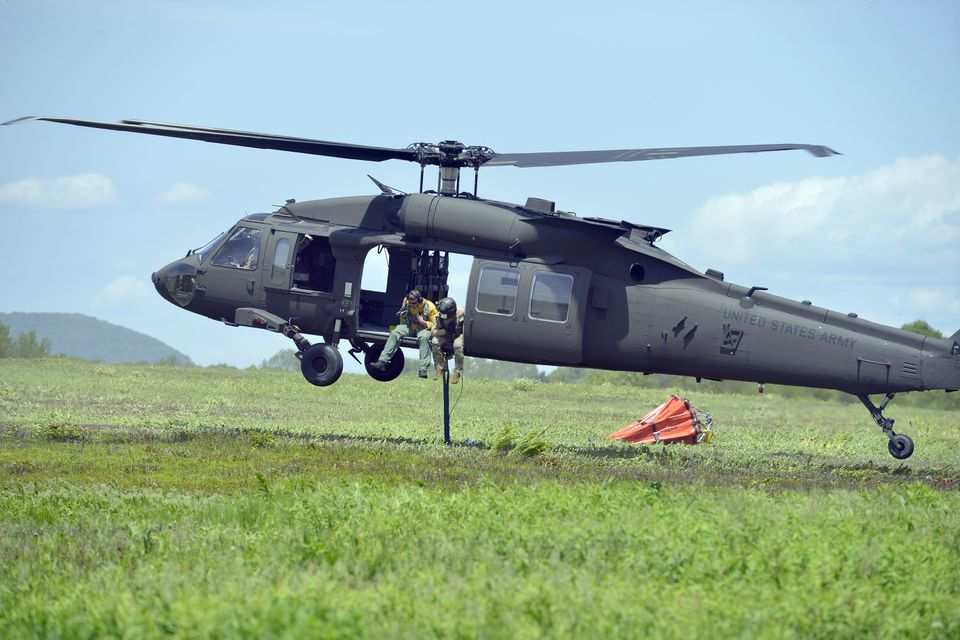 For the 1-169th, which is based at Bradley International Airport in Windsor Locks, the last time the helicopter was called into action for a fire was 2012, but crews were ready to go last year when there was a huge brush fire in Middletown, Winchester said.
"With the ever-increasing wildfires out west that seem to be prolifically growing and to always support our state and regional mission to be ready to answer to fires, this is why we are training," he said.
Flying a helicopter with a Bambi Bucket takes precision and practice. When filling the bucket, the pilot has to find the right spot to hover to avoid hitting any obstacles. The pilots also have to make adjustments to account for the weight of the water, he said.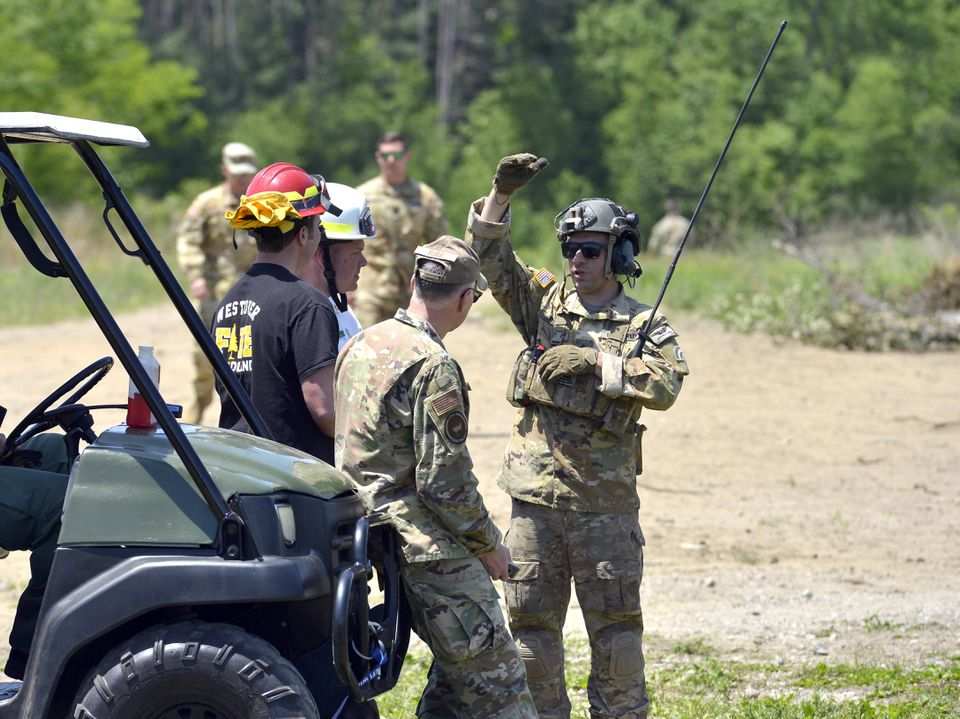 Pilots generally cannot see where they are dumping the water, so the "back seaters," or crew members who sit at the open back doors of the helicopter, have to give directions and coordinate to ensure they stay on course, Winchester said.
They also have to be careful not to tangle the bucket when filling it. On Wednesday, the pilot had to abort one drop and land so twisted cables could be unsnarled.
The glitches sparked several "that's why we train" comments from people on the ground.
The Connecticut National Guard must renew its certification to do bucket drops annually and sometimes has had a hard time finding an appropriate place to train. While this is the first time they have been at Westover, Winchester said he hopes it won't be their last.
Having an open and secure field near a water source is ideal — the National Guard did receive state approval to use the Chicopee Reservoir. On Tuesday, when the 1-169th was practicing with two Black Hawk helicopters and two Chinooks, they also had to practice coordinating with regular flight traffic from Westover.
Westover also provided other support, including allowing the helicopters to refuel at the base, which they would not be able to do in most places.
"We are very grateful," Winchester said.
___
© 2022 Advance Local Media LLC
Distributed by Tribune Content Agency, LLC.