The U.S. Air Force canceled a "Drag Queen Story Time" event this week for young children at Ramstein Air Force Base in Germany after Sen. Marco Rubio (R-FL) learned about the event and raised questions and demands from Air Force Secretary Frank Kendall.
In a Thursday open letter to Kendall, Rubio said Ramstein Air Force Base announced its "Drag Queen Story Time" event, which was scheduled for June 2 at a library on base. The event was announced on the Ramstein & Vogelweh Air Force Libraries Facebook page, though all posts associated with the event were deleted by Friday.
In a Friday press release, Rubio wrote that following his initial letter to Kendall, the Air Force canceled the event, which was scheduled to coincide with the beginning of LGBT Pride Month in June.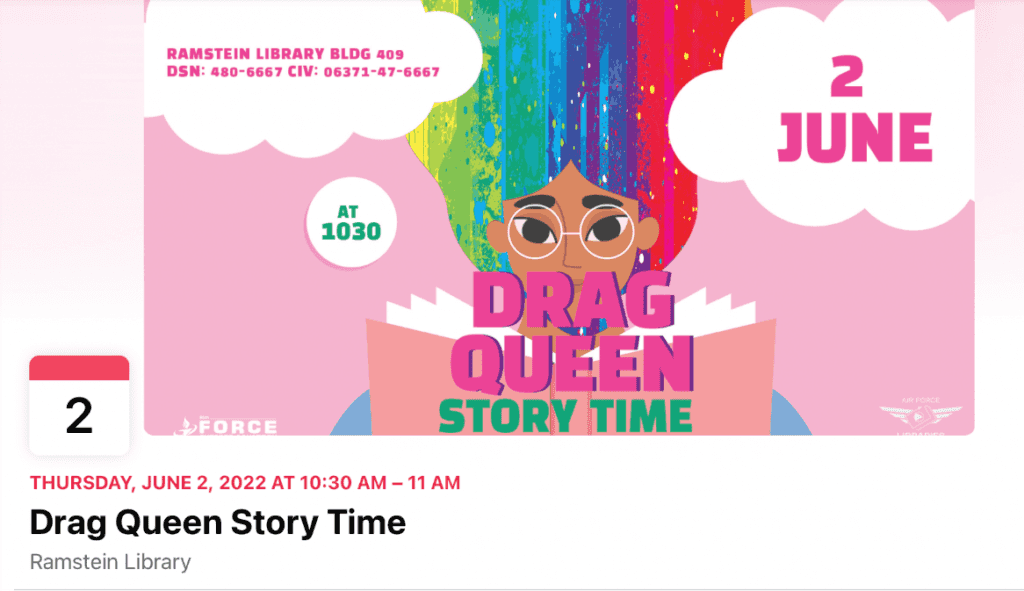 "I urge you to immediately cancel this politically divisive event,
and take appropriate disciplinary action against all involved in allowing this gross abuse of taxpayer funding to place children in a sexualized environment," Rubio had written to Kendall.
"It is completely insane for Ramstein AFB to use on-installation resources
for rituals like 'Drag Queen Story Time,'" Rubio's letter continued. "These inappropriate events are extremely divisive at home for good reason; in all cases, they place young children in close proximity with adults who are intentionally and explicitly sexualized. A flyer for a similar event last year highlighted the apparent inclusion of a controversial book, The Hips on the Drag Queen Go Swish, Swish, Swish. The author of the book said they wrote it so that children could 'experience the magic of drag and to get a little practice shaking their hips or shimmying their shoulders to know how [they] can feel fabulous inside of [their] own bodies.' As I hope you can agree, decisions over children and their bodies should be left to moms and dads serving our nation, not mediated through publicly funded propaganda on U.S. Air Force bases."
Rubio went on to claim the library at Ramstein AFB had hosted similar events in the past and asked Kendall to explain "how many instances of events involving drag queens spending time around children have occurred" in government-sponsored events on U.S. military bases both inside and outside the U.S.
"How much U.S. taxpayer funding has gone to cover salaries, utilities, materials, transportation, and other costs associated with these events?" Rubio also asked.
"Do you and President Biden believe the proper role of the U.S. Department of Defense is to facilitate extraordinarily divisive events involving the children of U.S. servicemembers?" Rubio posed a third question.
A petition surfaced on Change.org which claimed Ramstein's Mission Support Group commander "canceled all Pride events unless they are rebranded and remove any mention of drag queens." According to the petition organizer, the wing said, "you can do the event but remove the drag queen, have someone 'normal' reading the stories." The user's claims could not be verified. As of Friday afternoon, the petition had reached 143 signatures.
Nellis Air Force Base hosted a drag show event last year that also drew criticism. A base spokesperson noted the was hosted by a private organization but said it was "essential to the morale, cohesion, and readiness of the military." Air Force special warfare veteran Brian Kimber was among those who criticized the event, tweeting "I guess the airmen at @NellisAFB have completely mastered air and ground combat so they can relax with an event that has grown men in dresses twerking; very cool!"