Officials have found the body of Specialist Bishop E. Evans, 22, a Texas Army National Guard soldier who went missing on Friday while attempting to rescue illegal immigrants – who were later identified as alleged drug smugglers – in the Rio Grande.
According to a now-deleted press release issued by the Texas Military Department on Monday, Evans was assigned to Operation Lone Star and tried to "selflessly help migrants who appeared to be drowning as they tried to cross the river from Mexico into the U.S."
"We are devastated by the loss of a member of our Guard family," Maj Gen Tom Suelzer, Adjutant General for Texas said in a statement. "We recognize the selflessness of this heroic Soldier who put his life above others in service to our state and national security. The Texas Military Department sends our deepest condolences to the family. Our thoughts and prayers are with them during this difficult time"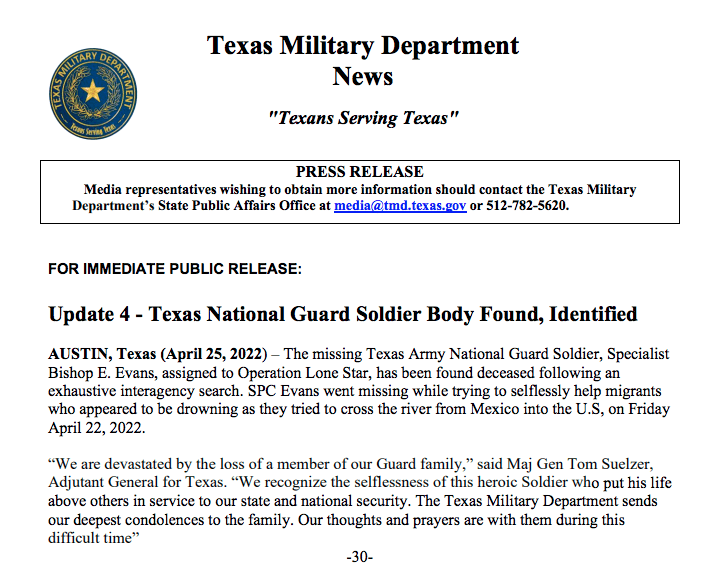 Texas Gov. Greg Abbott issued a statement saying he is heartbroken over the death of Evans.
"Our National Guard soldiers risk their lives every day to serve and protect others and we are eternally grateful for the way SPC Evans heroically served his state and country," Abbott said. "I ask that Texans join Cecilia and me in praying for the family and friends of SPC Evans as they grieve this heartbreaking loss."
As of Monday afternoon, President Joe Biden has not addressed the incident.
Texas Rep. Tony Gonzales tweeted that Evans will be remembered for his "bravery and compassion."
"SPC. Evans will forever be remembered for the bravery and compassion he showed while saving lives in the Rio Grande. We will make sure this young soldier's sacrifice will never be forgotten," Gonzales wrote.
Over the weekend, Fox News correspondent Bill Melugin reported that the illegal immigrants who were saved by Evans were drug traffickers.
"BREAKING: Texas Rangers have determined that the two migrants a TX National Guard soldier tried to save before drowning in the Rio Grande were "involved in illicit transnational narcotics trafficking", and are in federal custody. Soldier still missing, family notified. @FoxNews," Melugin wrote.
Last week, Daily Caller reporter Jorge Ventura tweeted video showing illegal immigrants getting swept away by the river while attempting to cross into the United States.
"EXCLUSIVE: 'They Are Going To Storm The Border': South Texas Braces For Migrant Surge As Title 42 Is Set To End Sources tell us between 7,000 – 10,000 migrants are living in Piedras Negras,Mexico waiting for the end of title 42 to cross illegally into the US," Ventura tweeted.