Dozens of civilians were killed Friday in a Russian missile strike on a train station packed with evacuees, according to Ukrainian officials, who also warned that they expect to uncover further evidence of gruesome war crimes in parts of the country previously controlled by Russian troops.
Ukraine said a railway station in the city of Kramatorsk where thousands of people had gathered for evacuation from their war-torn districts was hit by a Russian rocket Friday morning. At least 50 people were killed — including several children — and about 100 were wounded, officials said. Photos posted on Telegram by Ukrainian President Volodymyr Zelenskyy showed bodies strewn across the train platform alongside suitcases, stuffed animals and a baby carriage.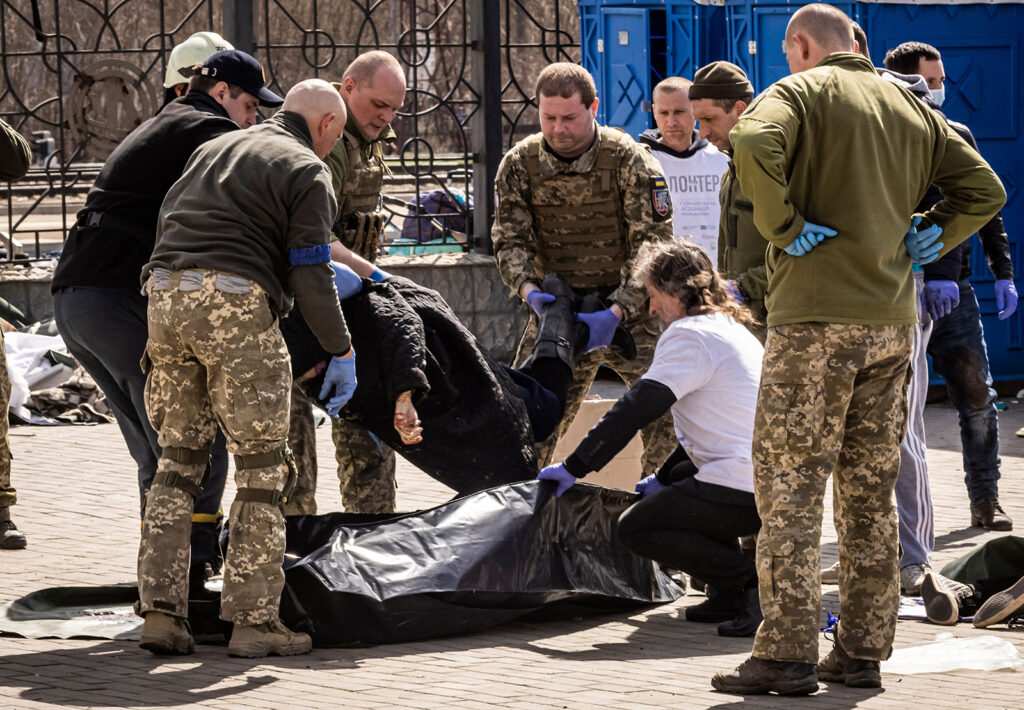 In recent days, officials had been urging civilians to flee Kramatorsk and other parts of eastern Ukraine, where Russia has begun regrouping its forces after they failed to conquer the capital, Kyiv. The Kremlin denied responsibility for Friday's attack, but as its troops now prepare to try to win more territory in an area already partially controlled by Moscow-backed separatists, the strike on the train station stirred fears that more brutal tactics lie ahead in a likely war of attrition.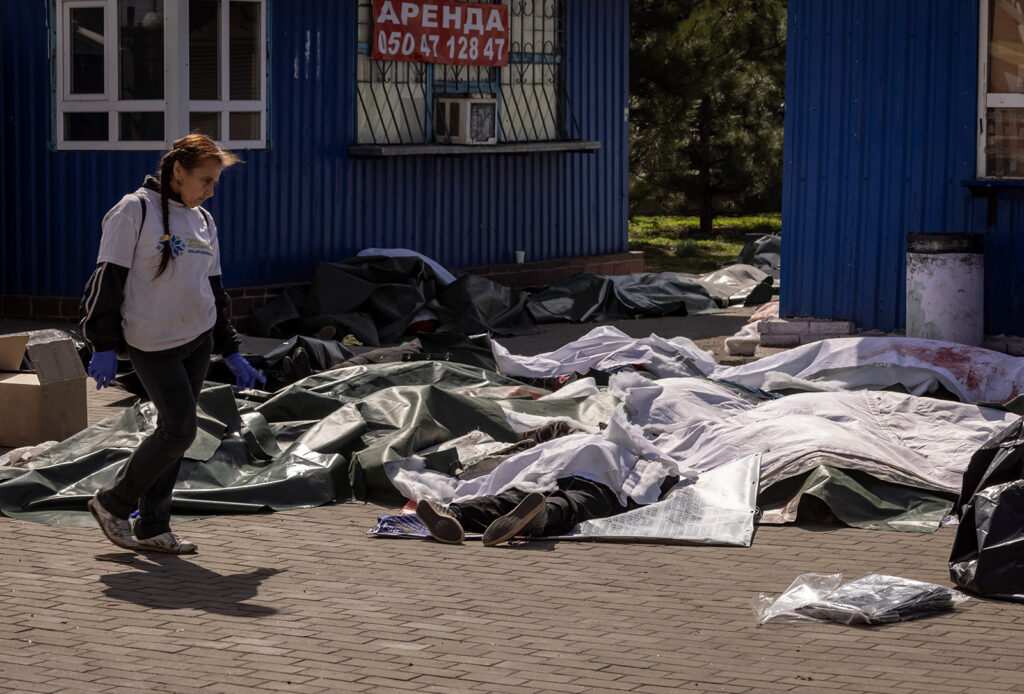 "The inhuman Russians are not changing their methods. Without the strength or courage to stand up to us on the battlefield, they are cynically destroying the civilian population," Zelensky said in response to the attack. "This is an evil without limits."
NATO Secretary General Jens Stoltenberg told National Public Radio that the "the scale and the scope" of the war's next phase in the east may be the worst yet, with heavy civilian causalities. He said NATO believes Russia still desires full control of Ukraine, and warned that the conflict could last "months and even years."
The train station attack sparked a new wave of international outrage, with Britain's Defense Minister Ben Wallace calling it an evident war crime: "These were precision missiles aimed at people trying to seek humanitarian shelter."
It also triggered calls for additional economic penalties on Russia, which was targeted with new sanctions this week after evidence emerged of atrocities committed against Ukrainian civilians by Russian troops. Grim images of people shot execution-style with their hands bound have emerged in recent days as occupying forces have withdrawn from areas such as the Kyiv suburb of Bucha. In an overnight video address, Zelenskyy warned that worse discoveries were still to come.
In Borodyanka, about 20 miles from Bucha, "it is much more horrible," Zelenskyy said. Authorities continued digging Friday through the rubble of a number of apartment buildings in the town, where they say as many as 200 residents may be buried.
In a surprising acknowledgment of the war's toll on Russia, a Kremlin spokesman admitted that his country had suffered substantial troop losses. The official Russian military death toll is about 1,300, although Western estimates put the figure at several times that.
"Yes, we have significant losses of troops, and it's a huge tragedy for us," spokesman Dmitry Peskov told Britain's Sky News without specifying a number.
He also suggested that the fighting in Ukraine could wrap up "in the foreseeable future," either through achievement of Moscow's battlefield goals or through negotiations with Kyiv. But Western and Ukrainian officials doubt any willingness by Russian President Vladimir Putin to wind down what he refers to as his "special military operation." Multiple rounds of peace talks have so far produced no tangible results, and Peskov himself vowed that the siege of the southern port city of Mariupol, at least, would continue.
"Mariupol is going to be liberated from nationalistic battalions, and we hope it will happen sooner (rather) than later," Peskov said, alluding to Moscow's contention that Ukrainian fascists are oppressing Russian speakers in eastern and southern Ukraine.
Mariupol, whose residents have endured intense bombardment and terrible deprivation for weeks, is of strategic importance to Russia, which wants to use it to block Ukraine's access to the Sea of Azov and to establish a land corridor to Crimea, the peninsula Moscow illegally annexed in 2014.
Farther west along the southern coast, Ukrainian officials said that the historic city of Odesa — which would also be a major prize were it to fall — was hit by a Russian missile strike from the sea and that infrastructure was damaged. The report could not be independently verified.
Zelenskyy said that any investigation in Mariupol would show more of "the same cruelty, the same terrible crimes" by Russian troops as had been unearthed elsewhere.
Ukraine's Prosecutor General's Office announced Friday that it had logged 5,149 "crimes of aggression and war crimes." In Kyiv-area towns including Bucha, whose name has become synonymous with alleged atrocities against civilians, authorities say at least 400 residents were killed by enemy occupiers.
The German newsweekly Der Spiegel reported that Berlin's foreign intelligence agency had intercepted radio exchanges between Russian soldiers casually discussing the killing of civilians.
Despite the growing dossier of independently collected evidence, Peskov repeated Russia's denials of any massacres by its forces, calling the images of bodies lying in Bucha's streets "a bald fake."
In a clear attempt to try to dispel Russian propaganda, the president of the European Commission, Ursula Von der Leyen, visited Bucha on Friday, where she appeared visibly shaken by the sight of a mass grave. "The unthinkable has happened here," said Von der Leyen. "We have seen the cruel face of Putin's army. We have seen the recklessness and the cold-heartedness with which they have been occupying the city."
She and the European Union's foreign policy chief, Josep Borrell, also met with Zelenskyy in Kyiv on Friday, part of a wave of diplomats and other international officials returning to the capital after many nations shut down their embassies and called staff members back home for fear of Russian forces overrunning the city. The European Union, Lithuania and Turkey have all returned their ambassadors to Kyiv.
At the same time, Russia was become more and more isolated on the international stage, with hundreds of its diplomats expelled from countries around the world in the seven weeks since it launched its invasion of Ukraine. On Thursday, the United Nations General Assembly voted to oust Russia from its top human rights panel in an unprecedented action against one of the five permanent members of the U.N. Security Council.
The EU and Britain also announced more sanctions against Russia, including on Putin's two adult daughters, following a similar move by the U.S.
Although Kyiv is a wraith of the bustling urban center it once was, and security checkpoints still dot the streets to try to keep out suspected saboteurs, a sense of collective relief seems palpable now that Russian forces have quit the area. People were out Friday strolling through the city's wooded parks, little heed was paid to the occasional air-raid siren and liquor sales are permitted again, the fast-emptying shelves attesting to considerable demand. A 9 p.m. curfew remains in place.
Some residents have been returning, but authorities are urging residents of hard-hit northern suburbs — such as Irpin, Bucha and Borodyanka — to stay away until mines, munitions and other hazards are cleared from the streets.
Russian troops have pulled out entirely from Kyiv's environs, British defense officials said in an intelligence briefing Friday. Some will be transferred to eastern Ukraine for the expanded Russian offensive there, but many will require "significant replenishment," with a mass redeployment to the east likely to take at least a week.
___
©2022 Los Angeles Times.
Distributed by Tribune Content Agency, LLC.